Lugar de comienzo:

Castillo de Al Kharid,
Habla con Hassan.

Recompensa:

3 Quest Points.

700 Coins.

Paso gratis por la puerta de Lumbridge-Al Kharid

Objetos Necesarios:

Soft Clay.

1 Bronze bar.

Bucket of water.

Pot of flour.

Ashes.

Redberries.

3 Ball of wool.

Yellow dye.

Pink Skirt.

3 Beers.

Rope.

Requerimientos:

Ninguno.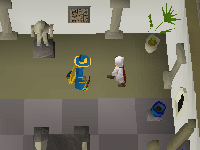 1.- Habla con Hassan en el palacio de Al kharid, despues de ofrecerle tu ayuda te dira que hables con Osman.
2.- Osman esta afuera del palacio, habla con el y dile que Hassan te envio y que necesitas instrucciones, Osman te dira que Lady Keli ha capurado al Principe Ali, y que necesita que lo rescates, te dara dos instruciones: la primera, hacer un disfras y la otra es hacer una copia de la llave de la celda.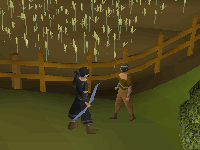 3.- Unos pasos al norte de la carcel de Draynor Village esta Leela, habla con ella y dile que estas ahi para ayudar a rescatar al Prince Ali, ella te dira que items te hacen falta.
4.- Habla con la bruja Aggie, y pidele que te haga una Skin paste, necesitaras ashes, Flour y redberries, tambien le pediras que te haga una Yellow dye, necesitas 2 onion y 5 coins.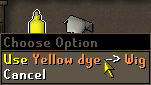 5.- Habla con Ned, preguntale si puede hacer alguna otra cosa con wool y dile que una wig, te pedira 3 ball of wool para hacer la peluca(wig). pinta la peluca de amarillo utilizando la Yellow dye que te dio la bruja con la wig. Ahora el disfras esta completo.
6.- Habla con Lady Keli y convencela de que te deje ver la llave por un momento, cuando te preste la llave utiliza el soft clay que tienes con la llave para hacer un molde de la llave.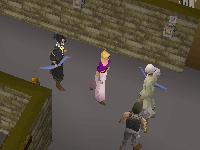 7.- Vuelve con Osman en Al Kharid con la impresion de la llave en el clay y una bronze bar entregale las cosas y te dira que vayas con Leela para que te de la Llave
8.- Despues de pedirle la llave a Leela, ve la la carcel y habla con el guardia Joe, dile que si quiere una beer(cerveza) y aceptara, ofrecele otra, se las tomara y se pondra borracho, si no se pone ofrecele otra.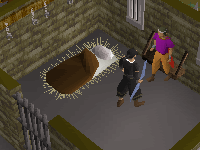 9.- Amarra a Lady Keli usando una Rope (soga) con ella, utiliza la llave que te dio Leela en la puerta donde esta el principe y habla con el. El tomara el disfras(skin paste, wig y pink skirt)
10.- Vuelve con Hassan en el palacio de Al Kharid y habla con el y te recompensara, Felicidades ahora eres amigo de Al Kharid y podras pasar libremente por la puerta que esta entre Lumbridge y Al Kharid.