Lugar de comienzo:
Habla con Sigmund (el consejero de Duke Horacio) en el

castillo de Lumbridge

Recompensa:
1 Quest Points
3000 Mining Exp

Ring of Life

Acceso a la mina de Dorgeshuun

Dos emotes, Goblin Dance y Goblin Bow

Requerimientos:

Quest Rune Mysteries

Quest Goblin Diplomacy

17 Mining

13 Agility

13 Thieving

Objetos Necesarios:
Pickaxe (cualquiera)

Fuente de luz (velas, lámparas, etc. de preferencia una Bullseye Lantern)

Tinderbox

Esto es opcional: Runes para teletransportarte a Falador, Varrock y Lumbridge y algo de comida.
1: Dirígete hacia el castillo de lumbridge y habla con sigmund, después de hablar con el te dirá que hables con la gente de lumbridge solo te servirá hablar con Bob el vendedor de axe habla con el y pregúntale algo como 'Do you know what happened to the cellar?' y te dirá que fueron atacadas por los goblins ahora dirígete hacia el castillo y coméntaselo a el Duke Horacio ahora dirígete a la cocina del castillo y veras que en un extremo ay como un agujero en la pared usa tu pickaxe hay.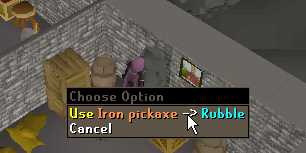 2: enciende la lampara (con la candle dentro) y busca el broche que esta tirado no será difícil encontrarlo ahora muéstraselo al Duke Horacio te dirá que vallas a hablar con Reldo en Varrock.
Habla con reldo y te dirá que no esta seguro de que es y que será mejor que busques un libro busca en este librero: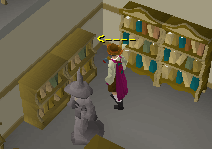 lee el libro
3: ahora dirígete hacia goblin village y habla con los generales sobre el Dorgeshuun, es un poco difícil adivinar los ordenes y no los recuerdo en este instante lamentablemente espero y me perdonen XD
Cuando lo hagas correctamente te enseñaran dos nuevos emotes, ahora regresa al castillo, ve abajo, entra a la cueva y sigue este mapa para llegar a la mina de los cave goblins.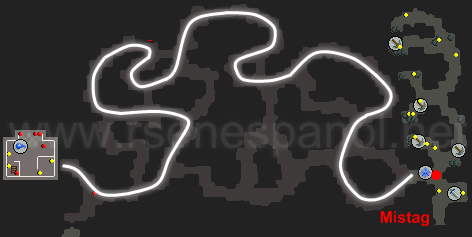 Cuidado en seguir bien el camino por que hay trampas, si caes en alguna de ellas camina al norte y usa tu pickaxe en el bloqueo y estarás de nuevo en el principio del laberinto. Cuando llegues al final parate cercas de Mistag y usa el emote goblin bow, el se impresionara y te hablara un poco ahora dirígete con el Duke Horacio y háblale de que el jefe de los cave goblin te dijo y te dirá que se a perdido un silverware.
4: Da pickpocket a Sigmund para robarle una llave ahora abre este cofre: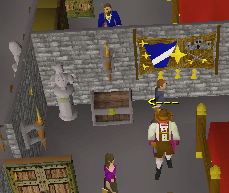 Donde encontraras unas HAM robes, habla con el Duke sobre eso.
Dirígete a la guarida de los seguidores de HAM, al oeste de castillo de Lumbridge.
Para abrirle tendrás que ponerle pick-lock como se muestra en la imagen.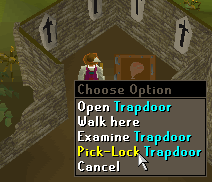 Cuando bajes notaras rápido la caja busca hay y encontraras el silverware.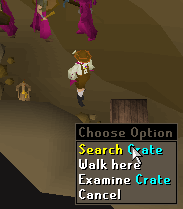 Ahora regresa con el Duke y dile sobre eso, despedirá a Sigmund y te dará unas notas para que se las des a el jefe de los cave goblins, llevaselas para recibir tu recompensa.
Pero no tendrás que seguir todo el camino tan solo dile a kazgar 'Can you show me the way to the mine?' y listo.