Escrita por: Murcyloco.
Lugar de comienzo: Habla con Larry en la entrada Sur del zoológico de Ardougne.
Recompensa:
3000 Construction Exp
2000 Thieving Exp
1500 Hunter Exp
Acceso a la Penguin Hunting Area y bonus con los osos polares para Penguin Hide    and Seek.
Requerimientos:
Cold war
Sea slug
38 Thieving.
45 Construction.
45 Hunter.
Objetos necesarios: 4 planks, 8 silk, needle, thread y clockwork suit (se consigue en cold war, si no lo tienes, lo puedes fabricar con clockwork, plank y silk en una tabla de crafting nivel 3 de tu casa).

Habla con Larry en el Zoologico de Ardougne, lo encontraras con una camisa de fuerza, te pide ayuda para que investigues nuevamente a los pingüinos porque los vio tramando algo con un pingüino gigante.
Ahora dirígete a Witchaven que esta al Este de la salida de Ardougne, cerca de la entrada al dungeon hay una huella gigante, inspecciónala.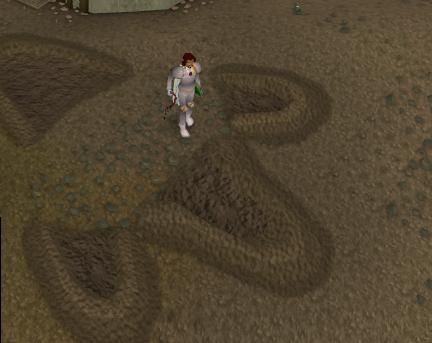 Vuelve a hablar con Larry para avisarle sobre la huella gigante, te dice que tienes que mostrársela al jefe del zoológico pero justo aparece detrás buscando a Larry para encerrarlo de nuevo, luego sale una escena donde le muestras  la huella a Larry y al jefe y libera a Larry.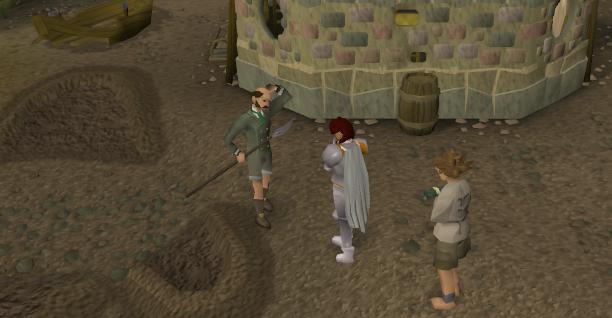 Ahora hay que ir al Iceberg a espiar a los pingüinos, Larry te dice que se junten en el bote en Rellekka.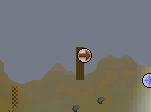 Utiliza el bote y te dejara en el iceberg donde Larry te esta esperando, habla con el y te dirá que hay que espiarlos, así que a ponerse el traje (recuerda estar con las manos libres y no tener una capa puesta cuando quieras entrar al traje).

Dirígete al Noroeste hasta que encuentres una avalancha, investígala y podrás entrar nuevamente en la base de los pingüinos.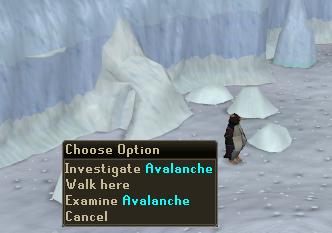 Entra en la primera habitación del oeste, habla con el KGP Interrogator, dice que te estaba esperando para que empezaras a interrogar. Comenzaras a hablar con el pingüino capturado, luego te aparecerán varias opciones de interrogación.
1. Pregunta: My captain trusted me to deliver the message.
1. Respuesta: Your captain must trust you a great deal.
2. Pregunta: My captain found a greater leader.
2. Respuesta:What leader could possibly be greater than the Pescaling? The sea may control your Captain, but he controls your life.
3. Pregunta: He will bring unity by destroying the humans.
3. Respuesta: Why not unite all penguins to The Sea, first? He's only demonstrating his impatience.
4. Pregunta: Nothing can stop him.
4. Respuesta: If he comes to rescue you, he'll be captured.
5. Pregunta: Our sacrifice will be remembered.
5. Respuesta: 'Our sacrifice'? Only you appear to be making the sacrifice.
Cuando terminas de interrogarlo el te dará la señal secreta para llamar al submarino, tienes que tocar el cuerno del mar y bailar la danza del mar.
La danza es distinta para cada jugador, así que anótala, si se te olvido, habla de nuevo con el pingüino capturado (en mi caso es: shiver, bow, clap)
Toma las cosas sobre la caja cerca del KGP Interrogator, y toma nota sobre el animal que lleva sobre la cabeza el pingüino al que interrogaste ya que también es distinto para cada jugador (a mi me toco el monkfish). Sale de la habitación y habla con cualquier pingüino normal, luego entra en la sala y habla con Ping o Pong y te dirán que hay que echar al guardia a dormir para entrar en la sala de guerra.

Ve donde el KGP Agent de la puerta norte, te contara su secreto para mantenerse despierto, y que cosa le hace tener pesadillas, ahora vuelve donde Ping para componer una canción para hacer dormir al guardia, asi debe quedar la canción.
Rockhopper penguin, on the ice crop, when the ice breaks, your body will drop. "Chicklings" will come circling, watching your fall, and down will come penguins, "Squirrels" and all. Rockhopper penguin on the "Blue" sea. "Bears" are approaching, they want you for tea, you can defeat these terrible foes, with your secret weapon" a "Kiss" on the nose. Rockhopper penguin, king of the sea, you are way cooler than "Sharks" could be.
Vuelve donde el guardia para cantarle la canción de cuna, aparecerá ping y pong y comenzaran a cantarla, el agente se quedara dormido. Usa los controles para abrir la puerta y lograr pasar.
Ve al este y habla con Medwin, le dirás que eres un espía pero no te creerá, así que tendrás que quitarte el traje para que te cuente que es lo que hacen ahí.
Te pedirá que crees más trajes para sus compañeros enanos, ahora tendrás que hablar con Larry, sale por la puerta y aparecerá un agente quien te echara de la base.
Habla con Larry, le dirás que los enanos nos ayudaran con el submarino si les damos los trajes de pingüinos a cambio, Larry te dirá los materiales que necesitas y te dirá que los busques, como ya los tendremos en el inventario habla nuevamente con el y te reducirá para entrar nuevamente al traje.
Vuelve donde los enanos, y les entregaras los materiales y les darás las instrucciones de cómo fabricar el traje, el te dará unas herramientas necesarias para desarmar el submarino de los pingüinos.
Dirígete al panel de control del submarino y comienza a hacer los pasos que te enseño el enano:
Utiliza la llave inglesa para abrir la caja de cables.
Utiliza el corta cables para cortar los cables.
Utiliza el cable en los cables para formar otro circuito.
Utiliza la cinta para cubrir los cables al descubierto.
Utiliza el soplador en el tubo para subir la presión hasta que quede la flecha en el color verde.
Gira la válvula para regular con mejor precisión la presión.
Por ultimo utiliza la palanca.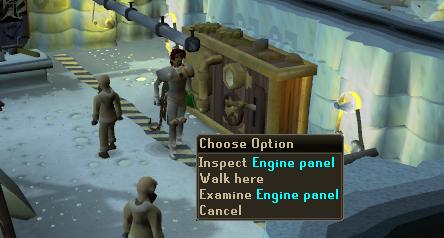 Ya hecho esto puedes salir y hablar con Larry, te dice que tienes que hablar con Noodle para que te de una KGP ID card.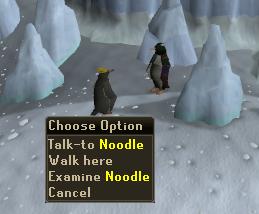 Entra en la avalancha de nuevo y entra en la primera habitación al este, tienes que pasar sin que te vean hasta llegar a la habitación del sureste.

Cuando estés dentro busca en la mesa y encontraras un telegrama con las coordenadas del submarino, vuelve por el mismo recorrido, y ve con Larry a mostrarle el telegrama.
Te dirá que se reúnan en la costa este de Yanille.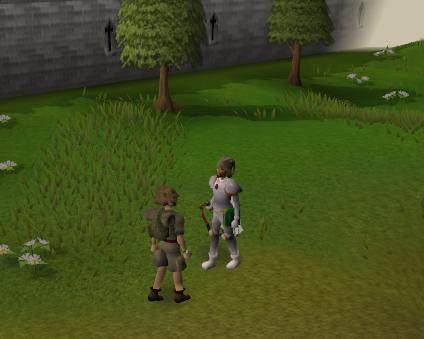 Se encuentra por fuera de Yanille en la muralla del banco.
Habla con el y te reducirá para entrar en el traje, colócate el gorro que se te asigno, toca el cuerno y hace la danza para que el submarino salga.
Dirígete al nivel superior hasta encontrarte con el capitán del submarino, habla con el, y te descubrirá, tu eliges si le quieres mentir o decir la verdad, el resultado es el mismo, luego te manda a encarcelar quitándote las herramientas.
Inspecciona el hatstand y veras que puedes usar algunas cosas de ahí como herramientas.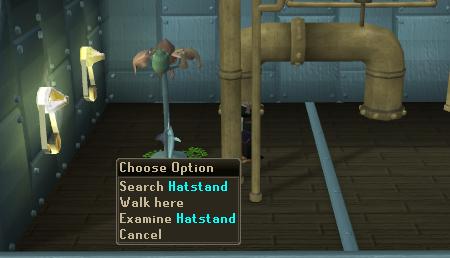 Abre la puerta con el swordfish, luego dirígete a panel de control del submarino que esta afuera de la celda, utiliza la misma forma de desactivar como te enseñaron los enanos.
Luego de todo esto, el submarino llega a una isla desierta, y están los pingüinos esperándote, quienes capturaron a Larry y luego vez que los enanos no te ayudaban, sino que eran aliados con los pingüinos y solo te enseñaron a arreglar el submarino.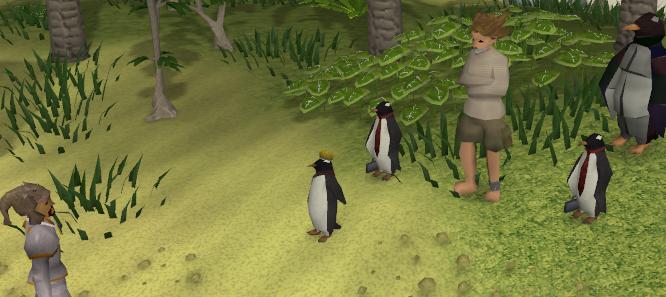 Habla con el oso camuflado de palmera y te contara que trabaja con Larry y que hay que salir de la isla, aparecerá un video de cómo escapan y aparecerás en el zoológico con el oso, y ya esta.
Quest Finalizada!