Lugar de comienzo:
Jardín del Palacio de Varrock

Recompensa:

2 Quest Points
5000 Farming Exp

Ring of Charos (activado)

Supercompost Potion

Varias semillas

Acceso a la fruta del White Tree, que da 8% energy al comerla

El Ring of Charos (activado) puede ser usado para viajar a y desde Karamja gratis, recibir descuentos en los viajes en alfombra, los carritos de la mina, y en el uso del Blast Furnace.

Requerimientos:

Quest Creature of Fenkenstrain

Nivel 25 en Farming

Objetos Necesarios:
– Anillo de Charos

– 1 Marigold seed

– 3 Onion seeds

– 3 Cabbage seeds

– 2 Plant cures (poción verde para curar plantas)

– 1 Rune essence

– 1 Cincel (chisel)

– 1 Pestle and mortar

– 1 Plant pot

– 1 Fly fishing rod

– Teleport: lumbridge, falador, varrock, camelot, ardougne.

– Equipo de farming.
1.- Para comenzar la quest valla al jardín del palacio de Varrock y hablar con la Reina Ellamaria después de hablar un rato ella te dará una lista, de unas semillas que tienes que conseguir, y te dice que vallas a hablar con el viejo de draynor.
2.- Valla a draynor y hable con el viejo que vive frente al banco, el te dirá sobre el charos ring. Habla con el de nuevo y dile que tienes el anillo. El te hará 7 preguntas, y si las respondes bien el te encantara el ring y se transformara en un charos (u), con el cual tu puedes persuadir a las personas de hacer lo que tu quieres. Las preguntas son al azar para cada jugador, pero si te equivocas no hay problema, puedes intentarlo de nuevo.
3.- Ahora comencemos con la lista. Para obtener las Delphiniums seeds tendrás que hablar con Elstan, quien se encuentra al Sur-este de Falador donde esta el path de agricultura. Habla con el y dale a la opción de "persuadir" que casi siempre es la ultima. Luego de una charla el aceptara darte las semillas, si plantas algunas marigod para el. Después que las flores hayan crecido córtalas y entrégaselas y el te dará las semillas.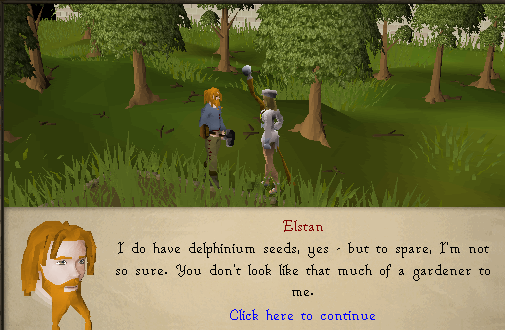 Para plantar las marigold las haces como de costumbre. Lo bueno es que no necesitas cargar tu equipo de agricultura, ya que el duendecito verde que siempre esta cerca de los path puede hacerlo por ti. =)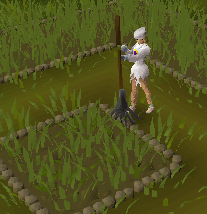 4.- Para obtener las pink and yellow orchards, tendrás que buscar a Lyra que se encuentra al noroeste del puerto Phasmatys, Al igual que Elstan necesitaras usar el charos ring para persuadirla de que te de las semillas, Después de un rato de conversación ella aceptara si le cultivas cebollas, (onions). Cuando crezcan se las das y ella te dará las semillas.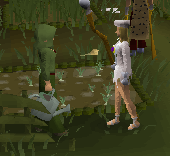 5.- Para obtener las Snowdrop tendrás que hablar con kragen del path de agricultura al norte de ardougne. Hacer la persuasión con el ring, y acordaras sembrarle cabagge. Una vez que halla crecido se lo das y el te dará las semillas.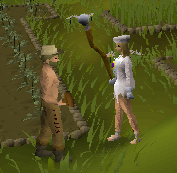 6.- Para obtener las Burthope vine seeds. Tienes que hablar con Bernal quien se encuentra al lado del bar de burthope. Hablar con el utilizando el ring, y acordaras curares sus plantitas de vine. Utiliza la plantcure con las plantitas y veras que no funciona, habla con el de nuevo y te dirá que hay un druida que sabe como curarlas. Entonces ve a taverley y busca a Alain quien se encuentra en el path de agricultura cerca de la entrada. Habla con el y entonces una tu cincel en la rune essence y luego en el mortero y por ultimo, utiliza esto en el plant cure y ve con Bernal de nuevo y cura sus plantitas. Después que hallas hecho esto el te dará las semillas.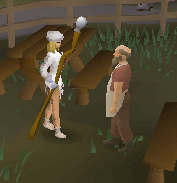 7.- Para Obtener las Rose seeds tenemos que ir al monasterio de edgevillage y tratar de tomar las semillas de las plantas. Pero un monje te capturara y cuando intentes utilizar el ring of charos para persuadirlo este se enojara.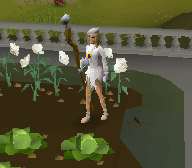 Entonces tienes que ir a egdeville y usar el anillo en el pozo, y regresar e intentar tomar las semillas del arbusto ahora el monje si te permitirá hacerlo. (Luego puede recuperar el anillo utilizando tu fly fishing rod en el pozo, después de varios intentos).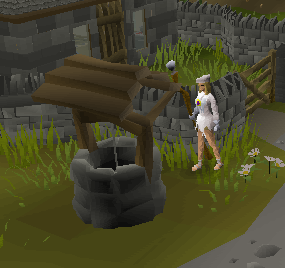 8.- Para obtener white tree, tendrás que visitar a Dantera quien esta en catherby donde esta el path de agricultura, como de costumbre usa el ring of charos. He ir a la ice montain (donde esta el oráculo cerca de la mina de los darf) y usar un secaterus en el árbol blanco. Conseguirás, una ramita, colócala en el plant pot y luego con la regadera le colocas agua.
9.- Ahora ve con la reina Ellamaria y habla con ella acerca de las estatuas, ella te dará un carrito para cargar las estatuas, ve a falador usa el carrito en la estatua, y empújelo hasta la puesta de la entrada a falador, inmediatamente aparecerás en el castillo de varrock, ahora empújelo hasta donde esta la marca para colocar la estatua.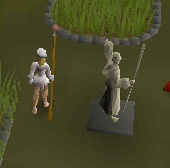 Debes hacerlo rápido porque lo guardias te pueden ver y regresar a falador (si esto pasa puedes volver a falador y hacer lo mismo).
Luego ir a lumbridge y hacer lo mismo con una de las estatuas que esta en la entrada del castillo de lumbridge, empújela hasta el puente y aparecerá en el castillo de varrock, colóquela donde esta la marca.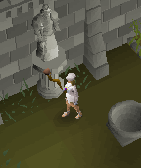 10.- Ahora comience a plantar todas las semillitas donde corresponde, No necesitaras compost ni regar.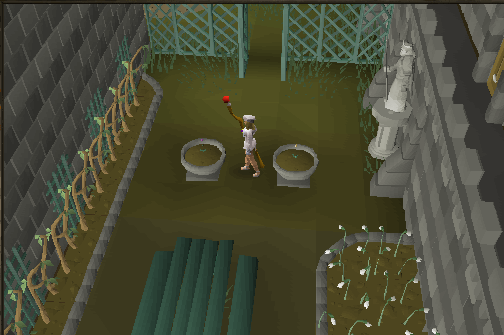 11.- Una ves que todas las plantitas hallan crecido y se halla convertido en un hermoso jardín, hable con la reina quien le pedirá que hable con el rey. El rey no querrá ir así que use la persuasión con su ring of charos, y el accederá. Cuando llegue. Habrá un chistoso mini clip del rey.
12.- Luego de que el mini clip termine la quest estará terminada.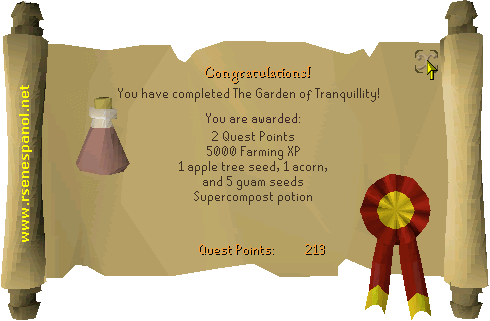 Usos Para el Ring of Charos:
Precios más bajos en transportes como: Barcos, Alfombras, mining carts
Elección del color de tu gatito con gertrude
Más dinero en el comercio de pieles y cedas
Descuento en el horno costoso.
Descuento para el curtido de pieles (en alkarid)
Capacidad para cambiar su nombre Fremmenik.