Lugar de comienzo:
Habla con Dororan a afueras de Barbarian Village.
Requerimientos:
Nivel 5 en la Skill Crafting.
Objetos Necesarios:
Recompensa:
5 Quest Points.
300 Crafting XP.
Antique lamp.
Swanky boots.
Crafting tasks.
Esta quest aparecio como remplazo de Romeo & Juliet que ya no esta disponible.
Al final de la guia un video de Coocaa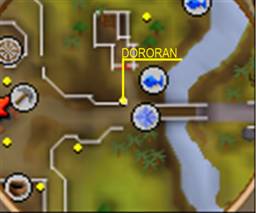 1.- Dororan se encuentra en la afueras de Barbarian Village. Habla con el y selecciona:
'…ever learn to fly?'
Yes.
Angina?
Get to the point.
There must be something you can do.
Ahora acepta la mision dando click en Yes.
El te dirá que es muy poeta y se ha enamorado de una bárbara. El te pide que vos le vallas a comprar un anillo a Jeffery entregándole a Jeffery un poema de amor. El no lo puede hacer porque es muy malo con todo y es muy torpe según como el se describe.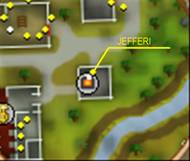 2.- Jeffery se encuentra en la hornalla de Edgeville y te da el anillo a regañadientes, cuando le llevas el anillo a Dororan el te pide que le engraves "Gudrun the Fair, Gudrun the Fiery" con un chisel.
I'm here about a gold ring.
I was hoping you would trade me a gold ring.
This splendid love poem.
Yes, he did.
Just a plain, gold ring.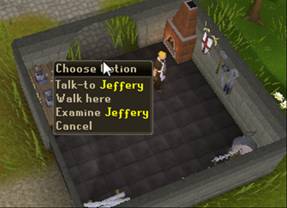 3.- Cuando le muestras el anillo engravado el te pide que le lleves se lo lleves a Gudrun que vive dentro de Barbaian Village, pero lo único que te dice es que a ella no le digas que el es un enano.
What do you want me to engrave?
How do i engrave that?
Do you have a chisel I can use?
Te entregara un chisel, usalo en el anillo.
I'ts come out perfectly.
Of course.
Very well.
4.- Cuando vas a hablar con Gudrun ella te dice que le ha gustado mucho el anillo y que se quiere enamorar con el creador, pero su padre se lo evita porque piensa que todos son sus enemigos, ella te manda a hablar con el padre para que lo hagas reflexionar.
Yes.
The ring is'nt from me!
A great poet.
So, you want me to talk to your father?
I'll see what I can do.

5.- El papá de Gudrun se encuentra al norte en la casa grande.
I need to speak with you, chieftan.
Your daughter seeks permission to court an outlander.
You're barbarians.
Please wait a moment.
I'd like to see him try.
El no esta de acuerdo y te manda de nuevo con ella para que le pregunte a Gunnar su opinión.
6.- Gudrun te manda a hablar con Dororan a ver de cómo convencer a Gunthor, el papá de Gudrun. Dororan se le ocurre hacerle un poema a Gunthor. Tú tienes que ayudarlo a armarlo.
No, she liked the ring.
What are we going to do?
What's the problem?
Ahora te pedira sugerencias para terminar su poema, presta atencion a las frases que te dice, estas son algunas de las respuestas:
A veces solo te pide ideas, selecciona cualquiera.
Cucumber.
More words hasta que encuentres Stray.
Cualquiera
More words hasta que encuentres Threat.
Cualquier frase.
More words hasta que encuentres Swept to war.
Este es el poema terminado, tu le tienes que ayudar con las ultimas palabras de algunas lineas.
Gunnar's Ground

Our people dwelt on mountains steeped in lore,
A mighty tribe as harsh as any beast
Who then, in face of madness, swept to war,
The warlord Gunnar leading to the east.

This legacy of honour still lives on
In Gunnar's bloodline, fierce to this day.
We sing the tales of battles long since won
And from his righteous purpose never stray.

But long is gone the author of that threat
And even rolling boulders come to rest,
For Gunnar's ground is rich and fruitful yet
And Gunnar's blood with beauty also blessed.

Now let these freemen from this conflict cease
And let this be the time of Gunthor's peace.
7.- Después que lo arman, Dororan te pide que se lo lleves a Gudrun para que se lo lea al padre.
8.- Finalmente habla con Dororan para terminar la quest y recibir la recompensa.