Lugar de comienzo:
Al Oeste de Varrock

Recompensa:

1 Quest Points
1525 Cooking Exp

Chocolate cake

Bowl of stew

Kitten (Gatito)

Si tu gatito crece lo puedes vender a la gente de West Ardougne por 100 death runes

Si cazas 100 ratas Gertrude te dara una medalla

Requerimientos:

Ninguno

Objetos Necesarios:
Raw sardine

Bucket of Milk (la consigues usando una cubeta en una vaca)

100 coins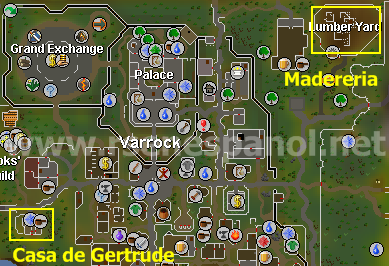 1.- Ve al Oeste de Varrock, hacia la casa de Gertrude, habla con ella y te dira que no ha visto a su gata hace algun tiempo, pero talves sus hijos saben donde se encuentra.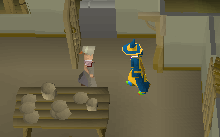 2.- Antes de ir a buscar a sus hijos, ve a la parte de atras de la casa y toma unas Dodge Leaves, ahora dirigete a Varrock a buscar a Wilough y Shilop, que se encuentran cercas de la gran fuente.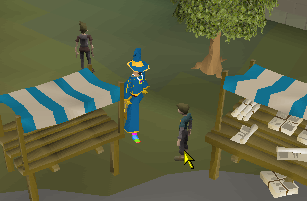 3.- Wilough y Shilop te diran donde esta la gata si les pagas 100 monedas, acepta y te diran que la ultima ves que la vieron fue en la Madereria al Nor-Este de Varrock.
4.- Ahora necesitas: Doogle leaves, Raw sardine y Bucket of milk. Cuando llegues a la madereria entra por el hueco de la pared y despues ve al segundo piso.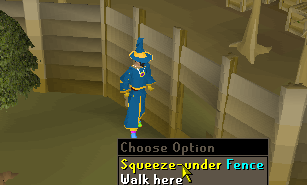 5.- Veras a la gata de Gertrude, trata de tomarla y ella no quiere irse, pero parece que tiene sed, asi que dale tu cubeta de leche.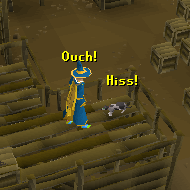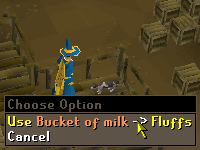 6.- Despues trata de tomarla de nuevo y ahora tiene hambre, usa las Doogle leaves en la sardina para obtener una Doogle sardine y dasela a la gata.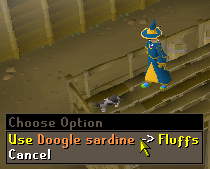 7.- Trata de tomarla de nuevo, y ahora escucharas unos gatos abajo, baja las escaleras y busca en las cajas que se mueven, hasta que encuentres 3 gatitos.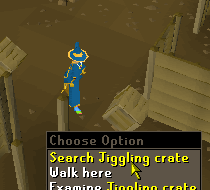 8.- Cuando encuentres los 3 gatitos, sube las escaleras y daselos a la gata, ahora ella sola volvera a casa.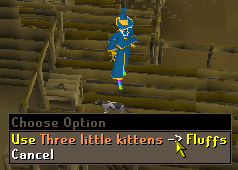 9.- Finalmente solo vuelve con Gertrude para pedir tu recompensa.