Escrita por: Ub40ub40
1.Pequeña introduccion
Inferno Adze:
La adquieres al prender todos los beacons del mini-game.
La inferno adze es una picota  y una hacha  al mismo tiempo. Necesitas 92 Firemaking y no necesita requerimiento de combat skill para equiparla.
Sus Bonus: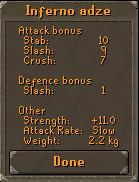 Modo picota:
Necesitas 41 mining para utilizarla como pickaxe. Es como una rune pickaxe, no tiene un efecto especial cuando la utilizas.
Modo hacha:
Necesitas 61 Woodcutting para utilizarla como hatchet. Es como una dragon hatchet. Al cortar arboles con esta hacha tan especial, tienes una gran posibilidad que se quemen los logs al cortarlos gracias al extremo calor que esta integrada a la inferno. No te preocupes, recibirás la exp del log cortado.
Flame Gloves:
Los adquieres al prender 10 beacons del mini-game.
Estos gloves dan 2% mas de exp cuando los tienes equipados. Necesitas 79 Firemarking para utilizarlos. Si llevas el Ring of Fire equipado al mismo tiempo que estos gloves te van a dar 5% mas de experiencia por log quemado.
Ring of Fire:
Los adquieres al prender 6 Beacons del mini-game
Este ring da 2% mas de exp cuando lo tienes equipado. Necesitas 62 Firemarking para utilizarlo. Si llevas los Fire Gloves equipados al mismo tiempo que este ring te van a dar 5% mas de experiencia por log quemado.
2.Requerimientos:
Skills:
92 Firemaking
70 Smithing (con 42 construction) O 56 Smithing (con 59 construction)
59 Construction (con 56 Smithing) O 42 Construction (con 70 Smithing)
31 Prayer
64 Agility (puedes utilisar una pot para subir tu lv un rato)
60 Crafting
60 Strength
68-52 Summoning (Recomedado)
Nivel acceptable de Defence (60+)
43 Prayer (Recomendado)
Sobrevivir en God wars Dungeon (antes de entrar al dungeon)
Terminar la quest Edgar's Ruse
Terminar la quest Land of Goblins
Materiales
Para Poder prender las Beacons:
2 Iron Bars
1 Hammer
2 Planks
4 Nails
3 Jute fibres
2 iron bars (70 Smithing) o 2 planks y 4 nails (59 construction)
340 Yew logs o Magic Logs
Tinderbox
Para Correr hacia las Beacons:
Goblin Village Sphere
1 Super Restore Potions
2-4 Sharks
12-15 Super Energy Potions
Equipamiento que baje el peso, como las boots of lightness.
Amulet of Glory (4)
Game Necklace (8)
Teleports para ir a: Varrock, Trollheim (lleva masomenos 20 laws, 100 airs, 50 fires)
TerrorBird pouch y spells
Forinthry Bracelet (Te proteje del teleblock)
3.Recorridos
Arreglar los Beacons
Recuerda llevar 20 (aconsejable yews)logs para cada beacon
God wars* + east trollheim + zamorak temple**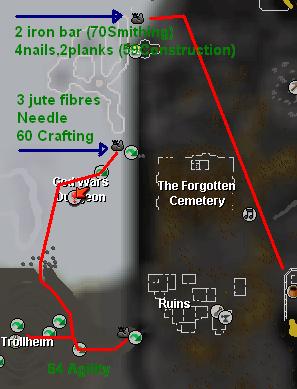 *Recuerda llevar restore pots porq la nieve de god wars baja lvs.
**Recuerda llevar un hammer para los 2 casos
Burthorpe + Este del Death Plateau + goblin village + monasterio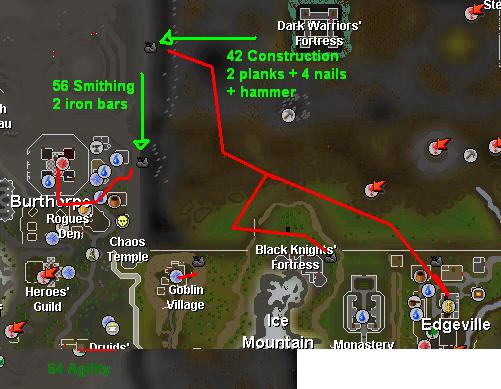 Tiempo de la Acción:
Es la hora de correr y de ver si te mereces ganar el famoso inferno adze o no! Mucha suerte, esto son los pasos por seguir para ganar.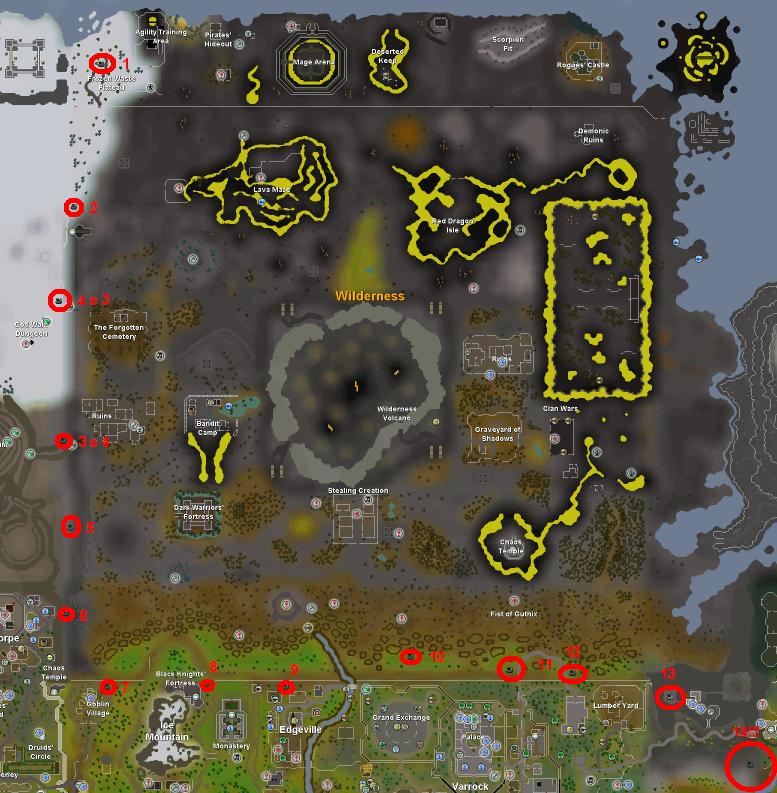 Inventario:
12-15 Super energy pots
2-4 sharks
Super restore pot
Tinderbox
Game neckace (8)
20 law runes, 100 air runes,50 fire runes
Goblin Village Sphere
TerrorBird pouch y spells (aconsejable para los 52+ summoning)
Equipado: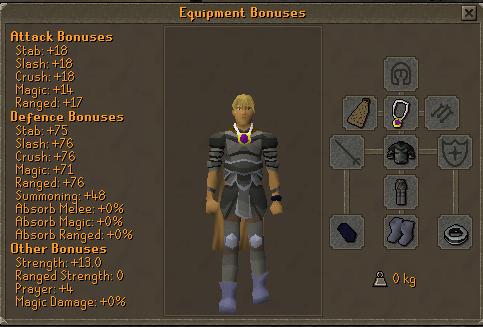 Amulet of Glory (4)
Explorer ring 3 o 4 o Forinthry Bracelet
Spotted Cape o Spottier Cape
Agile top y Legs (Si es que las tienes)
Tiempo de Correr!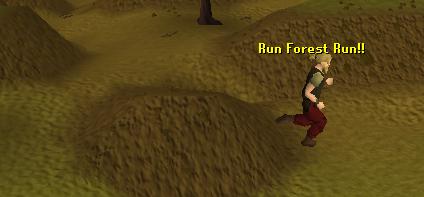 Sigue estos pasos y lo lograras !!! (utiliza el mapa para ayudarte)
Comienza encendiendo el faro numero 1. Y corre al sur
Corre hasta el faro numero 2, sube la escalera, prende el faro y corre al sur !
Corre hasta el nivel 20 del wilderness y teletrasportate a Trollheim
Baja rapidamente hasta el piso (por la parte este) y atraviesa el obstaculo de agility y prende el faro numero « 3 o 4 ». teletransportate de regreso a Trollheim.
Baja otra vez por la parte este de la montañita de Trollheim (donde estan los obstaculos de agility) activa el Ranged Protect ! y pasa hasta la roca donde se encuentra la roca de God Wars Dungeon !
Atraviesa la roca, corre al NorEste, no se te olvide activar protect contra melee, pasa el obstaculo de agility (60 agility requerido), si no puedes toma de tu restore pot , sube el obstaculo prende el faro(si no puedes toma otra vez la restore pot) y activa tu Goblin Village Sphere.
Llegaste a Goblin Village (numero 7), prende rapidamente el faro y luego teletransportate a Burthorpe.
Corre hasta el faro de Burthorpe, sube la escalera, prende el faro, y utiliza tu Amulet of Glory para teletransportarte a Edgeville.
Corre hasta la Black Knights Castle y prende el faro !!!
Entra al Wilderness, corre al oeste y luego al norte, o corre directamente al NorOeste. Sube las escaleras, prende el faro, y teletransportate a Edgeville con tu amulet of Glory.
Prende el faro de Edgeville, corre al este, pasa el puente de Edgeville – Varrock, Entra al Wilderness y prende el faro numero 10.
Sigue corriendo al este y prende los faros numero 11 y 12
Baja, pasa por LumberYard y entra en la puerta cerca al Altar de Tierra, abrela y corre hasta el faro numero 13, cerca a donde esta el hombre de los huesos, sube la escalera y prende el faro.
Baja rapidamente, corre al este, una vez mas xD, y prende rapidamente el faro numero 14 !!!
Teletransportate a Varrock, corre al castillo y habla con el rey para recivir tu recompenza !
Gracias a Coocaa que me dejo poner su video como un ejemplo de que tienen que hacer, aqui esta su video de como él lo hizo.

Felicidades ya tienes tu Inferno Adze!