Escrita por: Lord Ronnier
HAUNTED MINE
Requerimientos:
Nivel 15 agility
Nivel 35 Crafting
Completada la quest priest in peril
Lugar de comienzo:
Hablar con Saradominist Zealot cerca de las minas abandonadas de Morytania
Objetos Necesarios:
Chisel
ball of wool
mucha food (sharks) y pots
Tener nivel necesario para derrotar un enemigo nivel 95
Recomiendo nivel alto de prayer como para hacer protection from missiles
Recompensa:
22000 Strength Exp
Habilidad para hacer Salve amulets, que te dan bonus contra:
– Zombies
– Skeletons
– Ghosts
– Banshees
– Crawling hands
– Aberrant spectres
– Shades (Mort'ton)
Hablar con zelot en este lugar y decirle "I follow de path of saradomin" luego "I come seeking challenges and quests" luego "what quest is that then" y la quest Habra empezado.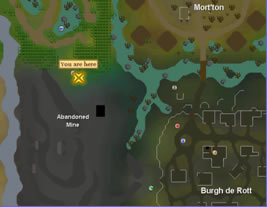 Ahora click derecho a Zelot y pickpocket, obtendrán una llave Zealot key's.
Caminen al sur y encontrarán 2 carritos cerca de una cueva, salten el primero y luego entren al cart-tunnel (cuidado que en esta trayectoria hay algunos vampire dust lvl 61.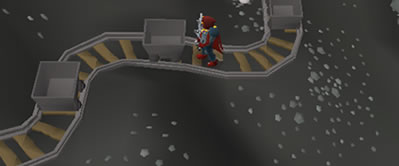 Al entrar verán unos bats lvl 6 y skeletons lvl 40 entonces deberán tener precaucion. Caminar todo hacia el oeste sobre las líneas del tren hasta un nuevo cart-tunnel y entrar.
Ahora caminar unos pasos al sur y verán otro cart tunnel al cual deberán entrar.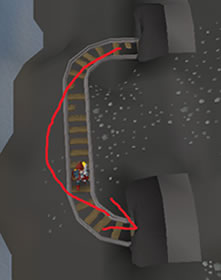 Caminar al este y bajar las escaleras. Luego encontrarán otras escaleras por las cuales deberán de bajar.

Ahora ir al norte y encontrarán un carrito caminando sobre los rieles de tren, deberán evadirlo a modo de que lleguen hasta unas escaleras que están al sur siguiendo los rieles del tren.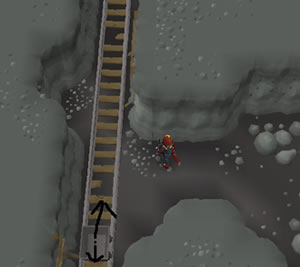 Cuando este carrito baje, corran hasta ver un espacio al este. La "X" color blanco es el lugar donde partimos hasta el espacio circulado con rojo. Las flechas negras indican la dirección del carrito.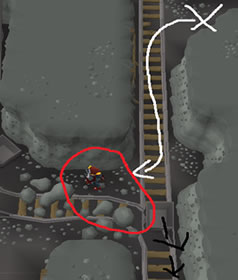 Evadan de nuevo el carrito hasta llegar a unas escaleras ubicadas al sur.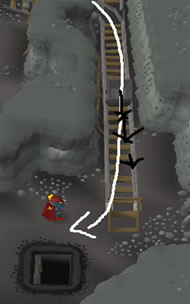 Al bajar las escaleras, deben recoger un glowing fungus y caminar al noroeste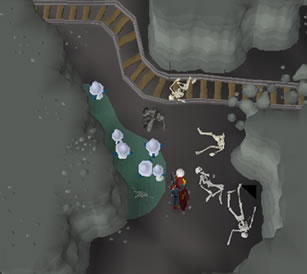 Ahora usar el fungus en el carrito que se encuentra ubicado según la imagen.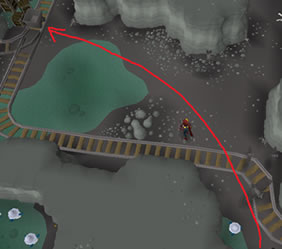 Caminar al noroeste hasta ver un mapa colgado en la pared y verlo. Luego caminar hasta unas palancas que están circuladas color blanco.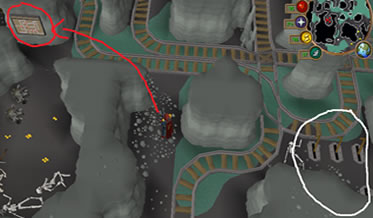 Al ver el mapa se noto unas letras A, B, C, etc. Y al ir a las palancas examine cada una para saber las letras de cada una de ellas. Dependiendo de tu mapa, a mí me toco Halar primero la B, luego la C, luego la D. Ahora caminar al norte desde donde se encuentra el mapa y encontraras las otras palancas.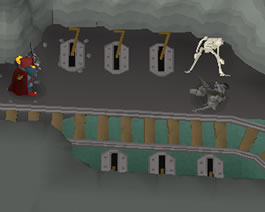 En estas palancas me tocó halar la i, luego la j. el mapa para que te funcione te debe quedar como el que sigue. Al mover una palanca, cambiaras las direcciones en la cual las flechas rojas, no corintas, llevarán a la meta.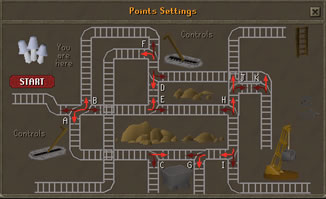 Ahora regresa  hasta el primer nivel donde empezamos y baja unas escaleras que están en medio del camino.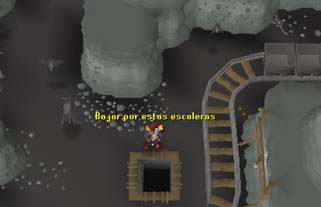 Ahora camina al norte y baja las escaleras que están cerca de una large door.
Al bajar las escaleras camina al oeste hasta encontrar unas escaleras.
Al bajar las escaleras verás un carrito parado, busca en él y toma lo que está adentro. Ahora subir las escaleras de nuevo e ir a las escaleras de donde entraron, para luego pasar un carrito que se mueve en un pequeño tramo.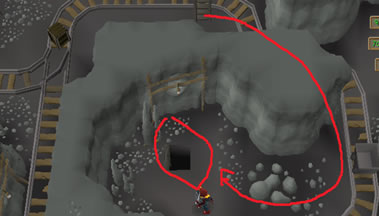 Caminar hacia el sur pegado a la pared derecha y pasaran por un tanque de agua. al final, encontraran una valvula, usen la llave de Zeaton ahí y luego abran la valvula. Ahora caminen  hacia el lift y bajen. Caerán al agua y luego caminen al sur y al tope al este hasta encontrar unas gradas. Al bajar las gradas caminen al oeste y abran la puerta. Ahora verán que en una caja abrá una llave, antes de tomarla, asegurate de tener protection from missiles y algunas pots no harian mal. Al tomar esta llave, pelearás con el fantasma.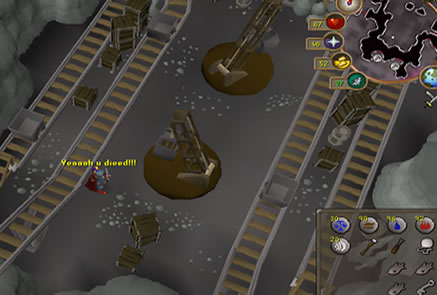 Luego de matar al fantasma, puedes agarrar la llave la cual se llama cristal mine key. Ahora regresen al cuarto ubicado al este y suban las gradas. Luego caminen al oeste hasta el tope y bajen las gradas. Abran la open large door y caminen al sur hasta ver cristal outcrop color violeta. Toquenlos y quest complete 😉 usen el ball of wool en un cristal outcrop y tendrán salve amulet.