Lugar de comienzo:
Libreria de Varrock,
Habla con Reldo.

Recompensa:
1 Quest Point.
600 Coins.

Objetos Necesarios:
20 gps.

Requerimientos:
Un compañero para pasar la quest.
0.- Para terminar esta quest necesitaras hacerla junto con un compañero (que tampoco haya echo esta quest), uno en el que confies de preferencia, ya que deberan trabajar en equipo para conseguir las dos piezas del escudo. Cuando esten los dos listos pueden continuar con la quest: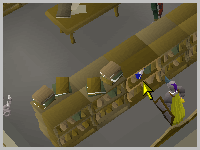 1.- Pidele una quest a Reldo y el te dira que encuentras el libro llamado Shield of Arrav, es un libro azul con blanco, encuentralo y leelo.
2.- El libro habla acerca de dos bandas, Black Arm y Phoenix, habla con Reldo para pedirle mas informacion. No te puede ayudar, pero conoce alguien que si, te dira que hables con Baraek.
3.- Ahora es el momento de elegir a cual de las dos te uniras, ten en cuenta que tu compañero debe elegir la banda contraria.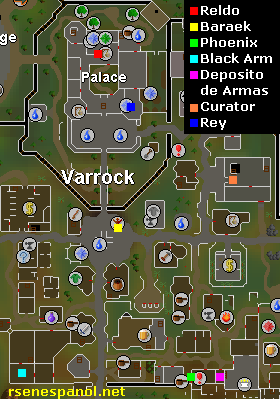 Black Arm Gang

1) Habla con Charlie the tramp y pregunta que si que hay al final del callejon "Is there anything down this alleyway?", te dira que es el escondite secreto de la Black Arm Gang, despues pregunta si piensa que te aceptaran "Do you think they would let me join?", y te dice que hables con Katrine.

2) Habla con Katrine y selecciona la opcion "I've heard you're the Black Arm Gang", te preguntara que si quien te dijo eso, selecciona la opcion que quieras, despues "I want to become a member of your gang". Te dejara unirte a la banda con una condicion, que le consigas 2 Phoenix crossbow.

3) Espera a que tu compañero consiga los crossbow y te los entregue. Habla con Katrine y te aceptara en la banda.

4) Entra a la guarida, sube las escaleras, y al sur busca la alacena de la pared, abrela y toma la mitad del escudo de adentro.

Phoenix Gang

1) Ve al centro de Varrock y habla con Baraek, no te dira nada a menos que le pagues 20 gps. Pagaselos y te dira acerca de la Phoenix Gang.

2) Dirigete a tu escondite y habla con Straven, escoge la opcion "I know who you are!", y despues "I'd like to offer you my services", entonces el te dira que para ser parte de la banda tienes que matar a Jonny the Beard y traer el reporte de vuelta.

3) Jonny se encuentra en el Blue Moon Inn (El bar enfrente de la tienda de espadas). Encuentra a Jonny y matalo, toma el 'Intel Report' y llevalo de vuelta a la guarida.

4) Habla con Straven, y el te dejara unirte a la banda, y te dara una llave 'Weapon Store Key'.

5) Entra a la guarida y ve a la recamara, busca un cofre, busca lo que hay dentro y obtendras una mitad del escudo.

6) Ve al Deposito de Armas (mapa ↑), dale la Weapon Store Key a tu compañero y que suba las escaleras, mate al guardia nivel 32 y tome 2 Phoenix Crossbow del piso.

7) Ve con tu compañero y entregale los crossbows para que pueda hacer su parte.
4.- Ahora cada quien tiene su mitad del escudo, vayan con el Rey y muestrenle su mitad. El Rey pedira un certificado donde diga que es el escudo verdadero.
5.- Vayan al museo y hablen con el curator, el les entregara dos mitades de un certificado, ahora necesitas la mitad de tu compañero, asi que cada uno dele una de sus mitades al otro: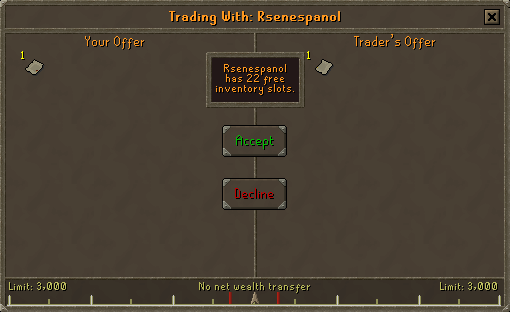 6.- Usa una de las mitades con la otra para unirlas, y muestra al Rey el certificado entero para recibir tu recompensa.