Escrita por: Reneamor4
Missing My Mummy
Quest Necesarios:
Skills/Requerimientos:
25 Thieving.
35 Construction.
35 Cooking.
45 Crafting.
45 Prayer.
50 Magic.
Objetos Necesarios Para el principio Del Quest:
Una arma crush (alguna arma que pueda atacar con crush).
200 coins, +20 Shantey Pass, Sq´irkjuice (de cualquier tipo).
Hamm (martillo).
Saw (cierra).
Al Kharid flyer: obtenido con Ali The leaftlet Dropper (un Niño) en Al Kharid al norte de las minas  por donde esta la Parte que sales del desierto hacia Rat Burrgiss al sur oeste de varrock.
Jug of Wine, Spice, Pot Vacia, Grain, Ring Of Charos (a), 20 fire runes, Willow Log, Knife, Armadura, Buena, Comida, Prayer Potion(4) (Si no eres +70 Prayer).
Items Recomendados Para el Quest:
Amulet of Glory(4), Ring of Dueling(8),  la Broom(escoba)  Del Halloween Event,  Explorers ring(3),  Dramen/Lunar Staff,  Waterskins(4),  o Enchanted Water Tiara, y Varrock Teleports.
Recompensa: 5k Gp, 7k Hitpoints xp, 2.1k xp en Cooking y Construction, 3350 Crafting xp, 7.7k Magic xp, 6.5k Prayer xp,  3k Thieving xp. (Opcional puede ser conseguidos).
Donde empieza el Quest:
Este de dranyor por el campo de Wheat, Habla con Leela.
1. Habla con leela y te dira sobre encontrar la Pharahon Queen en el Desierto de uzer.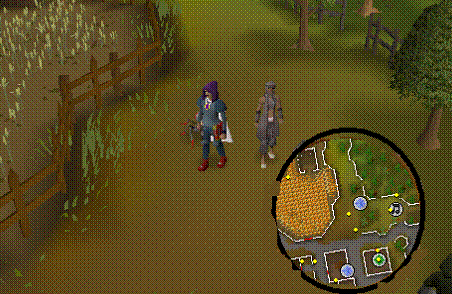 2. Ahora ve al Shantey Pass y, Ve al Carpet ride Usala Para llegar a Uzer , Vayan al sur, veran la pyramide y entren.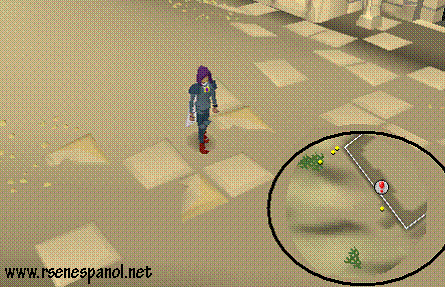 3.Ahora entra y busca un skeleton , hasle click donde dice rummage, y te aparecesera un skeleton y te atacara.. matalo y se supone que te deja un canopic jar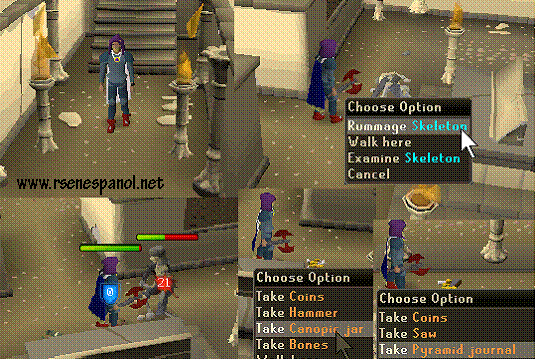 y un Pyramid Journal agarralos , y si no te lo deja matalos hasta que te lo deje.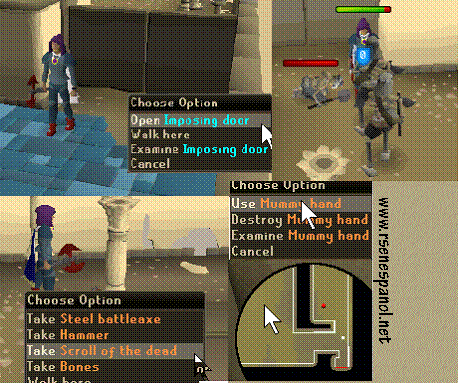 Nota: Si no trajiste tu hammer, saw, fire runes, mata lo skeletons y los guardias de afuera para consegurilos.
4. Ahora ve a la parte noroeste de la pyramide, y abre las imposible doors ya abierta entra y continua matando skeletons looters… hasta que te dejen Scroll of death y un Mummy Hand.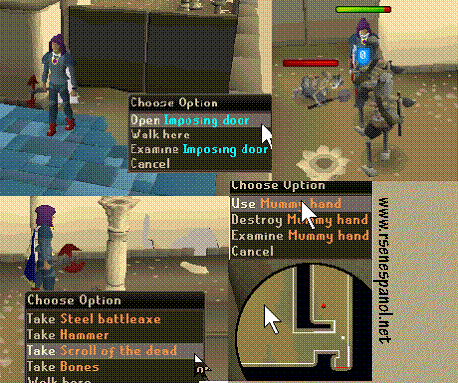 5. Ahora regresa con Leela Pero antes lee tu scroll of death y tu Pyramid journal, bno cuando lo ayas leido habla con ella y te dara un discurso del ritual de pharahon Queen que la partieron en partes su momia.. y ahora est tu task(75%) de encontrar las demas partes para juntarlas que son:
name, shadow, spirit, body, personality, and body double.
6. Ahora ve a Al kharid y ve con ali morrisane y el te dira que tiene una copia de los documentos de la pharahon name, pero te dira que por un squirk glass eso.. daselo y te dara los documentos…o usa tu charos ring y combeselo de q te los de…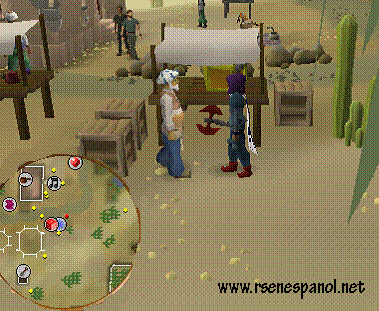 7. Ahora ve a a Varrock , ve al norte(al castillo) Y ve mas norte y habla con Reldo, habla sobre sus documentos algo asi y ahora te dira que si le trais Al Kharid flyer te los da daselos y te dara los documentos.
8. Regresa a la pyramide y mata al golem guard con tu crush weapon , que cuida  las escaleras de atras del cuarto. En la parte donde Agarraste el Dead scroll..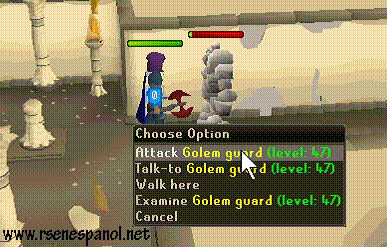 9. Ahora be abajo y ve a este , hasta que encuentres mommie with no hand, agarrala y usaa en la mano Para crear Senliten s mummy.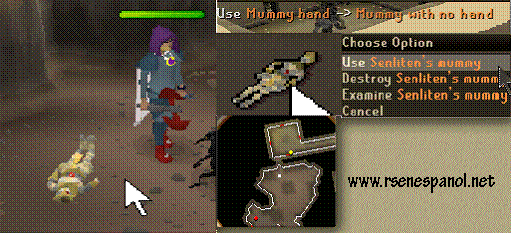 10. Ahora ve unos poquitos pasos y encontraras un hoyo Entra , habras hecho un shortcut par el futuro, ahora regresa por el hoyo y agarra 3 canopic jars que estan por toda la caverna.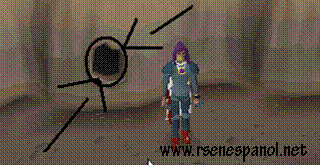 11. Ya que hayas recolectado, las jars ve al cuarto con el piso de colores ahora.. esta es la parte mas dificil del quest. Para pasar tienes que ir por los cuadros pero cada una activara una que se interponga ante ti, no puedo poner todo el prosedimiento osea que tendras que hacerlo por ti mismo lleva food, (shark) por q puedes perder hasta 20 de vida si te equibocas: Miren..
Parandose en

red

tile provoca que the

green tiles se levante

.
Parandose en

green

tile provoca the

yellow tiles se levante

.
Parandose en

yellow

tile provoca  the

blue tiles se levante

.
Parandose en green tile sobre la

red tile activa la trampa.
Parandose en

red

tile sobre la

blue tile activa la trampa

.
Parandose en

yellow

tile sobre la

green tile activa la trampa

.
Parandose en

blue

tile sobre la

yellow activa la trampa

.
Recomiendo que pasen por las verdes y azules!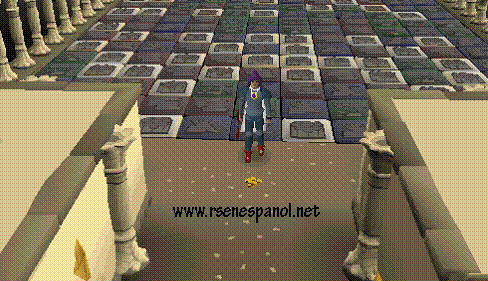 12. Ahora que ya lo hayas pasado hay que armar a la queen cuando, hayas matado 5 tumaken algo asi , aparecera la queen y veras como era antes ahora ve al room de antes y.. construye todo otra ves hasle pray a las statues esas..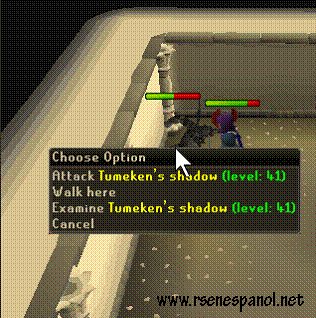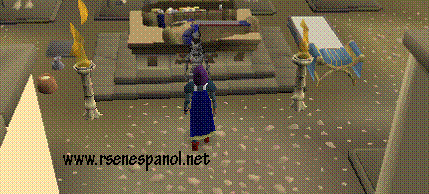 Bno ya que construiste todo y ya viste a ella,.. construye su estatua.. le haces carve.. y luego usas el knife en el willow y le haces su base..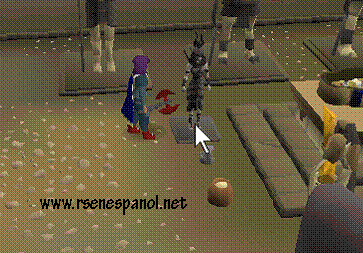 Ahora habla con La Queen Para recordar su nombre o algo asi…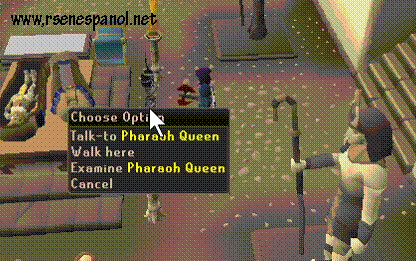 Ve con Leela y Quest Complete.