Escrita por: Cesarmanuel
Donde empezar:
Habla con kennith en las afueras de daemonheim.
Requerimientos:
Quest:
Skills:
35 Dungeoneering
45 Summoning
47 Herblore
50 Constitution
60 Defence
Objectos Necesarios:
Ring of Kindship.
Comida (sharks o mas).
Armadura.
Arco y fleches (crossbow también).
Runas para magic.
La Quest…
Habla con kennith en las afueras de Daemonheim, el te dira que necesita ayuda para pelear contra la slug queen, te dira que mejor hablan en un lugar más privado y se teletraspotara, ve un poco más al oeste para hablar con él.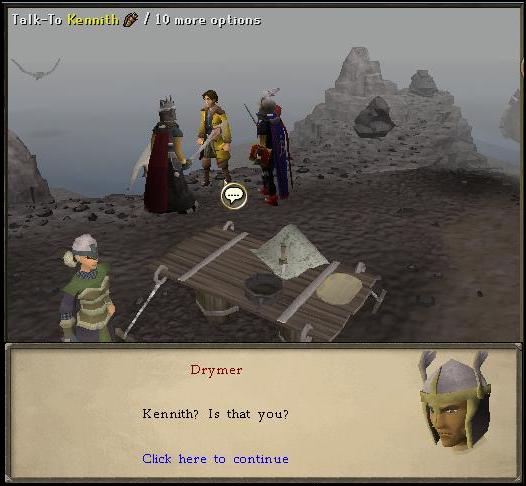 Habla con kennith y veras como te presenta a 2 heroes  los cuales te ayudaran en esta misión, habla con cada uno y usa cada opción y veras como abren una cueva.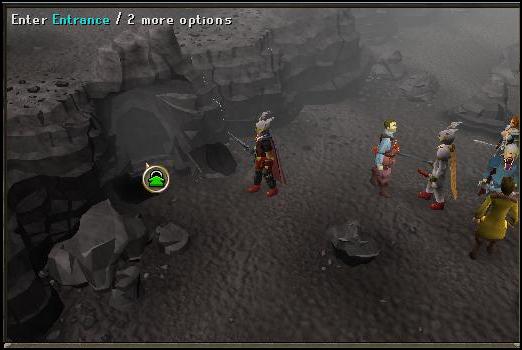 En la cueva veras unas escenas, luego de que terminen ve por la puerta del este hasta que encuentres una habitación con 3 enemigos y una llave, derrotalos y agarra la key y regresa a donde comenzaste, luego abre la puerta y te encontraras con un caustic gazer.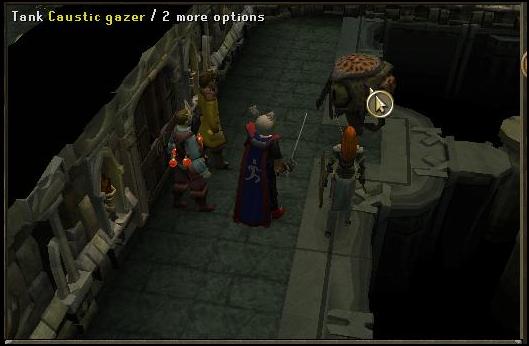 "Tankea "al gazer, lo distraerás mientras escojas quien hará el puzzle, no importa a cual escojas. Para completar el puzzle haz esto:
Salta al sur
Salta 2 veces al oeste
Salta al sur
Salta al norte
Camina al norte
Camina al este
Salta al este 2 veces
Y Salta al sur 3 veces
Luego de esto, kennith te teletransportara a la fishing platform, ahí el te dira unos ingredientes para la poción de control mental.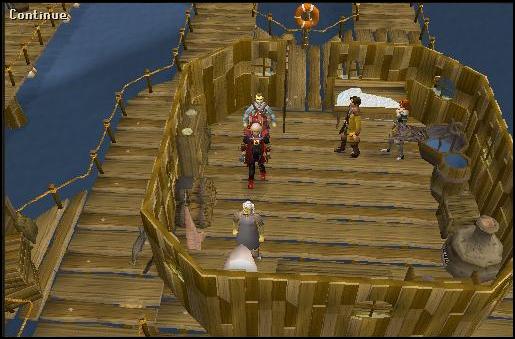 El primero, habla con Bailey y luego selecciona "punch" te dira que no siente dolor  y dile que lo pruebe, se cortara con un pedazo de vidrio y conseguiras el primer ingrediente.
Para el segundo, ve un poco al este hasta que encuentres un fishing spot, ahí intenta agarrar una slug y esta saltara hacia ti, NO intentes agarrarla, solo camina hasta kennith y te seguirá ahí kennith la atrapara con magia. Coje el pestle & mortar de la habitación y haz la poción.
Ahora  sal de la tienda  y ve al oeste donde estará la entrada a la ciudad marina, habla con la sirviente y di esto:
"Why Can't I come in?"
"I'm not a Stranger"
" I Seek enlightenment in the joining "
"I wish to hear"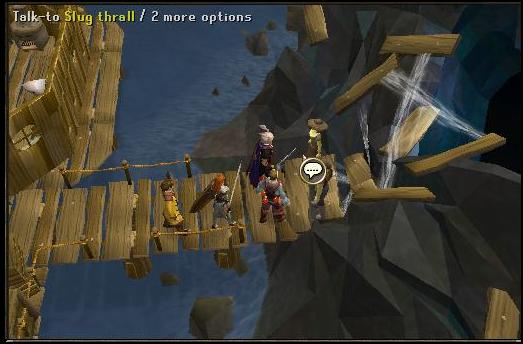 Primera Habitacion
 Deja a Kennith detras del witchaven Villager.
Sigue con los otros y mata al Risen Knight
Knockea al witchaven villager con kennith y camina solo con tu Personaje (deja a los otros en esa puerta).
Ve al sur con tu personaje y jala la palanca de esa pequeña habitación.
La puerta del norte se abrirá y entra con ezekial y eva, jala la palanca que está ahí.
Jala la palanca de tu personaje otra vez y regresa a donde están ezekial y eva.
Nockea al witchaven villager para que tu personaje pase libremente.
Haz ke eva jale la palanca y entra con kennith y tu personaje, luego jala la palanca otra vez y corre con todos tus personajes hasta el final de la cueva (no mates los últimos 3 knights).
Segunda habitación
 Corre con todos hasta el norte.
Deja a eva en el centro y jala la palanca, envía a ezekial al oeste y tu y kennith vallan al este.
Deja a kenniths en esa pequeña parte y jala la palanca del sur, cuando esto ocurra kennith podrá pasar por la puerta que estaba y jala la palanca que esta ahí.
Con tu personaje jala la palanca otra vez.
Envía a ezekial al oeste y luego al sur para que jale la palanca que esta ahí.
Con kennith  jala la palanca de ahí y luego ve hasta el sur desde donde el esta para que jale la palanca.
Regresa tu personaje al centro (donde esta eva), luego haz que ezekial jale su palanca y regresa a kennith al centro también.
Jala la palanca de ezekial otra vez y regresalo al centro.
Sigue a la siguiente habitación por el centro.
Tercera Habitación
Mata a todos los risen knights ( los del centro, El de el noreste, suroeste y sureste)
Envía un personaje a cada esquina
Regresalos a todos al centro y pasa por la puerta.
Cuarta Habitación
Con tu personaje revisa el aparato en el centro de la habitación y veras como los knight aparecerán para que los mates, asi que ataca con todos tus miembros (menos con tu personaje que esta atrapado)
Toma la delatera atacando a cada knight con su debilidad asi:  Melee < Magic (kennith),  Magic < Ranged (Ezekial), Ranged < Melee (Eva)
Si uno de tus compañeros muere tienes que reiniciar la habitación, asi que si algúno esta apunto de morir no dudas en correr.
Ultima habitación
Ahi veras a la slug queen y tendras que juntar fuerzas con todos para derrotarla.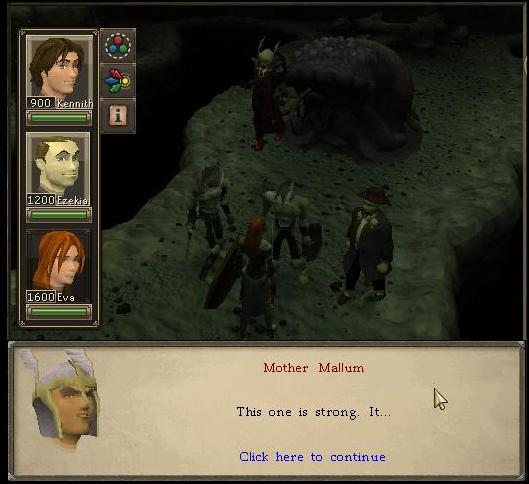 Usa a kennith para que tome el control de la mente del brother maledict.
Con ezekial rompe la pared del oeste y del este.
Posiciona a ezekial en el lado este ( si quieres mata al risen knight)
Posiciona a kennith en el lado oeste, cada uno lo más cerca que puedas de la queen.
Con eva habla con el alcalde y veras como te ataca la queen y te tira detrás de la queen, aprovecha la estatua y derrumbala desde atrás sobre la mother.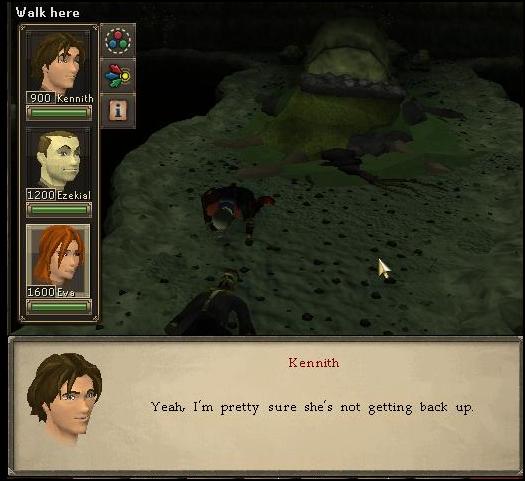 Habla con lucy ( puedes decirle la verdad o mentirle, realmente no importa)
Sal de la cueva.
Felicidades Quest Completa!