Lugar de comienzo:
Habla con Edmond, que se encuentra en Ardougne.

Recompensa:

1 Quest Points
2425 Mining Exp

Habilidad para usar el Ardougne Teleport

Requerimientos:
Ninguno

Objetos Necesarios:
1 Rope.
1 Bucket of milk
1 Bar of chocolate o chocolate dust.
Dwellberry.
Pestle and mortar para moler el chocolate.
Snape grass.
1.- Para empezar la quest habla con Edmond en Ardougne, te dira que su hija esta perdida en West Ardougne, ella estaba ayudando en la ciudad ya que hay una 'plaga' supuestamente.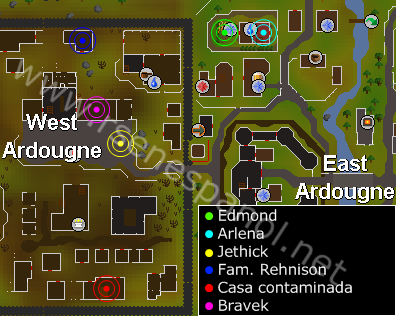 2.- Habla con la esposa, Arlena, que se encuentra dentro de la casa, ella te hara una mascara para protegerte de la plaga de la ciudad. Necesitas entregarle unas Dwellberries, si no las tienes todavia puedes ver este mapa para encontrarlas: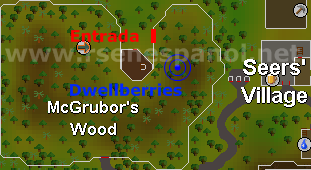 3.- Ya que tengas las Dwellberries habla con ella de nuevo y te entregara la mascara, antes de irte de la casa recoje la foto que esta sobre la mesa, ya que la usaras mas adelante.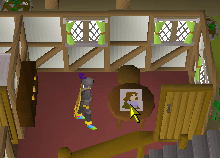 4.- Ahora sigue entrar a la ciudad, habla de nuevo con Edmond, el dice que las alcantarillas de West Ardougne pasan debajo de su casa, pero el suelo esta muy duro para excavar, asi que necesitas ablandarlo antes, toma la cubeta del piso y llenala de agua dentro de la casa, 5 veces o hasta que salga un mensaje que ya tiene suficiente agua. Ahora la pala en el piso que acabas de ablandar.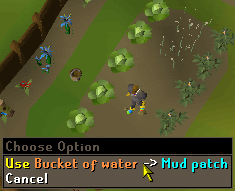 5.- Apareceras en las Alcantarillas de Ardougne. Ve al sur y trata de abrir la rejilla. No podras, ahora habla con Edmond, le dices que el tubo esta protejido con una rejilla y no puedes abrirlo, su idea es que consiguas una cuerda y entre los dos podran quitar la rejilla.
6.- Si no tienes la cuerda devuelvete a la tienda de Ardougne y compra una. Vuelve a la rejilla y usa la cuerda con la tapa. Despues de atar la cuerda a la tapa habla con Edmond de nuevo y entre los dos abriran la tapa. Entra por el tubo.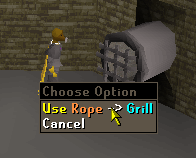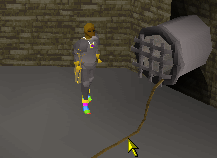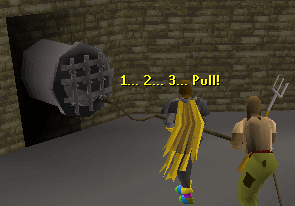 7.- Una ves arriba camina un poco a la derecha y habla con Jethick. El te pedira la foto que habias tomado antes, y te dira que Elena estaba viviendo con la Familia Rehnison que viven al norte, te pedira que entregues un libro por el. Acepta y te entregara el libro.

8.- Camina al norte hasta la pequeña casa del norte, pegada a la pared. Trata de abrir la puerta, y no te quiere dejar entrar, pero al saber que vas a entregar el libro de abre la puerta. Una ves adentro empieza a investigar que le paso a Elena. Habla con Ted o con Martha y te diran que Elena vivia con ellos pero alguien la secuestro.
9.- Sube las escaleras y habla con Mili y dice que Elena fue llevada a un edificio que esta en la esquina sur-este de la ciudad. Sal de la casa y ve a buscar ese edificio (marcado en el mapa como casa contaminada).
10.- Al tratar de entrar el tipo de afuera te dira que no debes ya que esa casa esta infectada con la 'plaga', selecciona la opcion 'But i think a kidnap victim is in here', te dira que eso es muy improbable, despues selecciona 'I want to check anyway', te dice que necesitas un permiso que hables con Bravek.

11.- Ve a la construccion grande que esta en el centro, y habla con Clerk y convencelo de que te deje hablar con Bravek, a Bravek le duele la cabeza y no quiere hablar despues de hablar un poco te dara una nota con la receta que le dio su herbalista para el dolor de cabeza. Trata de leer la nota y estara un poco borrosa pero todavia se entiende.
12.- Ahora muele el chocolate con tu pestle and mortar y agregalo a la cubeta de leche, finalmente agregale el snape grass. Habla con Bravek y se sentira mejor, selecciona la opcion 'They won't listen to me!', te entregara un permiso para entrar a la casa contaminada.

13.- Vuelve a la casa contaminada de nuevo y trata de entrar. Una ves adentro baja las escaleras y encontraras a Elena en una prision, trata de abrir la puerta y te pedira ayuda para salir de ahy. Sube las escaleras y busca en el barril para encontrar la llave, vuelve abajo y abre la puerta, Elena se ira de ahy.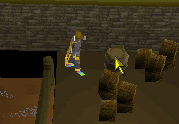 14.- Sal de la casa y entra por la alcantarilla de la que saliste la primera ves, una ves dentro habla con Edmond para recibir tu recompensa.
Edmond te entregara un scroll con el hechizo para teletransportarte a Ardougne, leelo y tu personaje lo memorizara para usarlo despues.