Lugar de comienzo:

Centro de Varrock,
Habla con Gypsy Aris.

Recompensa:

3 Quest Points.

Silverlight.

Objetos Necesarios:

1 gp para empezar la quest.

25 bones.

Requerimientos:

Ninguno.

1.- Habla con Gypsy Aris, te pide una moneda para decirte tu futuro, da click en Ok, here you go para pagarle, ella te contara acerca Delrith, un demonio ancestral que fue vencido hace mucho tiempo por un heroe llamado Wally, usando la espada Silverlight. Pero el demonio a vuelto y quiere destruir la ciudad de Varrock. Y tu eres el elegido para vencer al demonio y salvar la ciudad!.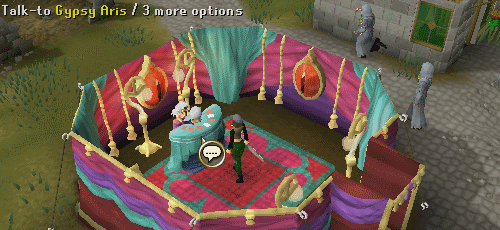 Ok, Here you go.
How am I meant to fight a demon who can destroy cities?
So how did Wally kill Delrith?
Te mostrara una escena donde Wally mata al demonio y el encantamiento que uso para vencer al demonio, ANOTALO ya que es diferente para cada jugador.
Where can i find Silverlight?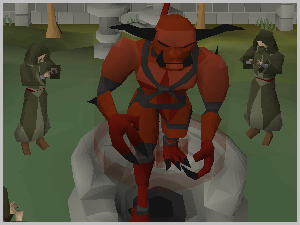 2.- Si se te paso el encantamiento habla con Gypsy Aris de nuevo y pregunta What is the magical incantation? y te dira el encantamiento que uso Wally para vencer al demonio, ANOTALO ya que es diferente para cada jugador.
3.- Para obtener la Silverlight te dira que hables con Sir Prysin, en el castillo de Varrock.
Gypsy Aris said I should come and talk to you.
I need to find Silverlight.
Well, the gypsy's crystal ball seems to think otherwise.
So, give me the keys!
Can you give me your key?
Where can I find Captain Rovin?
Where does the wizard live?
4.- Sir Prysin te dira que Wally era su abuelo, y que el tiene la Silverlight guardada en un cofre, necesitas tres llaves para abrir el cofre, una la tiene Captain Rovin, otra el Wizard Traiborn y la ultima Sir Prysin la tiro accidantalmente por el drenaje.
5.- Camina al norte y encontraras una escalera sube al tercer piso y encontraras a Rovin. Habla con el acerca de la llave, despues de una pequeña conversacion aceptara darte la llave.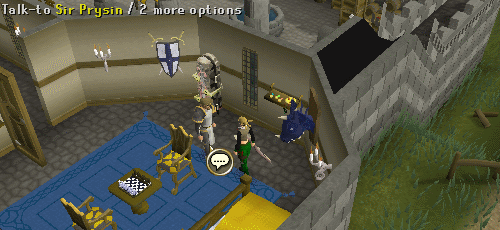 Yes I know, but this is important.
There's a demon who wants to invade this city.
Yes, very.
They're not going to fight the demon, I am!
Sir Prysin said you would give me the key.
Why did he give you one of the keys then?
6.- Vuelve al primer piso, y ve a la cocina, sube las escaleras del cuarto de a lado y toma la cubeta, ve a la cocina y llenala de agua, finalmente vacia la cubeta por el resumidero para desatorar la llave.
7.- Sal del castillo y ve a las alcantarillas (abrir mapa). Baja y sigue el siguiente mapa para encontrar la llave.
8.- Ahora ve a la wizard tower (mapa) por la ultima llave. En el segundo piso se encuentra Traiborn, el ha guardado la llave en un ropero magico y necesita 25 bones para recuperar la llave. Los bones los puedes conseguir abajo matando magos.

9.- Cuando tengas los 25 bones vuelve a hablar con el y te entregara la llave.
I need a key given to you by Sir Prysin.
Well, have you got any keys knocking arround?
I'll get the bones for you.
Habla con el de nuevo para entregarle los huesos.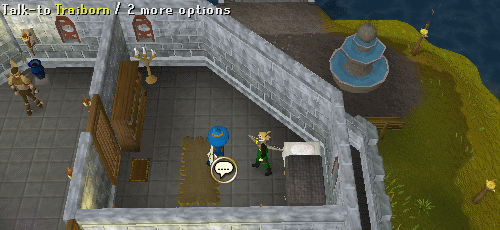 10.- Habla otra ves con Sir Prysin en Varrock para que te entregue la espada.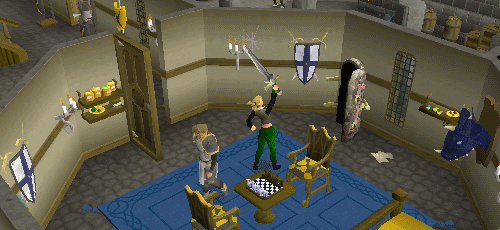 11.- Ahora a derrotar al demonio, no es muy dificil, es nivel bajo y solo tiene 7 hps. Prepara lo que necesites y ve al sur de Varrock, en donde estan los magos. Al acercarse veras una escena.
12.- Despues de la escena te atacara un mago, matalo y despues matas al demonio.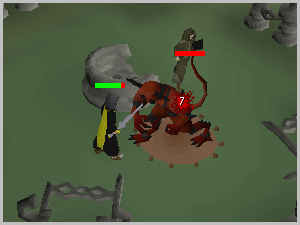 13.- Cuando le bajes los 7 hps deberas decir la encantacion correcta (te dije que la anotaras verdad -.-), si no la recuerdas tienes que ir con Gypsy Aris al centro de Varrock y preguntarle de nuevo.
14.- Cuando termines la encantacion correcta Delrith desaparecera y Varrock estara a salvo una ves mas.