Lugar de comienzo:
Hablar con El King Narnode en El Grand Tree.

Recompensa:
5 Quest Points
18400 Attack Exp

7900 Agility Exp

2150 Magic Exp

Habilidad para minar bajo el Grand Tree

Acceso al Spirit Tree del Grand Tree y a los gnome gliders (transportes)

Actualizacion en las exposiciones del museo de Varrock – habla con Historian Minas

Requerimientos:
Nivel 25 de Agility.

Poder matar a un Black demon nivel 172.

Objetos Necesarios:
Lo que consideres necesario para matar el Demon 172.
Primero debes hablar con el rey Narnode que se encuentra Dentro del grand tree, en el primero piso, El te activara la queso, y te dará un Translation Book Y un bark sample, para descubrir que es lo que esta Pasando con el Grand Tree.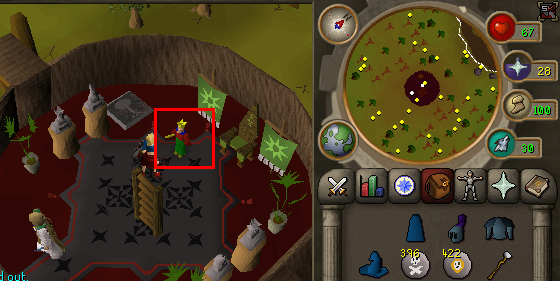 Ahora utiliza tu ring of dueling para ir al Castle War, y de alli te sera mas rapido caminar a yanille. Y de alli caminaras a una islita cercana, para hablar con Hazelmere.
Nota: Te encontraras con arañas lvl 44.

Hablas con Hazelmere, y hablara en una lengua desconocida, entonces pidele que te lo escriba, y te dara un papel con una nota que dice asi:

Si utilizas, el traslation Book en la nota, supuestamente deberia traducir algo como.
"A man came to me with the King seal. I gave human Daconia
rocks and Daconia rocks will kill trees!"….
Bueno ahora, regresa con el king narnode, y habla con el. Te preguntara sobre el mensaje que te dio hazelmere, y tu tendras que decirle el mensaje escogiendo en una lista que el te dara. Escoges "none of these" hasta que veas un mensaje que empiece con "a man came …" (si te equivocas a la primera, no te preocupes habla con el nuevamente y repite el proceso hasta que aciertes).
Ahora, ve a donde Gough: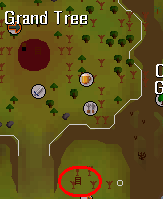 Habla con el, y te dirá que se preocupara por lo que le contaste. Ahora Regresa con el Rey y te dirá que tiene un prisionero dentro de una pequeña cárcel en lo mas alto del grand tree, así que sube las escaleras hasta que llegues al ultimo piso.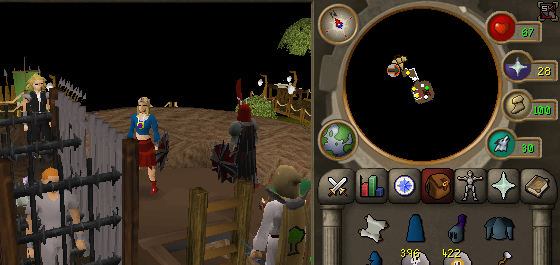 Habla con Charlie el prisionero y el te dira que busques en la casa de Glough otra vez, asi que vuelve a la casa de Glough y busca en el armario, y encontraras un Diario.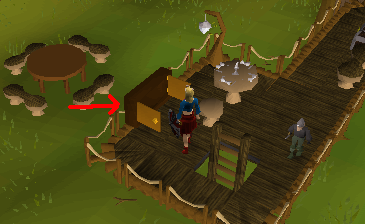 Ve, de inmediato y habla con el Rey, pero el no te creera =( entonces ve a la casa de Glough otra ves y habla con el y dile todo lo que descubristes. El se enojara y te enviara a prision.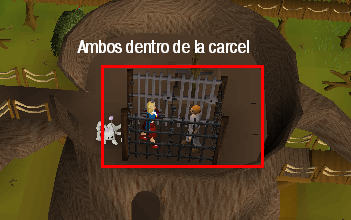 Charlie te contara sobre unas casas que estan en una isla y te dara un password para entrar a la isla : Ka-Lu-Min. Despues de que te de el password el king te sacara de la prision.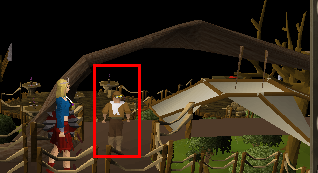 Toma el avion a karanaja, y camina al norte (cuando bajes del avion encontraras gigants que te atacaran)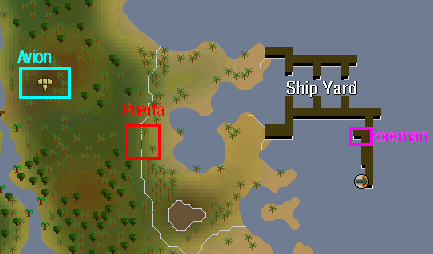 Llega a una puerta y cuando trates de entrar un Shipworker te detendra y te pedira una clave. La clave es: KA, LU, MIN, ahora camina a donde esta el Foreman, y tienes dos opciones.
1era Opcion: Habla con el y te llevara a una choza privada donde te hara una serie de preguntas para saber si realmente eres amigo de goulgh.
Las Respuestas son:
P=Pregunta R=Respuesta
P: How is Glough's wife?
R: She is no longer with us
P: What's Glough's favorite food?
R: He loves worm holes.
P: What is his new girlfriend called?
R: Anita
Si tus Respuestas son correctas, te dará una nota, y si no puedes hacer la 2da opción: Matarlo y te dropeara la nota jejej XD (esto también podías hacerlo, desde el principio).
Ahora tienes que regresar al Grand Tree, pero ahora los guardias de glough no te dejaran entrar, entonces tienes 2 opciones.
La primera:
Usas tu ring of dueling para ir al duel de arena, y caminar al oeste, hasta donde esta el avion y tomarlo hasta el grand tree.
La Segunda:
Vas a ardounge caminas hasta la entrada del Gnomo Stronghold y le pagas a Femi 1k para que te pase en su carrito.
Una Vez adentro habla con el rey, pero este a pesar de todo sigue sin creerte, entonces ve y habla con charlie (el prisionero) y te dira que glough tiene una novia llamada anita.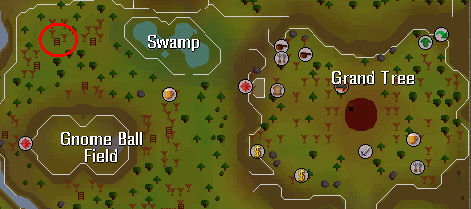 Habla con anita y te dara una llave con que puedes abrir un cofre en la casa de glough.
Ve a la casa de Glough, abre el cofre y encontraras unas notas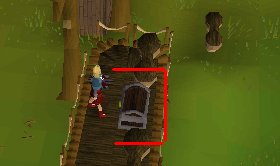 Ahora que tienes la nota, ve y habla de nuevo con el rey, quien todavía no te creera -.-, pero sin embargo te dara unas ramas de evidencia que le dieron sus guardias. Antes de ir asegurate de llevar tus runes o armaduras para matar al black demon.
Vuelves a la casa de Glough y trepas un arbol que esta al lado del cofre y veras unas piedras, y con las ramas tendras que formar la palabra T-U-Z-O que significa ABIERTO.

Ahora cuando estes bien seguro de peliar baja la trapdoor, e inmediatamente conseguiras al black demon lvl 172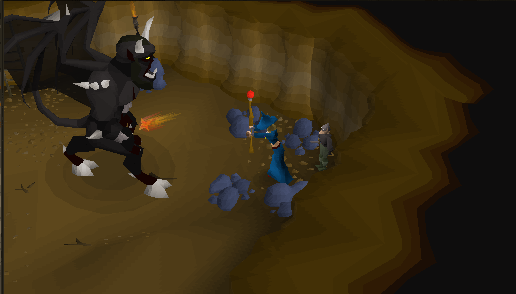 Si llevas magia o ranged, encontraras unas piedras azules en las cuales puedes protegerte, En lo personal considero que llevar magia o ranged es lo mejor cuando eres lvl 100-
Ahora camina a lo largo del tunel y encontraras al Rey, habla con el y te felicitara, pero te pedira que consigas la Daconia Rock que esta enfermando al Grand Tree.
Entonces busca en Todas las Raices grandotas que ves en la cueva, (no estan muy lejos de donde esta el rey), y una vez que la tengas habla con el rey de nuevo y listo Quest Finalizada.