Lugar de comienzo:
Habla con cualquiera de la Ur-Tag o Con el Embajador de los Dwarves

Recompensa:
1 Quest Points
3000 Mining Exp

3000 Prayer Exp

Ancient Mace

Acceso a la ruta Dorgesh-Kaan – Keldagrim

Permiso para comprar esferas para teletransportarse a la Goblin Village

Requerimientos:
Quest Death to the Dorgeshuun

Quest The Giant Dwarf

Quest Digsite Quest

– Nivel 15 de ataque

– Nivel 25 de Prayer

– Capacidad para derrotar a dos enemigos lvl 30 y a uno lvl 60.

Objetos Necesarios:
 Alguna fuente de luz puede ser Oil Lantern o una Bullseye Lantern.

– Tinderbox

– Ranged / Magic Armadura

– Flechas para ranged / Runas para magic

– Una armadura decente para soportar el ataque de un lvl 30 y de un lvl 60.
Ir a Dorgesh-kaan e ir arriba, una vez que estes alli camina al norte-oeste de la casa.
Habla con Ur-tag o con el Embajador de los Dwarvens

Siga caminando al sur hasta llegar a un pasillo que conduce hacia el oeste (es el tercero hacia el oeste).
Entra por la puesta que esta justo al Oeste.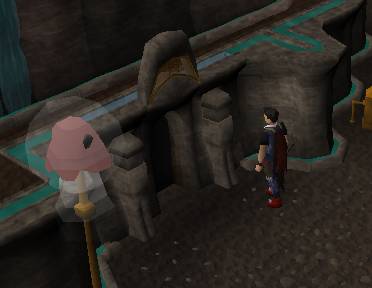 Caminar por las vias del tren hasta el sur, hasta llegar a un grupo de duendecitos
Habla con Tegdak y el te dira que necesita algunas cosas de duendes enterradas alrededor. Te pedira ayuda para que las encuentres.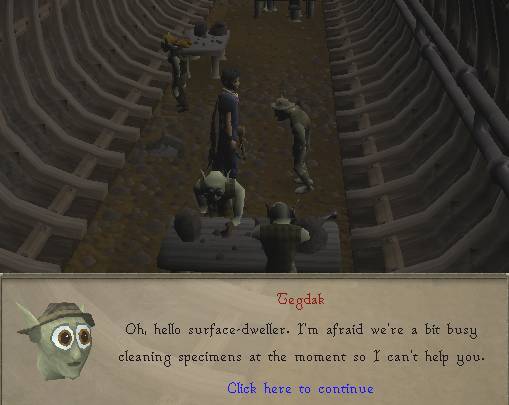 El te dara unos artefactos para encontrar las cosas, Estos no necesitas devolverselos.
Ir a lo largo de la ruta, hacia el sur e iras encontrando los artefactos Son 6.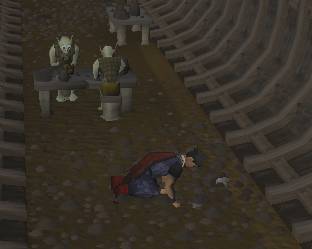 Ahora tienes que limpiar todos los artefactos. Los limpias en la specimen table (es la mesita q veras al sur. Limpialos todos y regresa con tegdak y el te dara las gracias.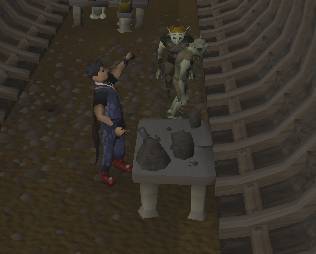 Ahora tendras que hablar con el gnomo scribe que se encuentra justo al oeste del punto de partida. El te dira que hables con Oldak.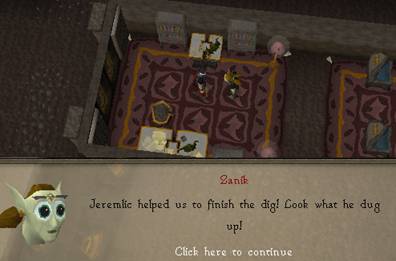 Ahora valla a la planta baja e ir al norte-oeste para hablar con oldak (esta al norte de la sala del banco). Luego de hablar un poco el te dara una esfere que te telestransportara a la goblin village.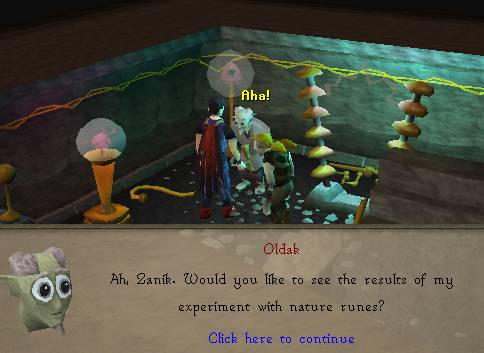 Una vez en la goblin village, Habla con los goblin generals. Y veras una escena de ustedes hablando con zanik Ellos te diran que el Mace es un "Holly mace of the god war" Un mazo sagrado de la guerra de los dioses. Sigan hablando y te encontraras con ellos en el grubfood y diran que zanik es la elegida.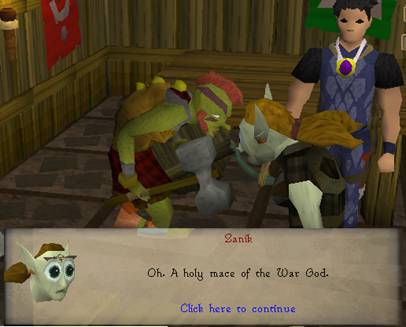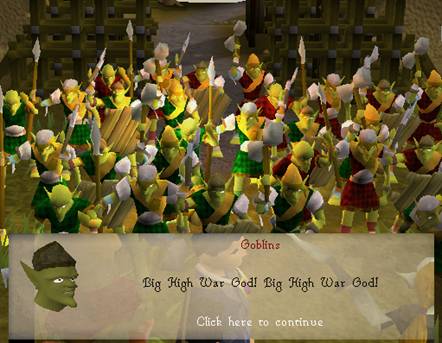 El general wartflace reunira a todos los goblins, después que empieza a enojarse con todo lo que dice zanik
Ahora a prepararse para luchar. Cuando estes en la goblin village no podras moverte alrededor de la aldea. Entonces corre solo por la parte de atrás. Muevete asi: Un cuadrado al norte, luego al oeste y luego todo el camino al sur. Y sube por las escaleras. La H.A.M ranger y mago estaran faciles de matar, ambos son lvl 30 de combat. Pero ten cuidado de conservar tus hitpoints. Y usa prayer si es necesario.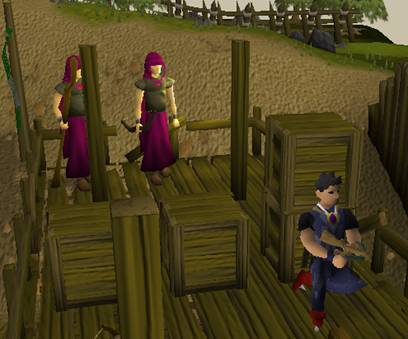 Después que mataron, el mago y el ranged de la H.A,M Sigmund y zanik lucharan, pero después de un rato sigmund toma a zanik de rehén. Entonces los generales salen y le diras lo que paso. En esta parte tendras el mace sadrado.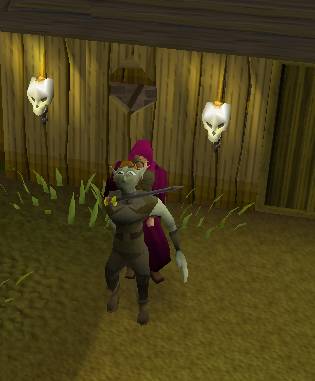 Ahora anda al pantano de lumbridge (sur-este de dryanor) y encontraras al sargento. Estan a las afueras del altar de agua. Donde aparece un signo de exclamación rojo en el mini map. Habla con ellos.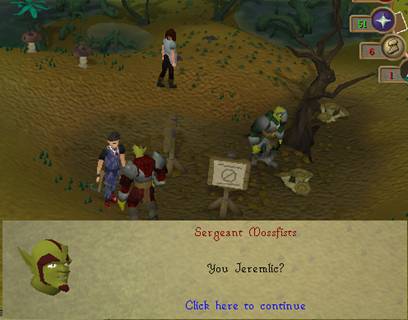 Necesitaras una linterna para esta parte. Baja por el agujero y luego por el otro agujero que veras. Y aparecera una pequeña escena.
Esta sera la parte que quizas veas mas difícil. Pero si lo haces bien no demoraras mucho tiempo.
Al bajar encontraras en la parte de atrás otra escalera, tienes que hacer que tus dos sargentos (los goblins) maten a los guardias H.A.M, dile a tus guardias que esperen ahí, activa la opción de correr (nota: si te acercas mucho a los guaridas H.A.M. te pegaran y tendras que empezar otra vez esa parte) entonces ya que hiciste que los guardias te vieran, has que se acerquen a tus sargentos y escoge la opción de esconderse dentras de las cajas.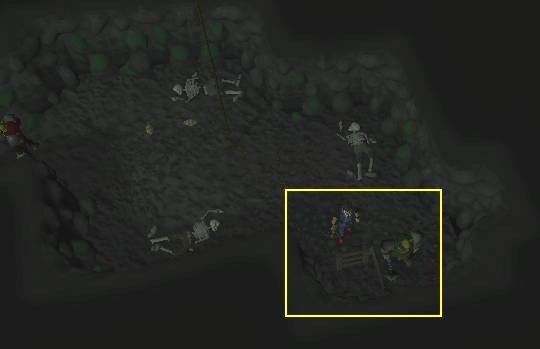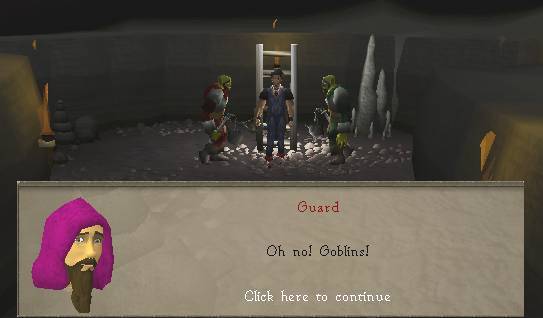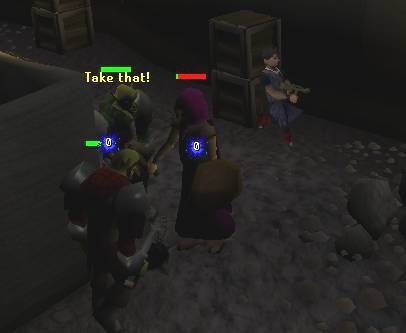 Una vez que tus sargentos hayan matado a los guardias baja por la escalera al final del corredor y preparate para la pelea final.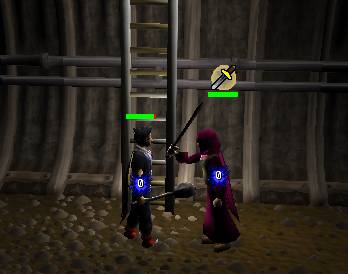 Ya que estas abajo vas a ver que Sigmud amarro a Zanik vias para que el tren le haga un masaje un poco salvaje. Vas a tener que usar el ataque especial del ancient mage (que encontraste al principio del quest y que limpiaste) una vez que usaste el special attack ya vas a poder matar a sigmud y justo cuando estas a punto de matarlo sigmud se teletransporta y desaparece.
Desata a Zanikj y vas a ver como pasa el tren y después un pequeño video de la inauguración de la linea del tren Keldagrim – Dorgesh-Kann y apartir de ese momento puedes usar el tren.
Felicidades terminaste el queso y acceso a la ciudad Dorgesh-Kann y poder usar el tren.