Requerimientos:
Nivel 77 Magic.
Nivel 68 Construction.
Nivel 68 Smithing.
Nivel 67 Crafting.
Quest Swan Song terminada.
Rescatar a Sir Amik Varze en la quest Recipe for Disaster.
Items necesarios:
Chisel
Steel bar
Mithril bar
2 Oak plank
Anti-dragon shield
Equipo y comida para derrotar varios enemigos desde un perro nivel 52 hasta un dragon nivel 204 y un mago nivel 246.
Recompensa:
50,000 Xp en Construction y Magic.
40,000 Xp en Smithing y Crafting.
30,000 Monedas.
Nuevas habilidades en Construction y Magic.
99 Teleport to house
Lampara de 10,000 en cualquier habilidad mayor a 60. (Opcional)
5,000 Monedas. (Opcional)
1.- Para empezar la mision habla con Mabel al nor-este de Draynor Village. (mapa)
Can you tell me what's wrong?
Ella te dice que perdio su anillo en el segundo piso del granero, y te pide ayuda para que se lo lleves.
2.- En el segundo piso hay varios rollos de paja bloqueando el camino, puedes empujar 1 o 2 rollos a la vez. Abre el camino hasta el anillo y baja para devolverselo a Mabel.
3.- Mabel estara escondida en un costal, habla con Zenevivia para saber que pasa.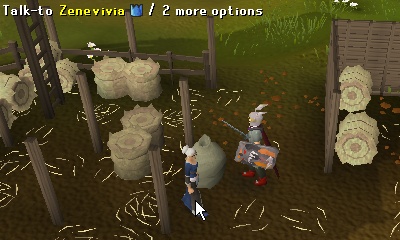 What's happened to Mabel.
Are you going to give Mabel her ring?
What do you want me to do?
Zenevivia se canso de los gritos de Mabel, asi que la asusto para que se callara, ahora te pide que busques una rama (Twig) en la paja.
Busca en los rollos de paja la rama, se la entregas y hablas con ella.
Will you return Mabel's ring and leave now?
You're upsetting Mabel.
You're being really mean!
I'm trying to complete this quest…
Alright, I accept. I'll make you regret this!
Ella te dice que esta cansada de los aventureros que hacen cualquier cosa para recibir recompensas (como ponerte a buscar ramitas en la paja jaja), y ayudando a personas flojas como Mabel en ves de obligarlos a hacer las cosas por ellos mismos. Asi que para demostrarte que es mejor que tu, te reta a ti y al Wise Old Man a una pelea a muerte.
4.- Ve con el Wise Old Man (mapa) y cuentale lo que paso.
A woman called Zenevivia wishes to challenge us.
Ahora te contara que Zenevivia y el eran novios, y veras una pequella animacion de su historia.
5.- Ahora preparate, saca los items del banco (chisel, mithril bar, steel bar (o clockwork), 2 oak planks, armadura, comida, anti-dragon shield y por lo menos 2 espacios libres en tu inventario, ve la parte final de la batalla para que veas si te conviene llevar tambien equipo de arquero).
Cuando estes listo ve a Rimmington y cuando llegues al portal habla con el Wise Old Man.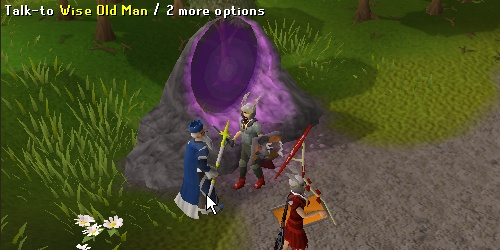 El tratara de entrar a su casa pero no puede por que Zenevivia desconecto su casa de la red de portales.
Te explica que es posible modificar una home teletab para que te lleve a otros lugares. Te manda a conseguir un chisel y se va a la casa que esta al sur-este.
6.- Cuando consigas el chisel ve a la casa (mapa) y habla con el. Te dara 100 Teleport to house y te enseñara como abrirlas para modificarlas.
Da click sobre la Teleport to house (chipped) para empezar la modificacion. Lo que tienes que hacer aqui es conectar el Nodo de comienzo con el de Destino, para eso arrastra las partes de la izquierda a los cuadros de la teletab.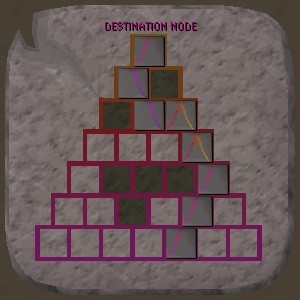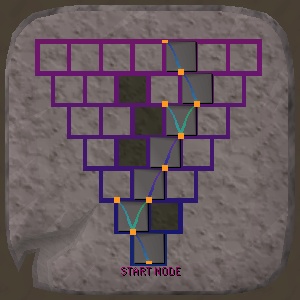 7.- Cuando termines de modificar la teletab, parate al lado del Wise Old Man y dale click a la teletab. Seras teletransportado a su casa. En cuanto llegan el te dira que su casa se ve diferente y que Zenevivia ha desactivado la seguridad de la casa, asi que si mueres, perderas tus cosas. (Tu tumba aparecera en Rimmington, osea que las puedes recuperar). Habla con el, te dira que la unica manera de llegar a Zenevivia es cruzar la dungeon. Selecciona la opcion Okay, let's get in there.
Ahora trata de entrar a la dungeon y te advierte que la dungeon esta llena de trampas, selecciona:
Traps? Very dangerous. You go first.
El entrara y una trampa se activa. Despues de salir hablara contigo y piensa en una manera de desactivar las trampas.
What are we going to build?
Te pide que vallas al taller y hagas un Clockwork mechanism.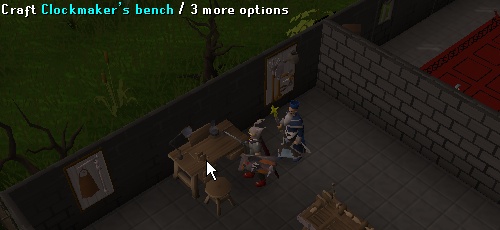 Despues vuelve a dar click sobre la misma mesa y el te ira diciendo las instrucciones, para finalmente hacer un muñeco.

8.- Ahora ve a la entrada de la dungeon y usa el Dummy en la entrada. En esta parte controlaras el movimiento del muñeco para desactivar las trampas. Lo mejor es que des algunas vueltas por cada sala para que desactives las trampas, en las salas hay 2 trampas, excepto por las escaleras y la sala con el Scabarite.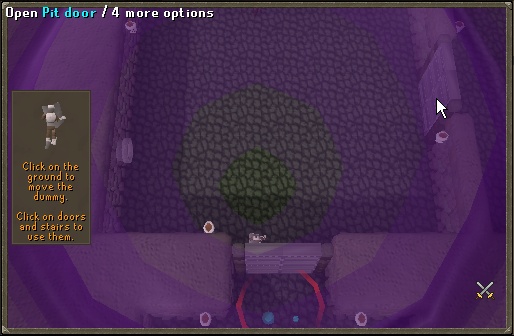 Cuando el muñeco llegue a las escaleras de salida, el Wise Old Man te dara 2 opciones, el sacara el muñeco (Yes, get it out now) o puedes manejarlo tu para buscar mas trampas en el camino de vuelta (No, keep searching for traps on the way back.). Selecciona la que tu prefieras.
9.- Entra en la dungeon, nuevamente te dara 3 opciones:
Yes, I'm sure I found them all. Let's enter. (Entrar)
I'd like to send the dummy back in. (Usar el muñeco de nuevo)
I'll come back later. (No hacer nada)
Para ir avanzando en las salas debes matar a cada guardian.
Pit dog (level 52)
Pit ogre (level 62)
Pit rock protector (level 120)
Pit scabarite (level 150)
Pit black demon (level 172)
Pit iron dragon (level 204)
10.- Trata de subir las escaleras y el Wise Old Man te pide que hables con el primero.
Violent crime is not the way to have fun.
Why would she listen to you now?
Okey, let's go and face her.
Finalmente sube y habla con Zenevivia. (Antes de hablarle curate, usa pociones, etc.). Se recomienda usar Protect de Magia.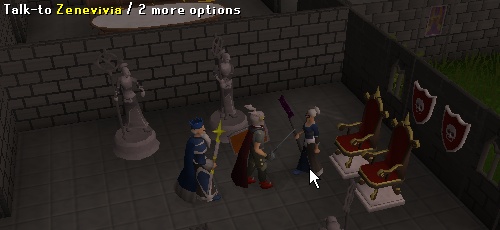 De ves en cuando ella se parara sobre las bases de las estatuas y te alejara si la atacas con melee, tienes 2 opciones, atacarla con tu ranged o parate entre ella y otra estatua para que no te aviente.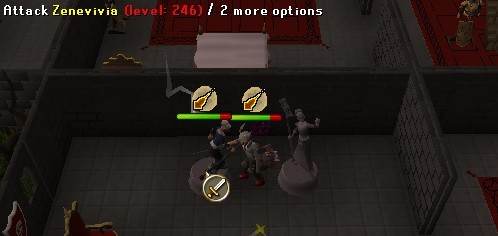 Despues de la pelea habla con ella de nuevo, y el Wise Old Man la convencera de que ya no es un fanatico de las quest y que ahora le gusta divertirse, la invita a asaltar la Wizard Tower con el.
11.- Apareceras en Draynor habla con Zenevivia y pidele el anillo.
Have you still got Mabel's ring?
When you will give me Mabel's ring?
When are you going to attack?
Su plan es asaltar la Wizard Tower pronto, sube al segundo piso y mira por el telescopio para observarlos. Despues de ver la animacion baja y habla con ellos de nuevo.
I see your little robbery didn't go very well.
Can I have Mabel's ring now?
Gracias a ti ellos estan juntos de nuevo asi que el Wise Old Man te enseñara a modificar las Teleport to house para llevarte al portal que tu quieras, Zenevivia te dice que ahora puedes redecorar tu casa igual que la suya (Piedra Negra), puedes construir dungeon pits y tendras descuentos con tus sirvientes.
Felicidades, mision terminada!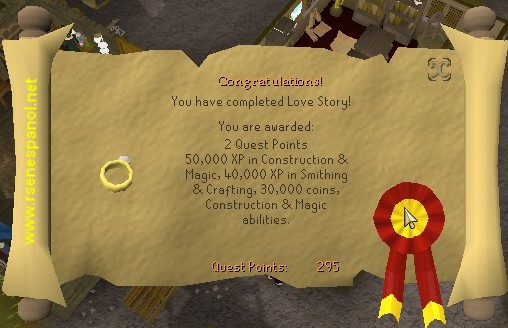 Recompensas extra:
Ya que terminaste la mision, puedes ir a devolverle el anillo a Mabel (Que todavia esta escondida en el costal). Te dara una lampara de 10,000 Xp en la skill que quieras mayor a 60.
Puedes ayudar al agente escondido en el arbol a bajar (Necesitas un hacha para cortar el arbol). Te dara 5,000 Monedas.