x
Lugar de comienzo:
Keldagrim, hablando con The Boatman.

Recompensa:
2 Quest Points
2500 Crafting Exp

2500 Mining Exp

2500 Smithing Exp

1500 Firemaking Exp

1500 Magic Exp

1500 Thieving Exp

Requerimientos:
Nivel 12 de Crafting

Nivel 14 de Thieving

Nivel 16 de Firemaking

Nivel 33 de Magic.

Objetos Necesarios:
Un log de cualquier tipo.

Redberry pie: si no has hecho la quest de The Knight's Sword

3 sapphires cortados (usas un chisel en un sapphire normal).

Una pickaxe

Una Iron Bar.

1000 gp.

1 Coal

Tinderbox.

Items que Recomiendo para terminar mas rápido la quest:

5 clay (solo el clay no softclay)

5 tin ore

5 cooper ore

5 coal ore

5 gold ore

5 mithril ore

5 silver ore

Algunas barras de steel.

Todo esto se puede comprar durante la quest pero si quieres hacerlo mas rápido te recomiendo que los tengas en el banco. A mi me hubiese gustado tenerlos en el banco.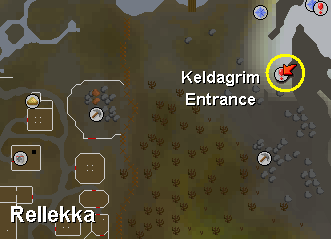 Para comenzar la quest dirígete a keldagrim, encontraras la entrada cerca de rellekka, la imagen de arriba muestra la ubicación.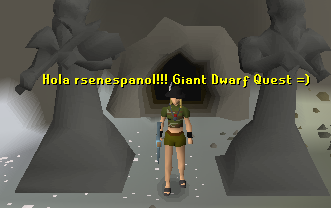 Al llegar a la entrada veras unas estatuas custodiándola, entra a la cueva.

Al pasar a la cueva, encontraras dos nuevas estatuas pasas por la ranura entre las dos estatuas.
Inicio:
Para activar la quest tendrás que hablar con un dwarf llamado Boatman, veras un cutscene de la estatua del rey de los enanos y serás arrestado.

Terminaras en una habitación de keldagrim, donde se encuentra un comandante. Habla con el y te dirá que hay que construir una nueva estatua del rey y para ello te mandara a hablar con el escultor local.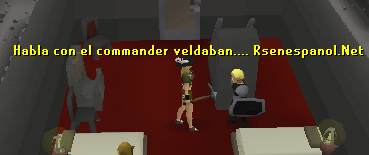 Ahora tendrás que ir a hablar con Blasidar que se encuentra en la parte este de la ciudad. Blasidar es un escultor, el está haciendo la estatua del rey de los dwarf pero necesitara unas pocas cosas para trabajar mejor en la estatua. Estas cosas son: Un par de botas, Ropa lujosa para parecerse al King Alvis, y una Sofisticada axe.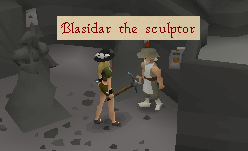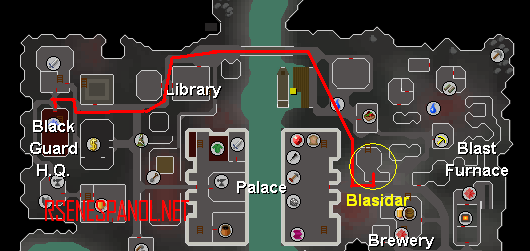 BOTAS:
Ve a la parte oeste de Keldagrim y ve a hablar con saro, y preguntale por las botas, el te dira que tienes que hablar con Dromund.

Dromund vive justo al norte del banco, cuando le comentas sobre las botas este se niega a dártelas, entonces tendras que tomarlas para este paso necesitaras las runas del spell telegrab.
La primera Botita se encuentra en la mesa, Tomala justo cuando el no este viendo.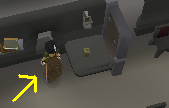 La otra es un poco mas complicada porque tendrás que pararte en la parte de afuera de la casa y desde la ventana tomarla con telegrab. Si el te ve no te dejara tomarla. Lo recomendable es esperar que el este caminando de espalda a la ventana. Para que no te vea.
Nota: La ventana que da a la otra botita es la q da al lado de una escalera, desafortunadamente no tengo esa foto. Pero hay algo curioso, al lado de esa ventanita hay una gato gordito sobre una mesita XD. Recuerda colocarte del lado externo de la casita.
ROPA DEL REY:
Ahora tienes que ir con vermundi, es una enanita que vende ropita de dwarf.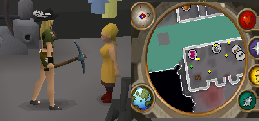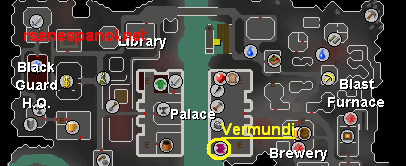 Habla con ella pero ella no sabe como hacerlo entonces tendras que ir a la librería que se encuentra cerca del banco.
Nota: Para este paso tendras que dejar todo lo que tienes cargando en el banco ya que necesitaras pesar menos de 1kilo.
Ahora ve a la librería y habla con el tipo de la librería, preguntale como conseguir el libro para hacer el traje y el te mandara a buscar en los estantes de libros. Tendras que subir por las escaleras frente a los estantes de libros. Hasta que lo encuentres.

Cuando tengas el libro, ve al banco busca los coal y el log y la tinderbox y 200gps. Habla con vermundi de nuevo. Muestrale el libro te pedirá los coals y el log, entonces habla nuevamente con ella.
Ahora necesitaras encender la maquina, usa el log y la tinderbox en ella.
Luego habla con ella de nuevo y le tendras que pagar 200gps para que te de la ropita del rey.
BATTLE AXE:
Para esto tendras que hablar con santiri. Que se encuentra al oeste de la casa de Dromund. (al noroeste de la tienda de armas). Habla con el de los planes de hacer la estatua. Dile que te envio el escultor. Estonces el te dira que tu no eres un forjador suficientemente capacitado para forjar reparar esa arma.
Para el siguente paso necesitaras los safiros.
Ve a donde el tutor de smithing que vende la skill cape de smithing cerca de la playa del sur de portsarim.
Thurgo te la reparara. (si no tienes la Quest Free de Knight's Sword, necesitaras un redberrie pie para hablar con el). Cuando estes listo, el te preguntara si quieres regresar a keldagrim y tu aceptaras.

Cuando tengas todos los ítems necesarios. Vuelve a hablar con Blasidar.
Ahora la parte mas difícil a mi parecer.
Necesitaras trabajar para una de las compañías de los enanos.
En el mercado donde hicistes las ropitas del rey sube las escaleras y encontraras las diferentes compañías.
Todos pueden unirse a: Green gemstore, White chisel, purple pewter, blue opal y silver cog.
Mujeres: yellow furtune
Hombres: Brow engine
Nadie: red axe.
Cuando intentes hablar con el director te mandara a hablar con su secretaria. Esta te mandara por algunos ores en un tiempo de 10-18mins. Para esto necesitaras tener en tu banco 4 o 5 ores de cada tipo: coal, tim, silver, gold, Cooper etc. Si no lo tienes frente al edificio del mercado hay un horno entra en esa casita del horno baja las escaleras y veras como una fabrica pequeña dale trade a alguno de esos dwarf y podras comprar el ore necesario.
Para poder hablar con el director necesitaras. De 4 a 8 task. (es un fastidio lo se).
Cuando hables con el director este te dejara unirte a la compañía, te dara unos papeles.
Ahora habla con el commander con quien hablaste al empezar la quest (commander veldaban).
Y te aparecerá un cutscene y terminaras la quest. =)