Escrita por: Cesarmanuel
Donde Empezar:
Habla Con Jones en la Fishing Guild
Requerimientos:
Quest:
Tower of Life
Druidic Ritual
Skills:
67 Hunter
70 Fishing
70 Thieving
Objectos Necesarios:
Ninguno.
La Quest
Ve a la fishing guild y habla con jones, el te dira que necesita un fuerte y valiente explorador, para ayudarlo a cazar uno de los peces mas furiosos y difíciles del mar, por supuesto aceptaras la misión.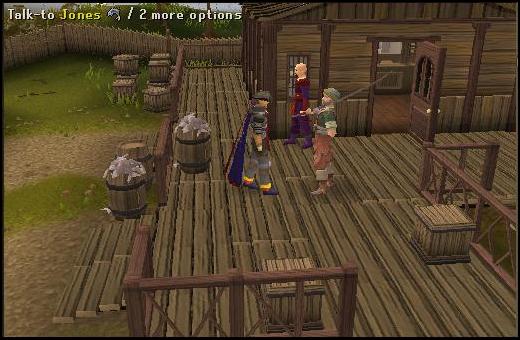 El te dira que primero necesita unos objectos para poder cazar a "thalassus", necesitaras conseguir un Sea Chart, un Big Harpoon y un "rower".
Para conseguir el Sea Chart, habla con el master Fisher (quien vende la capa de Fishing) y preguntale sobre el sea chart y el big harpoon, el te dira que una amiga de el podría hacértelo y que ella se encuentra un poco al norte de la fishing guild. Para conseguir el sea chart dale pickpocket al master Fisher (tomara varios intentos).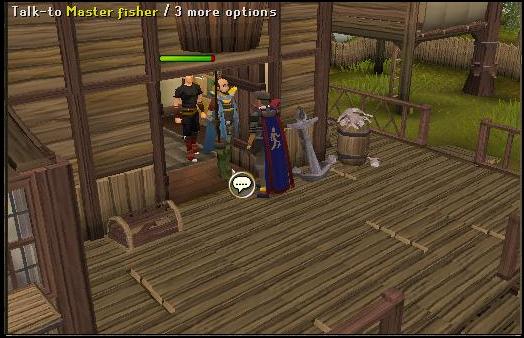 Sal de la fishing guild, y ve al nore como si fueras a la ranging guild hasta que veas a linza..una chica que hace Smithing y dile sobre el harpoon, luego de un poco de conversación ella accedera a hacértelo.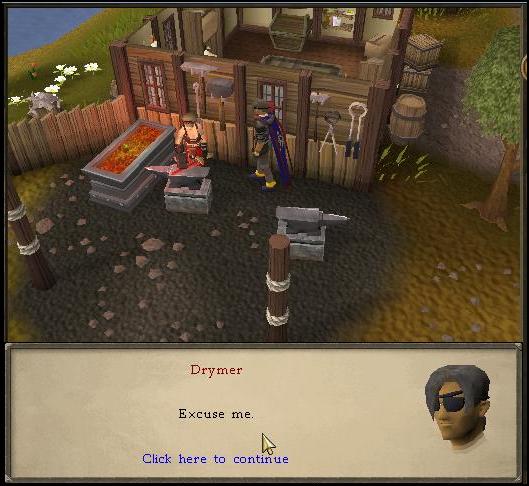 Para el rower tendras que ir a la tower of life, al sur de ardougne, cuando estes alla habla con "the Guns" el te dira que ayudaría pero tiene una enfermedad marina, asique tendras que conseguirle una poción para mejorarlo. Habla con bonafido que se encuentra cerca de la entrada y pidele un builder's tea, para la hierva mira en el piso cerca de la torre y veras una hierba diferente, busca hasta que encuentres una que no tenga insectos y se la pones al te y se la das a Guns para que te acompañe.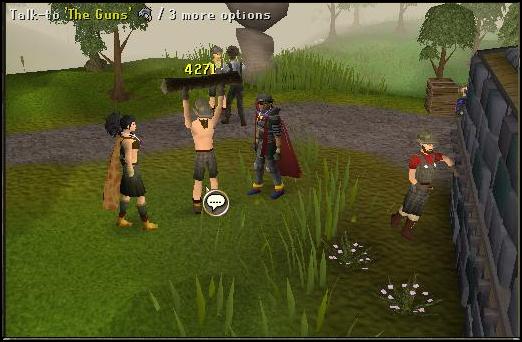 Ahora ve a la fishing guild para partir.
Cuando estes en el mar veras que es como un minigame, tendras que seguir las pistas de thalassus investigando los botes caidos, pero si fallas 5 veces tendras que volver a empezar, asique recuerda bien donde hiciste click.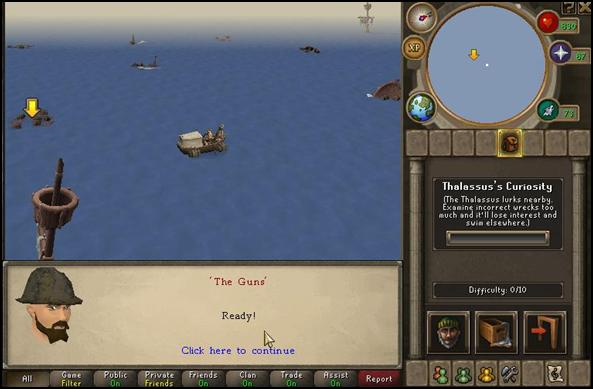 Cuando lo encuentres veras como ataca el bote y seras nockeado y llevado a una isla desierta donde solo hay 3 criaturas marinas que tendras que hablar, sigue estas líneas de chat:
The Thalassus has eaten Jones the mighty fisherman.
It should, he's been hunting for decades.
Very horrid! After he's killed the Thalassus, he'll probably come after you.
Trust me, I'm a great adventurer, I should know.
Did I mention Jones has a harpoon with him?
It's no ordinary harpoon.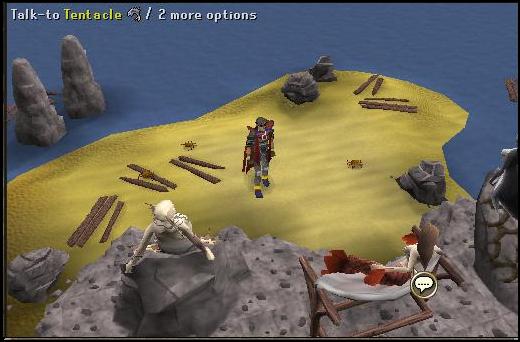 Luego del chat volveras al barco, y tendras que repetir el minigame para encontrar a thalassus y a jones, cuando lo encuentres volveras a fishing guild y veras como jones te da un diente de thalassus para que se lo lleves a linza, llévaselo y luego regresa a con jones.
Felicidades Quest Completa!