Lugar de comienzo:

Rimmington,
Habla con Hetty.

Recompensa:

1 Quest Point.

325 Magic Exp.

Objetos Necesarios:

Eye of newt (Cuesta 3 gps).

Requerimientos:

Ninguno.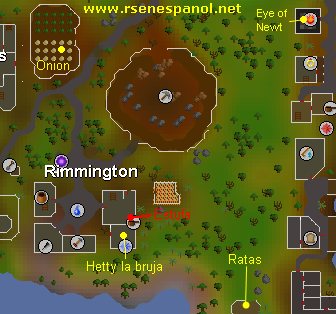 1.- Habla con Hetty en Rimmington y selecciona:
I am in search of a quest.
Yes, help me become one with my darker side.
Te dira que esta preparando una pocion y necesita que tu consigas los ingredientes restantes, que son: 1 Onion (Cebolla), 1 Burnt meat (Carne quemada), 1 Eye of Newt (Ojo de tritón), y 1 Rat tail.
2.- Las Onion se encuentran en un campo al norte de Rimmington.
3.- Ve a la tienda de runas de Port Sarim y compra un Eye of Newt por 3 monedas.
4.- Al Sur-Este hay ratas gigantes, mata 1 y recoje rat meat. Usa la rat meat con la estufa de Rimmington, si no se quemo, usala de nuevo para quemarla.
5.- Mata una rata nivel 1 de las que hay por todo el pueblo y toma la rat tail.
6.- Vuelve a hablar con Hetty con todos los ingredientes y ella podra terminar la pocion, como recompensa por tu ayuda te dejara beber de su nueva pocion.
7.- Bebe de caldero y recibiras tu recompensa.