Escrita por: Cesarmanuel
Lugar de Comienzo:
Habla con el Lava-Flow miner Sven en el lado este de keldagrim
Requerimientos:
68 Mining
70 Smithing
77 Strenght
Habilidad para poder matar un enemigo Lvl. 160
Objectos Necesarios:
Pickaxe
6 Soft Clay
6 Mithril Bars
Recompenza:
45,000 Mining Xp.
50,000 Smithing Xp.
55,000 Strenght xp.
2 Quest points.
Instrucciones:
1- Habla con sven sobre un tour por las lava-flow mine, luego te mostrara la mina.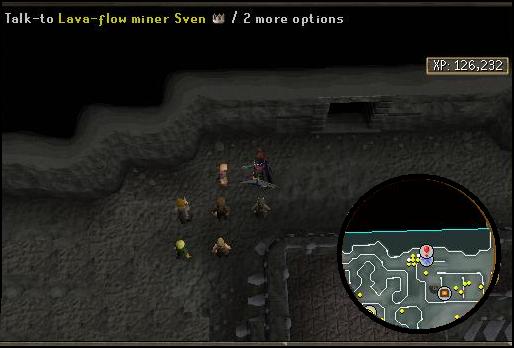 2- Una figura misteriosa hace explotar las maquinas destruyendo el lugar y haciendo que los mineros queden atrapados.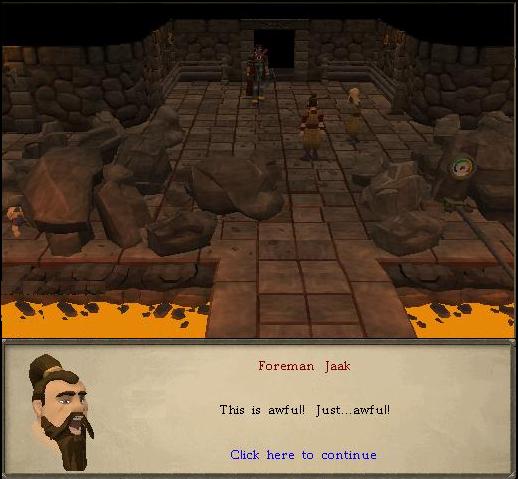 3- Habla con el foreman jaak y te dira que tienes que minar los escombros para liberar a los dwarves.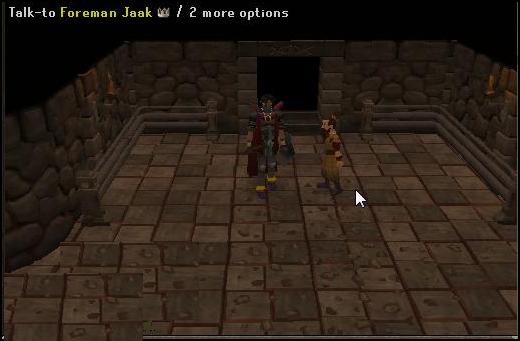 Los dwarves representan un punto amarillo en el mapa, los escrombros no todos pueden ser minados, si no pueden ser minados por un lado son por el otro. Solo puedes llevar un dwarf a la ves en tu inventario, llévaselos al foreman.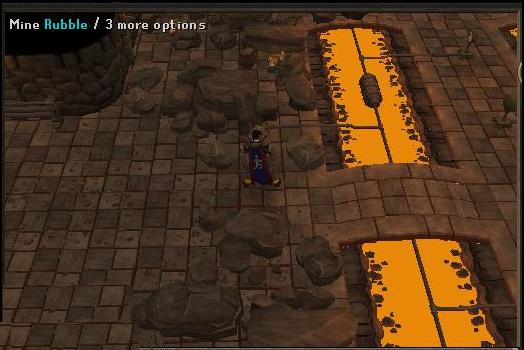 5- Cuando hallas rescatado 3 dwarves entraran los black guards.Cuando hallas rescatado a todos te diran que tienes que salir de la mina por causas de seguridad. Y habrá una turba furiosa fuera de la mina.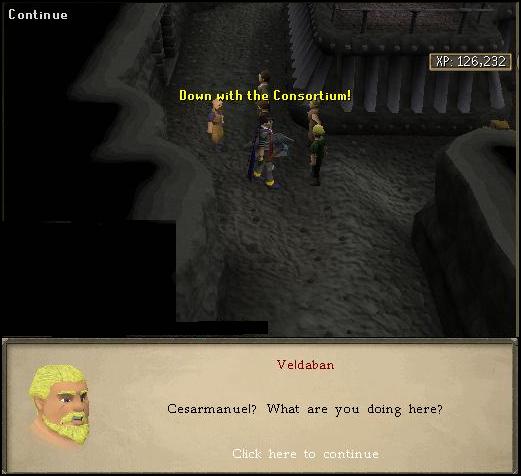 Habla con veldaban y entonces aparecerá una esena en la que veldaban será inculpado por haber ocacionado la explocion y será llevado como prisionero ante el consorcio que rige KeldaGrim.

Ve hacia el piso mas alto del trading center, donde ocurre un debate sobre el futuro de keldagrim y veldaban. Allí tendras que hablar con los 4 directores y tendras que persuadirlo para que liberen a veldaban y lo dejen en tu cuidado. Habla con el secretario para saber que esta pasando.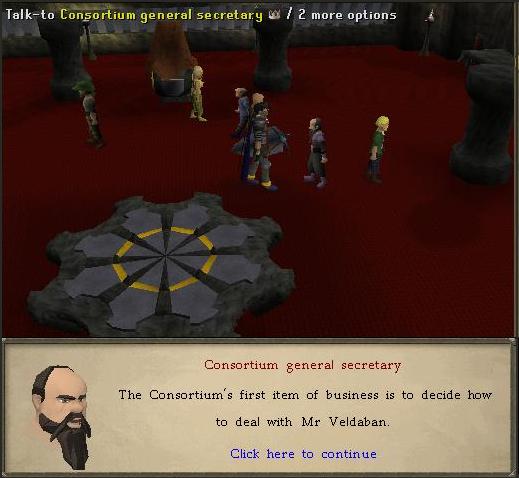 8- Antes de hablar con los directores habla con veldaban y preguntale porque esta molesto y dile que trate de calmarse, luego de que este calmado habla con los directores y escoje estas opciones sino, no podras hacer que liberen a veldaban.
why did you arrest Veldaban?
arresting him makes you look worse.
what to do about the miners.
it was a difficult decision, and I understand.
Ask about the lava-flow mines.
The chaos dwarves blew up the secondary boilers.'
I was there when the explosion happened.
I saved some of the dwarves.
9- Luego de que los directores hagan su veredicto sobre veldaban, entrara un guardia y te informara que te hay una turba/protesta en el lado este del trade center, y que su jefe es hreidmar, asi que ve con veldaban a hablar con el.
10El te dira que keldagrim necesita un rey y que tienes que encontrar a la líder de la sociedad monarca, meike. Y te pedirá que hables con alguien de la protesta para saber donde ella se encuentra.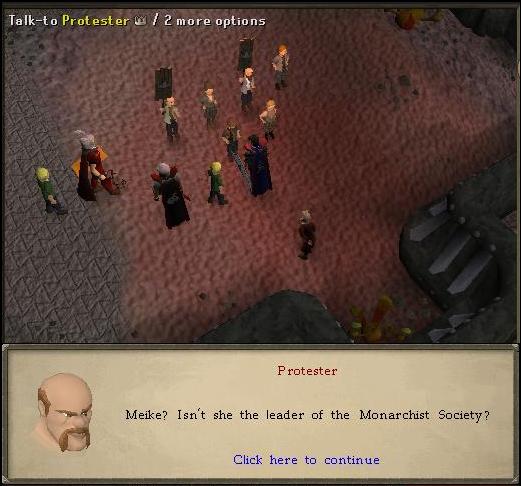 11 Te diran que se encuentra en el king's axe inn en el lado oeste de keldagrim.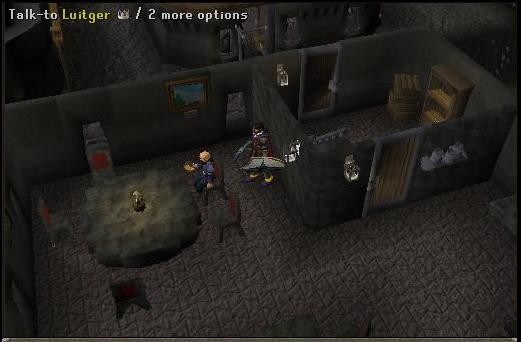 1 Ve al bar y encontraras con luitger y preguntale si esta bien, y preguntale si se unira a la protesta luego, después veldaban estará pensando si meike tal vez fue arrestada asi que dirigete al black Guard's hq.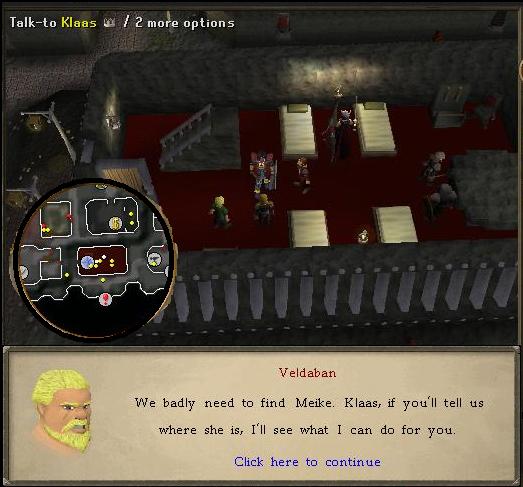 13 Alla encontraras a klass quien estaba con meike y te dira que ella se encuentra en la torre al sur de keldagrim que une a kelgadrim con las minas.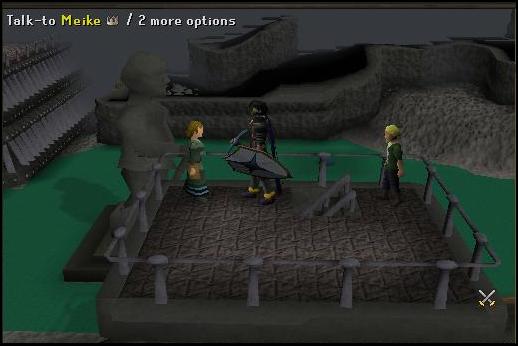 1 Cuando lleges a donde meike ella te dira que hreidmar quiere hacerse rey alterando las fichas y veldaban suguiere entrar en la sala de fichas antes que hreidmar para salvarlas. Ella aceptara y te dira que lleves 6 mithril bars y 6 soft clay a la librería al norte del lado oeste.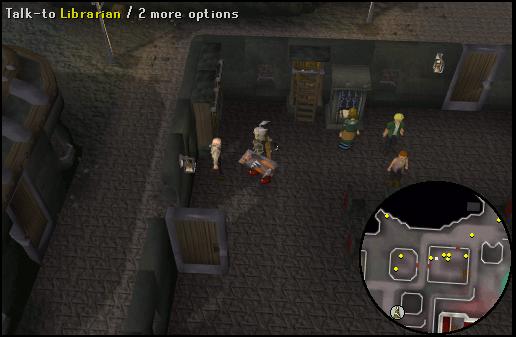 15 Alla habla con el bibliotecario y preguntale sobre las llaves, acepta todo lo que te pide y te dara la llave de la caja con las llaves de la sala de fichas, intenta usar los clays pero el librero te lo impide, meike te sugiere que lo distraigas y ella lo hara, dale los clays y entonces habla con el bibliotecario sobre las llaves una vez mas y meike lo hara.
16 Luego te dice que uses una furnace para hacer la llaves con mithril bars, usa el clay en la furnace y obtienes las llaves con unos números y encuéntrate con meike al oeste del banco de keldagrim para entrar en la salón.
17 Cuando estes dentro habla con meike y ella te dira que las llaves necesitan una serie de convinaciones ponlas en este orden- de izquierda a derecha-: 5, 1,4- 6, 3,2.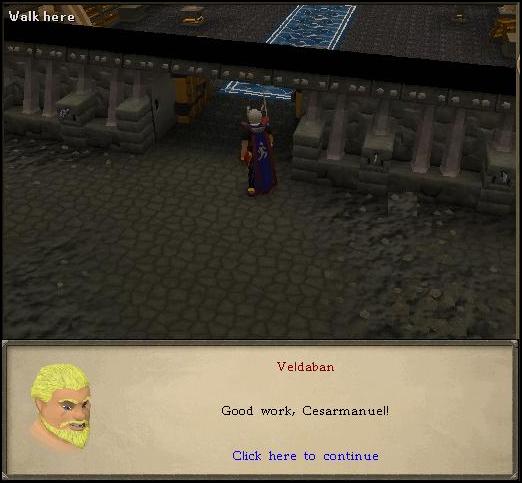 18 Meike empezara a revisar los records y entonces se dara cuenta de que hreimar es el verdadero rey y alterara los recrods por el bien de todos.
19 Ahora preparate para la batalla contra el chaos dwarf level 160, es una batalla fácil con black dhide la puedes completar solo lleva 1 prayer pot si lo crees necesario, food no es muy necesaria ya que el enemigo no se centra en ti sino en veldaban.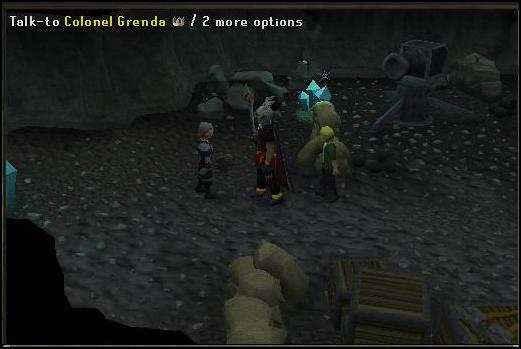 Habla con veldaban para ke te lleve a la cueva de los chaos dwarves, habla con la colonel grenda para que te informe sobre las acciones de los dwarves. Ahora sigue la cueva hasta el final (pasando una cueva) y al final estará el coronel grimsson, abra un dialogo entre ustedes y comenzara a atacar, tienes que matarlo antes de que el mate a veldaban si lo hace, apareceras afuera de la cueva para intentarlo denuevo.
21 Luego de haberlo matado, el huira junto a su ejercito, habla con veldaban y sugiérele que hay que buscar refuerzo y suguiereles los trolls el dira que no kiere pero tu dile que lo hara con el o sin el.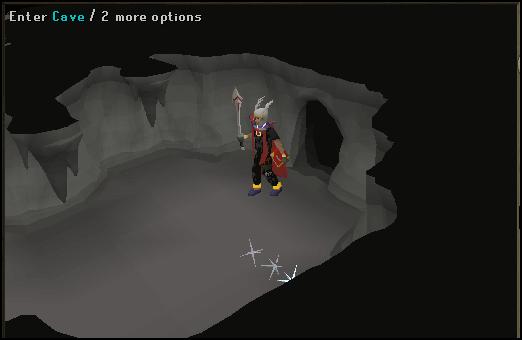 22Regresa a la cueva que pasaste y habla con el troll pretty flower.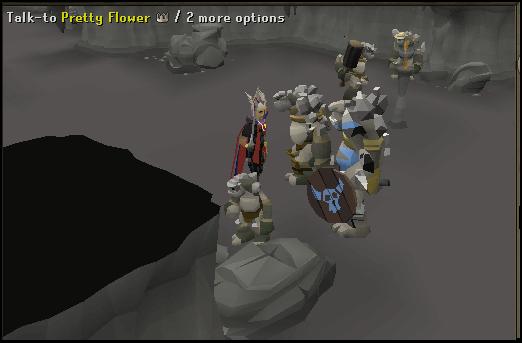 23 El negará hablar contigo hasta que le muestres tu fuerza, te dira que levantes a big rock, levanta la roca.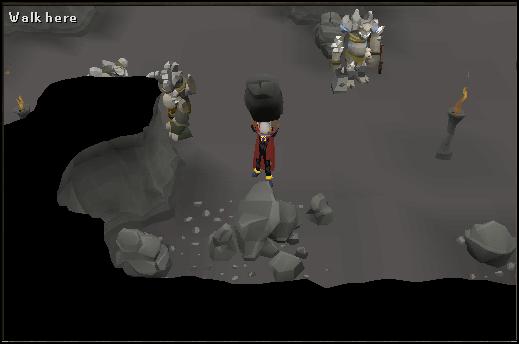 24El dirá que no hablaba de la roca sino sobre el troll llamado big rock, levantalo y hablara contigo.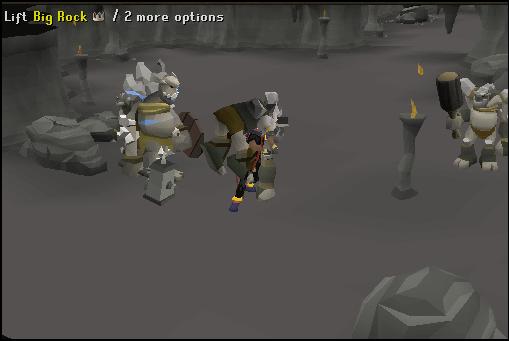 25Trata de persuadirlo para que ataque a los chaos dwarves, luego de intentos e intentos el se reusa.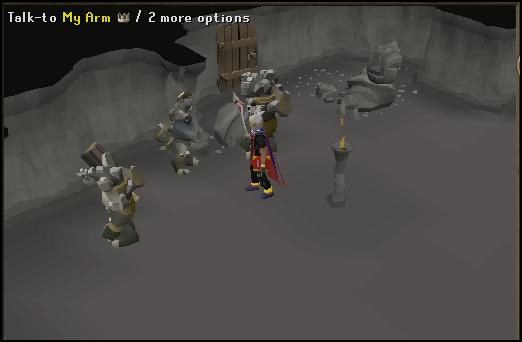 26 Habla con my arm que se encuentra cerca de el y hablale para que te de una pretty flower, luego dile a pretty flower que esa flor fue regalo de un chaos dwarves y aceptara enfrentar a los chaos dwarves.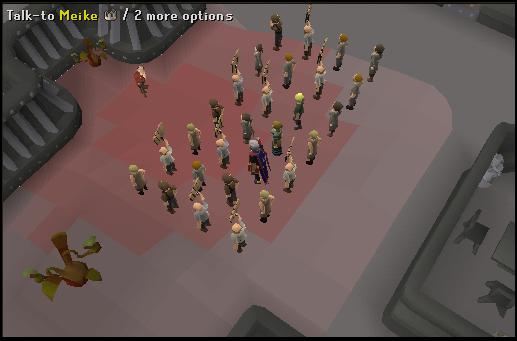 27 Regresa a la protesta y habla con meike y felicidades Quest Completa!