Lugar de comienzo:
Mansion de Draynor (norte de Draynor Village)

Recompensa:
1 Quest Points
2500 Woodcutting Exp

1000 Crafting Exp

1000 Fletching Exp

1000 Slayer Exp

Ava's Attractor o Ava's Accumulator

Blessed axe

Requerimientos:
Nivel 18 de Slayer

Nivel 19 de Crafting

Nivel 30 de Ranged

Nivel 35 de Woodcutting

The Restless Ghost quest

Ernest the Chicken quest

Priest in Peril quest

Objetos Necesarios:
Ghostspeak amulet, 20 Ecto-tokens, 5 Iron bars, Hammer, Mithril axe, Holy symbol of Saradomin, Polished buttons, and Hard leather.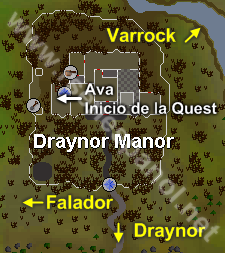 1.- Habla con Ava, te pedira que le ayudes a hacer su casa mas confortable. primero te pedira que arregles su cama, necesitaras 2 Undead Chickens.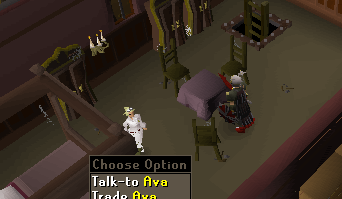 2.- Ya estando en la granja habla con Alice y dile que estas ahi por una quest, ella te pedira que hables con su esposo.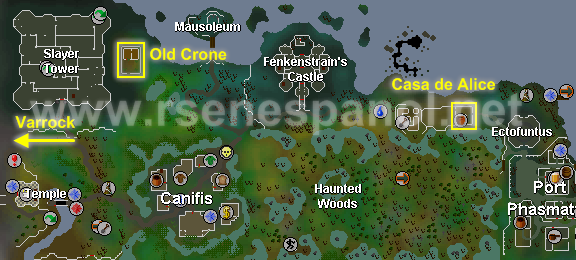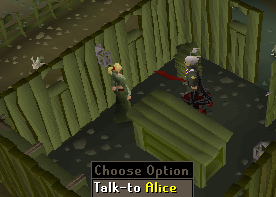 3.- Habla con Alice's husband (esposo de Alice) usando tu Ghostspeak amulet y te dira que le digas a su esposa, Alice, que todavia la ama.
4.- Habla con Alice de nuevo y te pedira que le preguntes a su esposo que si donde esta la fortuna de la familia, el esposo te dira que esta en el banco.
5.- Vuelve y habla con Alice y te dira que le preguntes cual es el pin del banco. cuando le preguntes el pin del banco al esposo te dira que eres un ratero y se negara a dartelo.
6.- Vuelve con Alice, ahora haras un enchanted ghostspeak amulet para que Alice pueda hablar con sus esposo directamente. Te dira que hay una Old Crone y talvez pueda ayudar.
7.- Camina al oeste hacia la casa de la Old Crone que esta pasando el castillo de Fenkenstrain, habla con ella con tu ghostspeak amulet equipado y te hara un amuleto para que se lo des al esposo de Alice.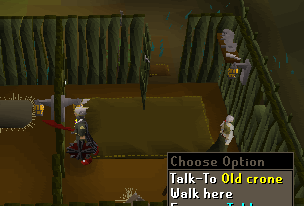 8.- Regresa y dale el amuleto al esposo, ahora te ofresera venderte los Undead chickens, compra 2 por 20 ecto-tokens y regresa con Ava.
9.- Ahora Ava te ofrecera una fuente infinita de plumas acepta y te pedira que vayas y hables con la bruja (witch) de a lado, ve al cuarto que esta al noroeste de la mansion y habla con la bruja, ella te pedira 5 barras de iron, daselas y te dara una barra especial, Selected iron.
10.- Ve a la mina que esta al norte de rimmington y mirando hacia el norte golpea con un martillo la barra que te dio la bruja para hacer un Iman (bar magnet).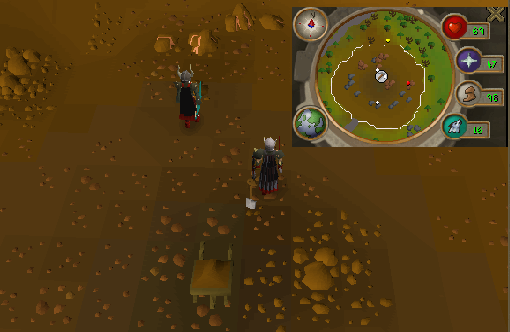 11.- Lleva el iman a Ava, ahora necesitaras madera que se regenere, te dira que cortes uno de los arboles que te atacan afuera de la mansion.
12.- Trata de cortar el arbolito pero no podras, regresa con Ava, ella te dira que Turael, el Slayer Master de buthorpe, utiliza el teleport a buthorpe de tu games necklace, o camina desde falador. Turael te dira que necesitas una Blessed axe. entregale una Hacha de mithril y el holy symbol.
13.- Te entregara una blessed axe, ahora vuelve a la mansion y vuelve a intentar cortar el arbol de antes, obtendras undead twigs.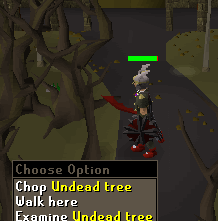 14.- Regresa con Ava y entregale la rama del arbol, ahora te dara unas notas que tendras que traducir para hacer el contenedor.
Hay 9 botones verdes, al hacerles clic cambian a color rojo, de izquierda a derecha, deja en color verde el segundo, el quinto, y el ultimo, todos los demas deben estar en rojo.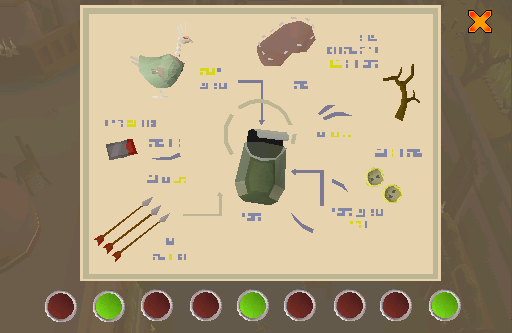 15.- Entregale los documentos y te dira que uses unos botones (polished buttons) y hard leather con el contenedor que te dio para hacer una mochila, los polished buttons los obtienes haciendo pickpocket a los miembros de HAM que estan cerca de lumbridge, en la guarida HAM.
16.- dale el container y te dara el accumulator.
Felicidades Quest completa!!