Escrita por: Tito Tintaso
Requerimientos:
72 de woodcutting
53 de farming
59 de slayer
55 de agility
Objetos:
Soft Clay
Plant Pot
Secateurs
Spade
Hatchet
Machete
Pot
Gardening Trowel
Para iniciar la misión debes hablar con Horacio que esta en el este de ardougne
Primero debes seleccionar la segunda opción "So… who are you?"
Después necesitas seleccionar de nuevo la siguiente opción "Do you need any help?"
Después debes seleccionar la siguiente opción "Sure , i enjoy a bit of gardening"
Luego ve donde el mago Cromperty y selecciona la opción "Talk about back to my roots"
De ahí debes ir a donde el RPDJ employee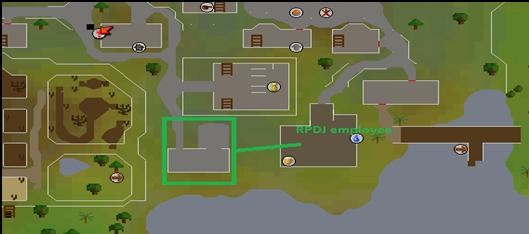 Toma el paquete de mal olor de la mesa que esta ahí, cuando la hayas cogido te dirá que encontraste una mano.
Después de que la hayas cogido vuelve a hablar con el mago Cromperty
Selecciona la misma opción de antes "Talk About Back to my roots"
Ahora tendras que hacer una Pot lid, para ello necesitas una Soft Clay y hacer el mismo procedimiento que se hace al hacer un Pot normal.
Vuelve a hablar con El Mago y te dirá que vallas a brimhaven, para ello, tienes que ir al puerto y coger el barco hacia allá (cuesta 30 coins). Cuando llegues habla con Garth.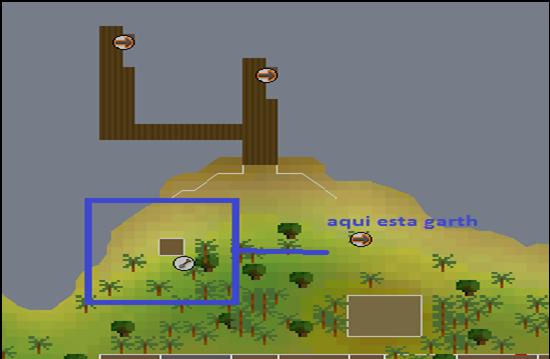 Selecciona la primera opción cuando empiezes a hablar con el, te dirá que tienes que ir a Shilo villaje y cruzar un laberinto, el laberinto se encuentra justo al este de Shilo Village, con la entrada cerca de la esquina noreste de la aldea.
Para entrar en el laberinto, en el lado norte es un corto de empalme hacia afuera. Haga clic en la final de este trozo, y elegir la Viña Suba-para entrar. Sube la vid
A lo largo del laberinto hay muchos obstáculos que necesitas para pasar como las raices se puede subir para llegar a diferentes pisos . En el primer piso, hay enredaderas colgantes que deben ser cortadas con un machete antes de pasar por ahí. Además de estos obstáculos hay agujeros en el suelo y raíces que te llevarán a diferentes áreas, por lo que son buenas para ir a algunas partes rápidamente.
Sigue estos pasos para llegar:
Entra en el laberinto a través de la raiz de la entrada
Ve hacia el Este y sube por la raiz
Ve al Sur, baja por el camino del medio y baja por la raiz.
Ve al Oeste y baja la raiz
Ve al Sur y corta las enredaderas y luego ve al Norte.
Ve al Este y entraras a otro lugar, veras dos Arboles, subepor la raiz mas cercana al árbol del Sur
Sube por la Raiz que está al Sur
Ve hacia el este y veras una enredadera, cortala hasta llegar a una raiz, sube.
Ve hacia el norte y baja por la raiz.
Ve al Este y baja por la raiz.
Ve al sur rompe las enredaderas y sigue hacia al sury sube por la raiz.
Sube lpor la raiz que estará delante tuyo.
Cruza sobre la raiz que cruza el río
Baja por la enredadera
Ve al Sur, corta las enredaderas sigue y sube por la raiz que está al Este.
Ve al sur, luego al oeste y luego sube.
Ve al norte y sube por la raiz.
Cruza denuevo la raiz que pasa por el río
Ve al Oeste, luego al sur, luego ve hacia el Este hasta que encuentres una enredadera para bajar.
Ve al Sur y baja por la enredadera
Una vez aquí, tienen que excavar con su pala en una de las secciones de la tierra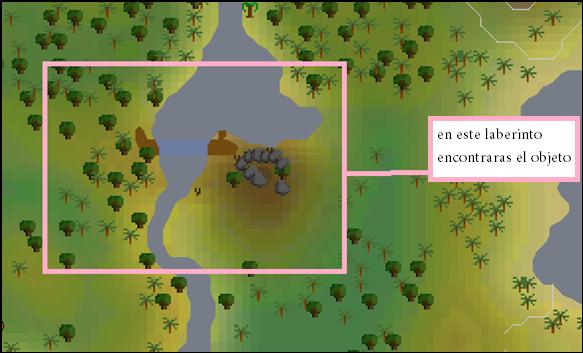 Debes hacer las siguientes uniones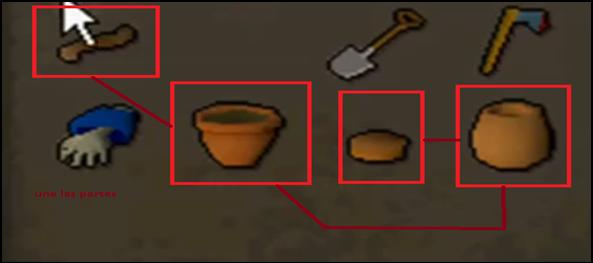 Después de unirlas debes ir de nuevo donde Horacio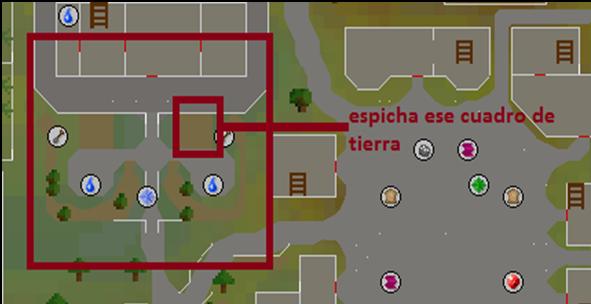 Te aparecerá una planta y espicha o oprime la opción (okay , i'm ready for combat)
Tienes que matarla
Cuando la hayas matado vuelve a hablar con Horacio
Y listo quest completada!