Lugar de comienzo:

Habla con Sir Amik Varze en el castillo de los White Knight en Falador.

Recompensa:

1 Quest Points
1000 Agility Exp
1000 Herblore Exp
1000 Prayer Exp
Initiate helmet
Opcion de aparecer en Falador cuando mueras
Permiso para comprar y usar armadura initiate

Requerimientos:

Black Knight Fortress Quest
Druidic Ritual Quest

Objetos Necesarios:

– 3k si eres hombre en el juego
– No tener nada en la mochila ni equipos puestos
Empieza hablando con el Sir Amik Varze que esta en el tercer piso
Del castillo de los White Knight en Falador. Cuando te pregunte por
Una organización secreta dile "si" y ve al parque de Falador (frente
Al banco)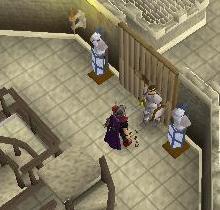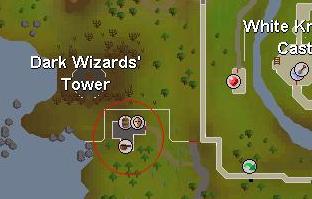 Estate seguro de no tener puesto nada y de que tu personaje sea mujer, si no lo es puedes ir con el Makeover Mage para que te cambie de sexo por 3k (mapa a la derecha)
Cuando llegues al parque habla con Tiffy y dile que estas listo para las pruebas. Son 7
Pruebas en total, pero tú tienes que hacer 5.
Sir Ren Itchwood
Habla con Sir Ren Itchwood y el te dará un acertijo para resolver.
Solo toma la primera letra del acertijo y ponlo en la puerta y pasaras a la siguiente sala.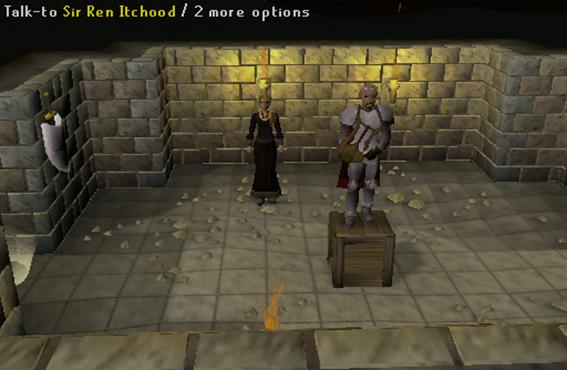 Kuam Feretse & Sir Leye
En esta sala es cuando necesitas ser un personaje mujer. Ya que tienes que derrotar a un enemigo y será invencible si eres hombre. Cuando lo derrotes pasa a la siguiente sala.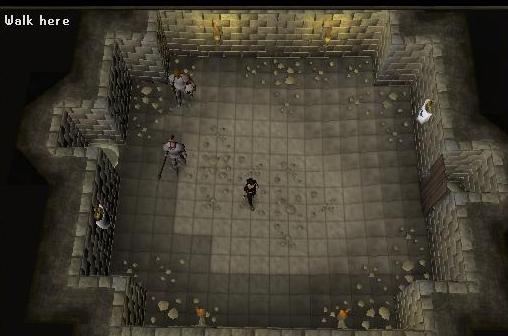 Lady Table
En esta sala debes memorizar las estatuas que hay y después indicar cual es la que se agrego y preparado para la siguiente sala.
(Puedes tomar una screenshot desde tu computador y luego comparar la imagen para ver que estatua es la que se agrego)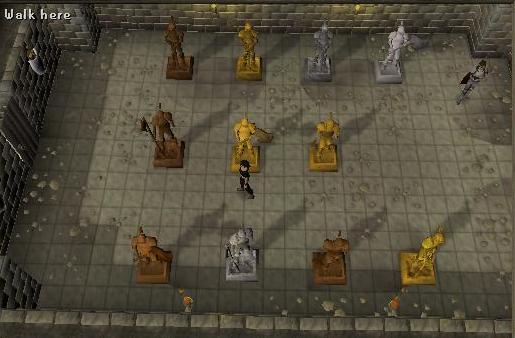 La Gallina, El Zorro y el Saco De Trigo
Lo que tienes que hacer primero es llevar la gallina al otro lado del puente y dejar al zorro con el trigo. Vuelve por el saco y déjalo en el otro lado y toma la gallina y ve donde el zorro, tómalo y deja la gallina. Cuando dejes el zorro junto al saco ve a buscar la gallina y déjala con el trigo y el zorro y listo para la siguiente sala.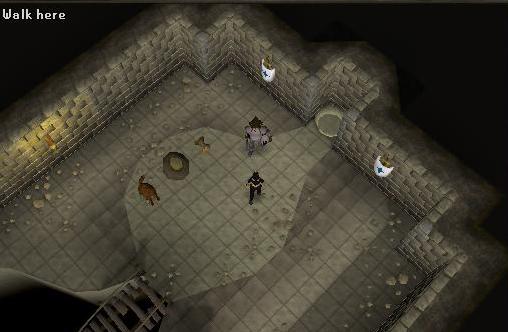 Sir Tinley
Cuando hables con el te dirá que la clave es la paciencia, entonces quédate quieto, ¡NO HAGAS NADA! , hasta que te diga que pasaste la prueba y listo para la siguiente sala.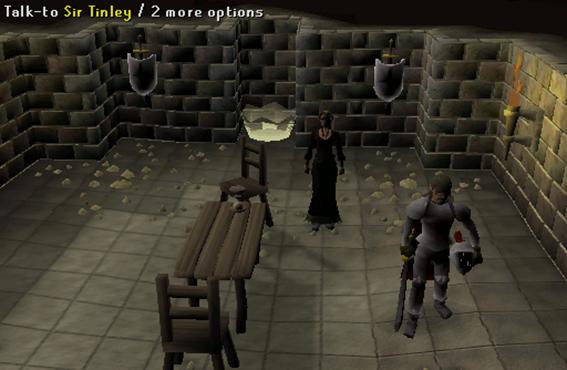 La Sala De Los Químicos
Si te encuentras en esta sala solo haz lo siguiente para poder salir.
Primero saca todo los frascos y objetos de las estanterías y cajas, usa el gypsum con el cake tin. Ahora usa un Vial of Liquid con el cake tin y usalo con la llave que esta encadenada en la sala, una vez hecho eso coloca el Cupric Ore Powder y el Tin Ore Powder en el cake tin, después usa el cake tin con el Bunsen Burner que esta sobre la mesa y luego usa la chisel con el cake tin y tendras la llave.
Para abrir la puerta de piedra necesitas la pala sobre la mesa y usarla con el Bunsen Burner. Usa la Spade destruida con la puerta de piedra y usa todos los quimicos que te quedan con la pala excepto los vial of liquid, cuando los hayas puesto todos usa un vial of liquid con la spade y se abrira la puerta de piedra y con la llave abre la siguiente puerta.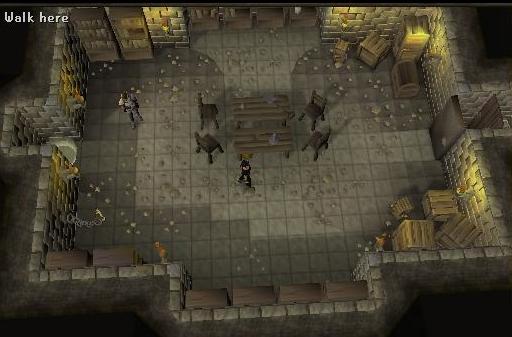 Ms. Hynn Terprett
Este desafío se trata de unas preguntas que tienes que responder.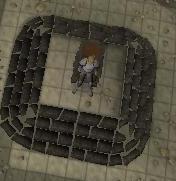 Las respuestas son las siguientes para estas preguntas
Which demise would be the wisest? – Wolves.
Which of the following statements is true? – The third statement.
What would you get if you multiply by 5 everything left hand by the     nearest million? – 5, 000, 000,000.
The four stones, four buckets, four temperatures riddle – 32 Degrees.
Father and Daughter riddle – 10.
Cuando termines los 5 desafios que te hayan salido llegaras al Parque de Falador, habla con Tiffy y recibiras tu recompensa.