Escrita por: Lex300
Recompensas:
3500 crafting exp
3500 thieving exp
3500 runecrafting exp
Poder comprar y usar Proselyte armour
Requerimientos:
30 crafting
30 runecrafting
30 thieving
30 slayer
Sea slug quest
Wanted! quest
Habilidad para poder matar una slug Prince lvl 62 solo con meele
Items necesarios:
Commorb (si ya no la tienes habla con sir Tiffy para que te de una nueva)
Swap paste
Talisman o tiara de earth, fire, air, mind y water
Chisel
Rune o pure essences (5-15)
Items opcionales: teleports a varrock  y Ardougne, armadura, arma y food necesaria
Lugar de comienzo: Habla con Sir Tiffy cashien, en el parque de falador (Mapa)
Para empezar la quest debes hablar con Sir Tiffy Cashien, que se encuentra en el parque de Falador, pregúntale sobre The Slug Menace.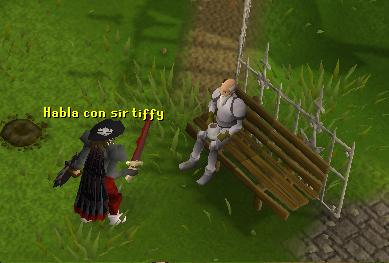 El te actualizará tu commorb a una commorb v2, ahora debes dirigirte a Witchaven, que esta el este de Ardougne. (Mapa)
Ya en Witchaven habla con el Colonel O'Niall. Y dile que te hable sobre la gente importante de Witchaven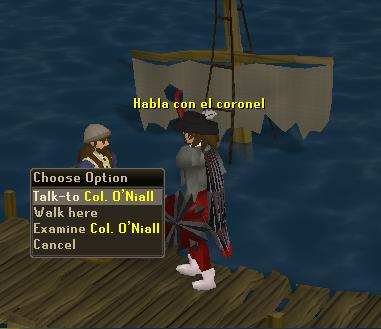 Ahora debes hablar con:
Holgart (el marinero que nos lleva a fishing plataforma, esta al oeste del Colonel O'Niall)
Mayor Heustace Hobb (esta al nor-oeste de la iglesia)
Brother Maledict (en la iglesia de witchhaven)
Después de hablar con ellos ve donde el Colonel y habla con el otra vez.
El Colonel te dice que vallas a investigar en el saradomin shrine, que esta un poco mas atrás de la casa del Mayor Heustace Hobb, antes de bajar te sugiero sacar food y armour .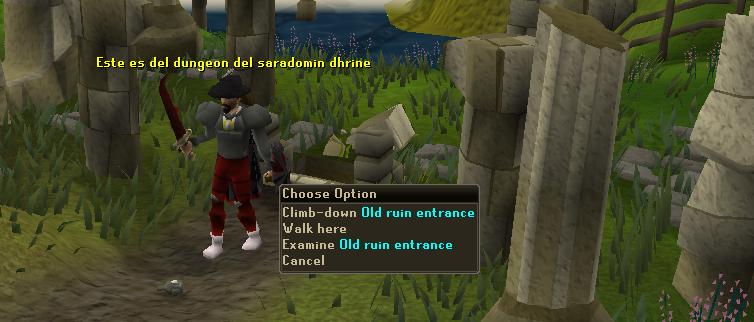 Apenas entres en la muralla del lado derecho hay una opcion que dice "push wall", le das click y encontraras una entrada.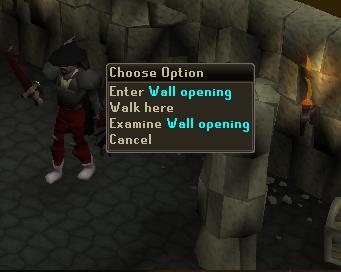 Entra y veras unas Giant lobster lvl 45, si quieres las matas y sigues de largo.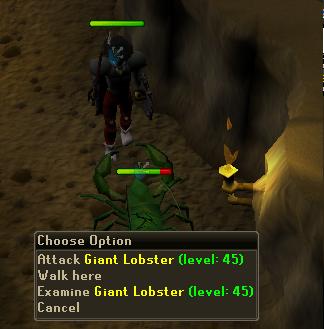 Al final del camino abran unas puertas, al lado del la estatua del Knight izquierdo hay una dead sea slug, recógelo (y mantenlo en tu inventario). Savant te contactara contigo, después de hablar con ella has scan con tu commorb v2,te dara una nota azul.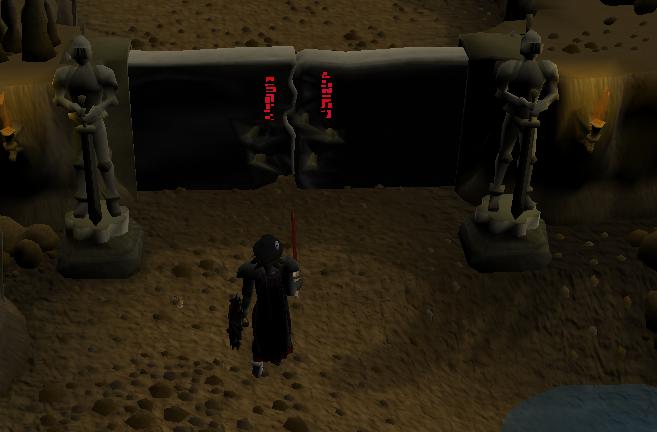 Savant te dirá que debes ir a hablar con Jorral para que traduzca el texto azul, Jorral esta al sudoeste de gnome stronghold. (Mapa)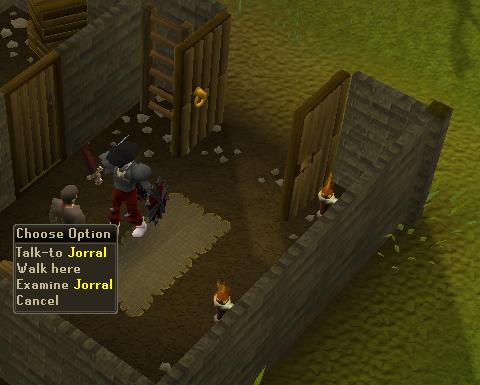 Cuando termines de hablar con el Savant te contactará y te explicara un poco sobre lo que te dijo Jorral, ahora vé a wtichaven y vuelve a hablar con el Colonel.
Después de hablar con el ve a hablar con el Brother Maledict, pero antes de llegar veras un mini video que le dicen a Brother Maledict que ya es parte de la "familia", ahora el estará amarillo y enfermo como muchos de los demás.

El Brother Maledict the dice que que al libro de saradomin le faltan 3 paginas y sin ellas no podras entrar al saradomin shrine, a continuación estan sus ubicaciones:
Primera pagina: en el Study desk de la casa del Mayor Heustace Hobb /talves t demores un poco en encontrarla porq hay que abrir el cajon con thieving)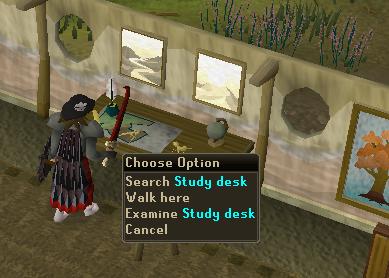 Segunda pagina: en la fishing shop de witchaven, solo habla con el vendedor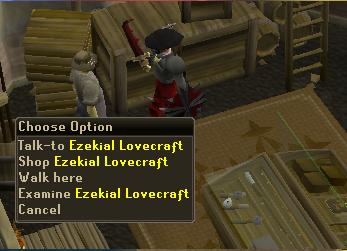 Tercera pagina: La tiene el Colonel, solo habla con el (notaras que también esta enfermo, o poseído por los sea slugs)
Ahora que tienes las paginas puedes entrar, pero el Colonel esta infectado. Ahora usa tu swampy paste en estas hojas. Savant te detendra y te dira q no se puede pegar asi, se pega con dead sea slug blue.

¿Recuerdas el dead sea slug que recogiste en el dungeon? Ahora debes ir a fishing plataform con el para hacer un dead sea slug blue. Pero ahora no puedes ir a fishing plataforma hablando con Holgart, so que hablando con Jeb.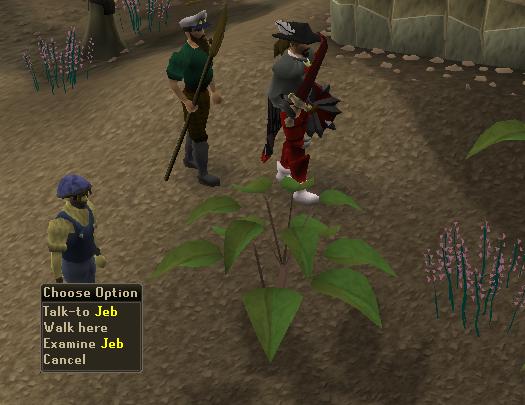 Una vez en fishing plataform veras que también hay giant lobster, pero no te asusten, no te harán nada, camina  al oeste para encontrarte con Bailey.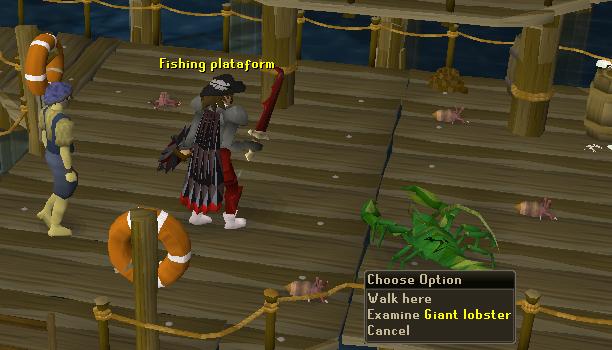 Ahora debemos hacer la pagina con los 3 pedazos que nos dio el colonel,es muy facil, pero la combinación es diferente para cada jugador, ok primero nos acostumbramos a usar estas casillas y cuando sepamos como usarlas asemos la pagina: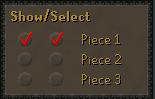 La pagina finalizada se vera asi: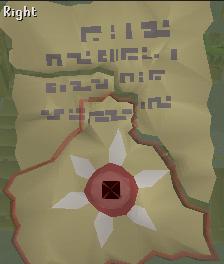 Ahora asegurate de tener las 3 hojas, una chisel y tus rune o pure essence, y le damos click derecho a una pagina, presionamos "shape-un elemento" y tendre un specially shaped runes.
Cuando los tengamos todos se veran asi: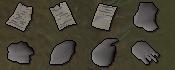 Vamos a sus respectivos altares, los usamos en el altar y tendremos un "elemento" rune   (estos procedimientos pueden fallar algunas veces)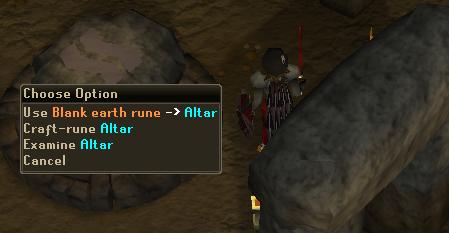 Una vez terminados todos se verán así: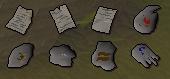 Ahora devemos volver al Saradomin shrine y colocar los runes en la puerta, pero el Mayor Heustace Hobb nos detendra cuando las hallamos abierto.

Ahora preparate para luchar contra un sea slug prince Nivel 62 que solo puede ser destruido con ataques de melee.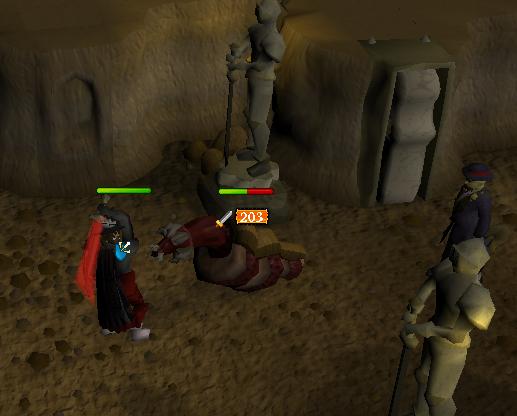 Ahora te encontraras cara a cara con la Mother Mallun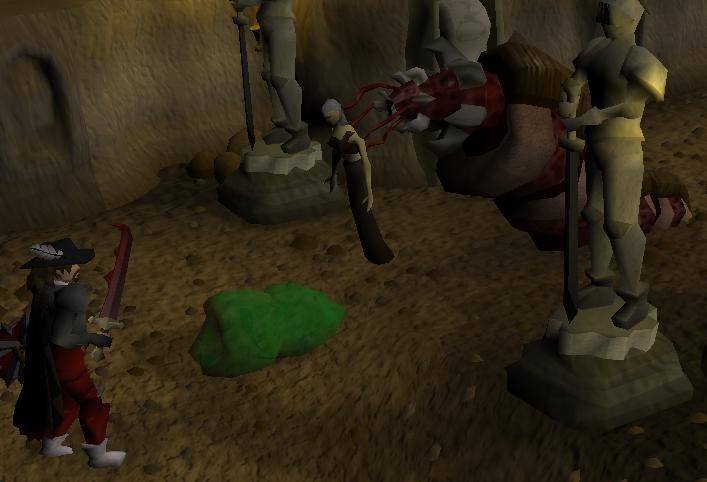 La Mother Mallun the invitara a servirle pero tu le rechazaras, Savant te tratara de tele transportar pero Mother Mallun te hace tele block, luego de un momento savant te transportara y aparecerás en el parque de falador.

Habla con Sir Jiffy y… congratulations! Has terminado the slug menace