Escrita por: Cesarmanuel
Imagenes: Eimer ejr
Defender of Varrock
Lugar de comienzo:
habla con el captain Rovin
Recompensa:
2 quest points
15k exp en Hunter
10k exp en Smithing
10k exp en Mining
10k exp en Defence
2k exp en Agility
Requerimientos:
Las quests:
Las Skills:
51 Hunter
51 Agility
54 Smithing
59 Mining
Cosas necesitadas para completar la quest:
Un pico (cualquier tipo)
Una pala (spade)
Redberry pie (opcional)
1 blurite ore
Una fuente de luz
Tinderbox
Comida
Armadura
Arma
ANTES DE EMPEZAR!!
Durante esta quest siempre es importante llevar tu Games necklace y food por que estos zombies de level 85 no son lo que parecen ya que pueden llegar a hitear 8+ muy seguido.
Después de que estes listo, empezamos:
1- para empezar ve con el captain rovin en la cima del palacio de varrock, el te dira que hartwin ha visto un ejercito de zombies en el graveyard of chadows y que vallas a investigar hay.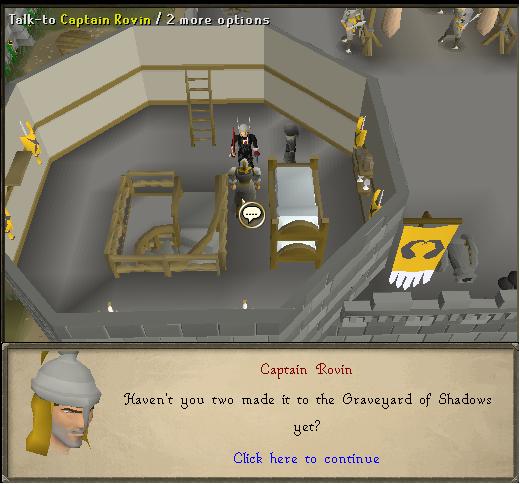 Nota: si hartwin deja de seguirte solo vuelve con el captain rovin…
2- ahora usa un games necklace y has teleport  a clan Wars y de hay camina al graveyard of shadows y habla con hartwin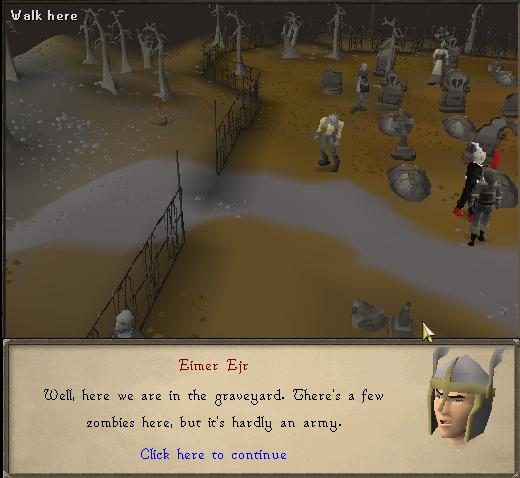 3- el te dira que parece haber habido un ejercito pero que se ha movido a otro lugar. Lo siguiente sera seguir las huellas de los zombies impecionando las cosas que estan alrededor de el wilderness.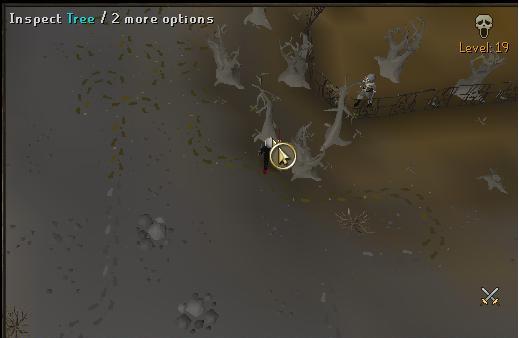 4- lamentablemente el camino que recorren los zombies es diferente para cada jugador así que aquí les dejo un mapa donde dice desde donde comienzas, donde esta la llave para entrar a la cueva y donde terminaras.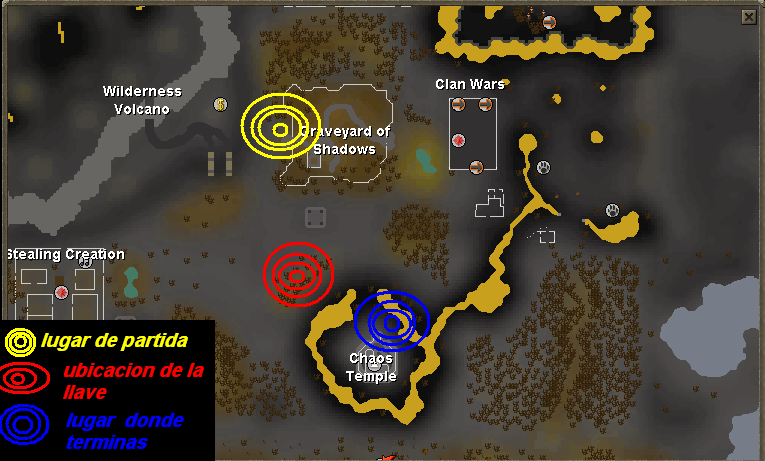 5-recuerda que encontraras la llave impecionando las cosas que se encuentran por ese lugar, y que sin importar como salga tu camino, terminas en el mismo lugar.
6- luego de haber seguido a los zombies llegaras al chaos temple.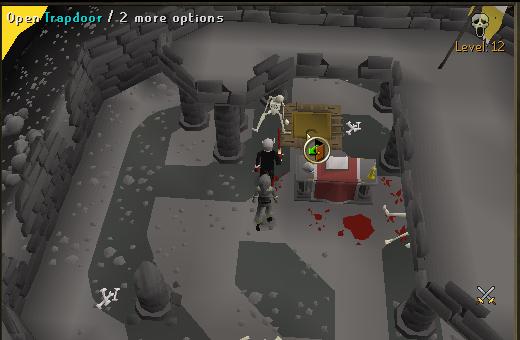 7- entonces habre la escotilla del piso que se encuentra detrás del altar
8- antes de bajar enciende el proctec from melee pray, cuando bajes encontraras a todo el ejercito zombie que estabas buscando, asi que sigue hasta que encuentres un balcon y dale a la opcion  " look over"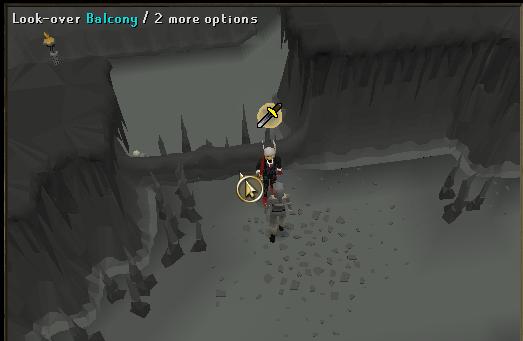 10- luego de ver la conversación, ve cerca de la puerta que se encuentra al oeste y recoje 3 botellas del piso, ahora mata a 3 zombies y recoje el humo rojo con las botellas.
11- cuando tengas las 3 botellas de humo ve y cruza la puerta, entonces te encontraras con arrav.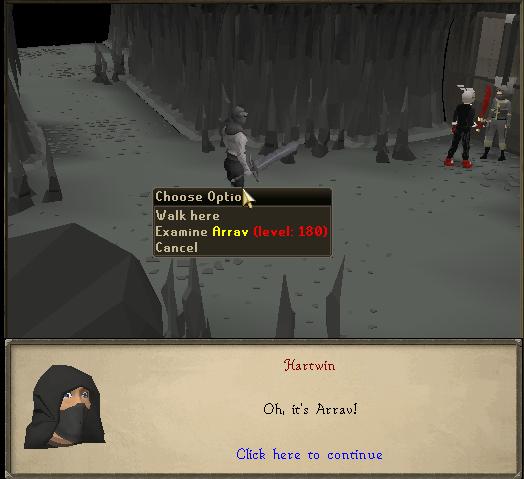 12- después de la conversación repite el paso #10, solo que ya tienes las botellas y solo te faltan recoger mas humo rojo.
13- cuando hallas pasado la 2da puerta ve al 2do balcon y dale a look over. En esta esena veras al ejercito de zombies dispuestos a atacar varrock, luego de esta esena hartwin te dara una varrock teleport tablet.

14- ahora ve con el captian rovin para informale sobre la situación, entonces resulta que hay que reforjar el escudo de arrav y para esto solo un imcado dwarf puede hacerlo, asi  que ve a donde thurgo.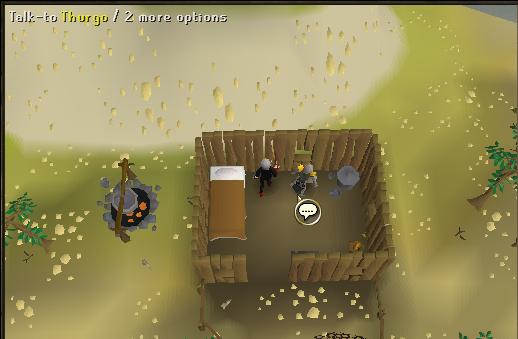 15-El te dira que el no puede hacerlo ( aunque tiene smithing Skill cape lol) y te dira que tienes que buscar a la cueva donde vive otro imcado dwarf y esta se encuentra en la ice mountain.
16- una vez en ice mountain, acercate al White tree que esta hay y usa tu spade cerca de la tierra.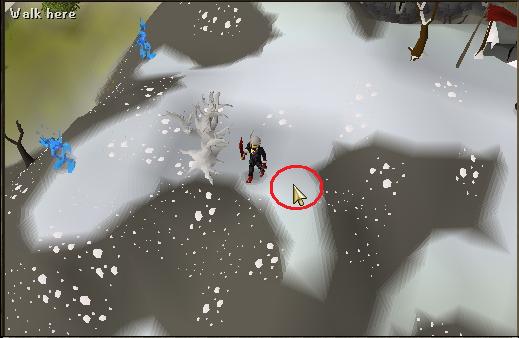 17- entonces aparecera un agujero y usa tu pickaxe para abrirlo y luego entrar en el.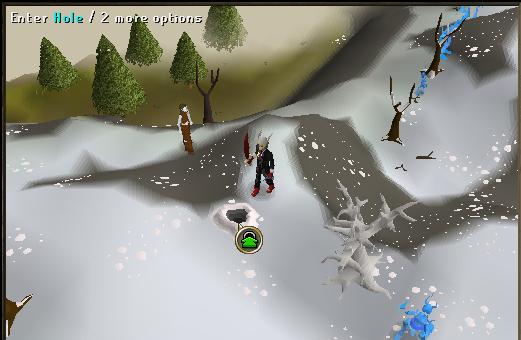 18- entonces después de haber entrado en el agujero sigue el camino y habla con ramarno.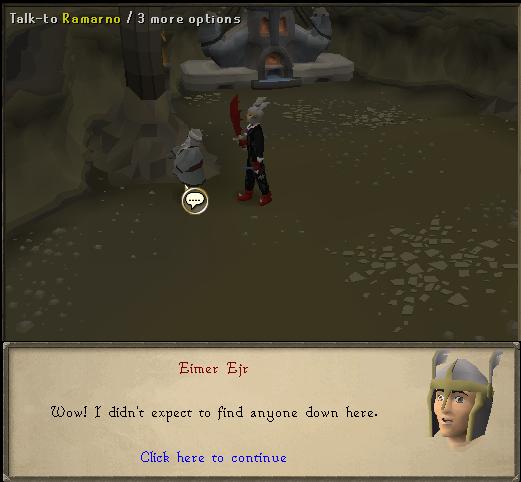 19- el te dira que para saber el secreto del escudo deves utilizar un blurite ore en la sacred forgue…
Nota: si le das un redberry pie a ramarno recibirar 1k de exp en smithing…
20- al utilizar el blurite ore en la sacred forgue apareceran los espiritus de taiborn el mago de la wizards Guild, la queen ellamaria la reina de varrock, el fenkenstrain's monster de morytania, el wise old man desde draynor y quien mas que zemouregal el comandante de los zombies.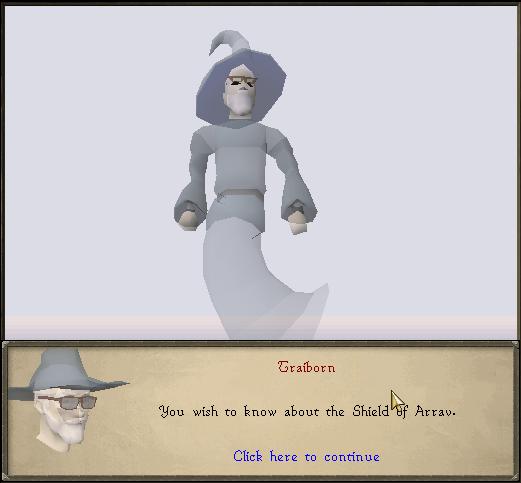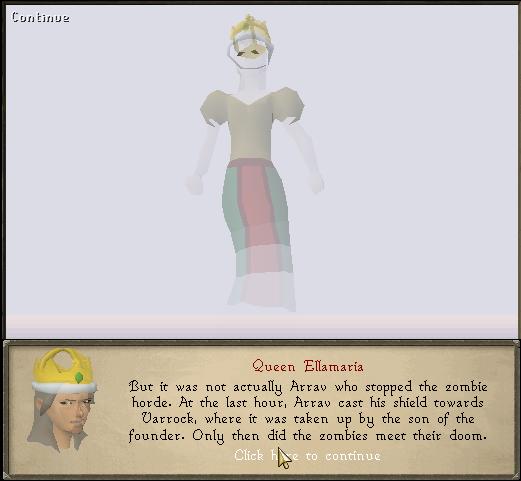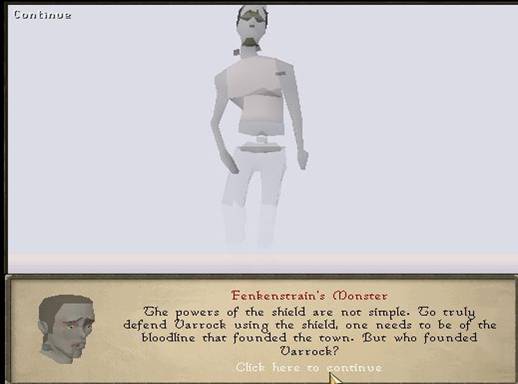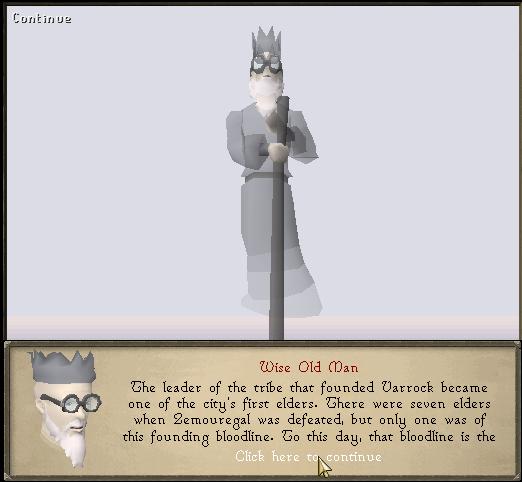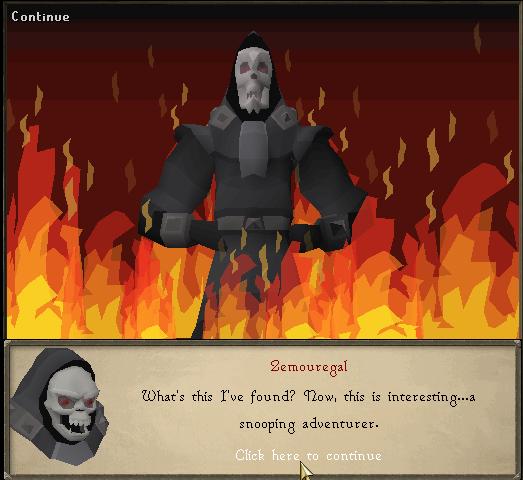 21- ahora rapidamente tienes ke ir al palacio de varrock y descubres que esta lleno de zombies.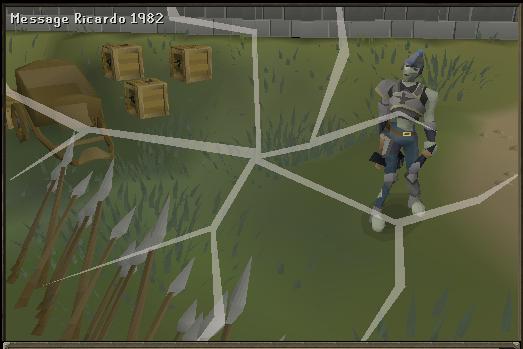 22- ve con el captain rovin y el te dira que tienes que encontrar al  decendiente del fundador de varrock, el te dira que vallas con reldo el bibliotecario del palacio para que te ayude.
23- ve con reldo y el te dice que tenia la lista de los decendientes en la mesa pero que ahora no sabe donde esta. Asi que recoje los scrolls que estan en el suelo y encontraras la lista de los  decendientes.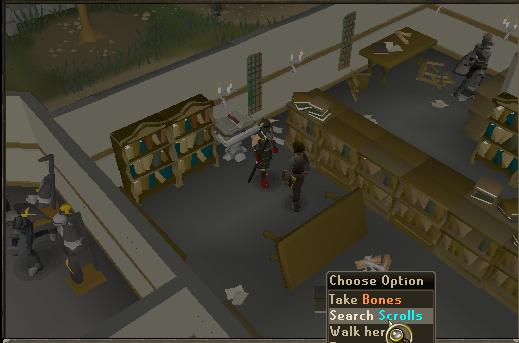 24- resulta que los decendientes son:
Romeo
Juliet
Draul leptoc (el padre de juliet)
Horvik (el herrero)
King Roald
Sir prysin (a este hay que entrarlo en su habitación para hablar con el)
Aenoisig raispher (el consejero del rey)
Curator Haig halen
25- ve hablando con cada uno de ellos y uno te dira que no es el heredero, que fue adoptado (la persona que dice esto es diferente para cada jugador) entonces te dira que el verdadero heredero es diminthesis.
26- ve y habla con diminthesis que se encuentra en la tienda sureste de ropa y hablale sobre los zombies, el se probara el escudo y habra una pequeña escena sobre que los zombies son destruidos.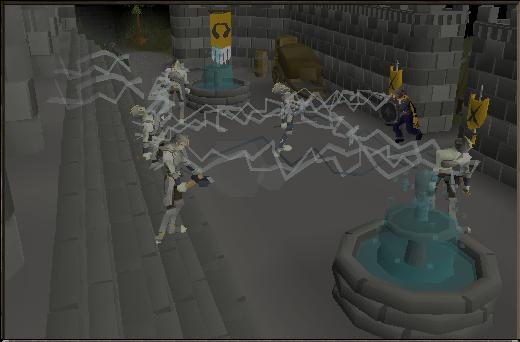 27- regresa donde el captain rovin para resivir la tan esperada recompensa.