Lugar de comienzo:
Las casas junto a la White Wolf Mountain

Recompensa:

1 Quest Points
2437.5 Fishing Exp

Habilidad para usar el tunel debajo de la White Wolf Mountain

Requerimientos:
Nivel 10 Fishing

Objetos Necesarios:
Fishing rod (La puedes comprar en Caterby)

Garlic (Lo encuentras en Ardougne, o en Draynor)

Spade (La pala la compras en la tienda de farming)

Habla con uno de los dwarf de cualquiera de las dos casas marcadas con rojo en el mapa, y selecciona:
– I was wondering what was down those stairs?
– Why not?
– If you were my friend I wouldn't mind
– Well, let's be friends!
– An how am I meant to do that?
Finalmente te dara un boleto para participar en un concurso de pesca, antes de ir a pescar necesitas unos gusanos especiales para asegurar tu victoria, ve a McGrubor's Wood, entra por la reja floja al norte y ve hasta las raices rojas, y buscalas para encontrar los gusanos.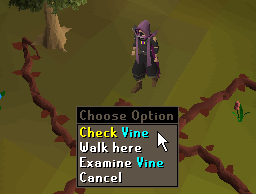 Cuando tengas los gusanos ve al lugar del concurso, al llegar habla con Morris para que revize tu boleto y te deje entrar.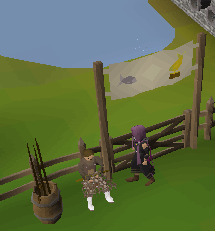 Una vez dentro habla con Bonzo y pagale 5 monedas.
Ahora usa tu garlic en el tubo que esta en la pared, y trata de pescar y el tipo no soporta el olor y te cambia de lugar, trata de pescar de nuevo y pescaras una pez gigante.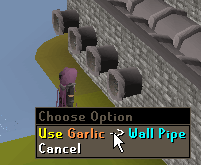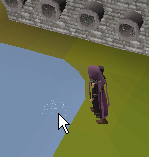 Cuando sea la hora de medir, tu pez sera el mas grande y te entregaran el trofeo.
Vuelve con el dwarf para terminar la quest.