Lugar de comienzo:
Habla con Unferth en Burthorpe

Recompensa:

2 Quest Points
Mouse toy

Actualizacion en las exposiciones del museo de Varrock – habla con Historian Minas

Requerimientos:
Haber terminado las quests Icthlarin's Little Helper y Gertrude's Cat.

Objetos Necesarios:
• 1 Gato

• 1 CatSpeak Amulet

• 5 Deaths Runes

• Shantay Pass

• Tinderbox

• 1 Bucket of Milk

• 1 Chocolate Cake

• 4 Potato Seeds

• Seed Dibber

• Rake

• 1 Log

• Shears

• 1 Vial of Water

• Desert Robes

Recomendados teleports a Varrock y Falador y Waterskins para la sed en el desierto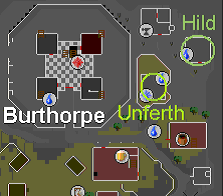 Con tu Gato y Amuleto Catspeak, ve a la casa de Unferth y habla con el. Prométele que lo ayudarás. Te dirá que vayas con Hild.
Ve a hablar con Hild, hablará con tu gato, te pedirá las 5 Death Runes y encantará tu amuleto.
Haz click derecho en el amuleto y selecciona Open. Debes hacer click en los bigotes para mover la flecha. Cuando los ojos se iluminen, significará que en esa dirección esta Bob. Si la boca comienza a abrirse y cerrarse, significa que estas muy cerca. Intenta encerrar a Bob en algún cuarto para no tener que buscarlo de nuevo.
Con el amuleto puesto, háblale a Bob. Te dirá que hables con Gertrude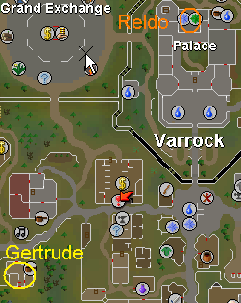 Habla con Gertrude y tu gato te dirá que le preguntes a Reldo sobre "Robert the Strong" (Roberto el Fuerte),
Habla con Reldo. Ahora debes volver con Bob, si no lo encerraste, búscalo con el Amuleto (siempre en Burthorpe obviamente).
Habla con Bob. El gato te dice que vayas a Sophanem y hables con el Sphinx.
Puedes buscar Sophanem en tu mapa como muestra el dibujo. Sophanem se encuentra debajo de Al Kharid y del Kharidian Desert.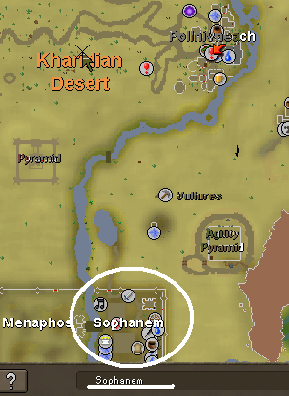 El Sphinx te pregunta si queres ver un video. Luego de verlo, o no, debes cuidar de Unferth, así que vuelve a su casa.
Al volver con Unferth, debes tener un papel con una serie de tareas para la casa.
Tenes que plantar las potato seeds y dejar que crezcan.
Usa la torta de chocolate y la leche (milk) con la mesa donde se encuentran el vaso vacio y el plato.
Usa tu rake con el Garden Patch en el jardín.
Cortale el pelo a Unferth con tus Shears.
Pone las logs en la chimenea y prendelas con el tinderbox.
Ordena su cama.
Habla con Unferth, estará enfermo.
Habla con el Apothecary en Varrok, debes vestirte de doctor, usando los desert robes (a menos que tengas ropas blancas).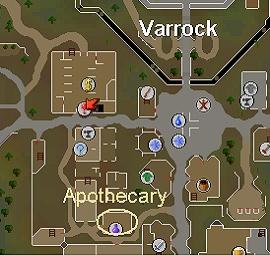 Vuelve con Unferth (asegurate de que los Desert Robes sean lo único que tengas puesto) y dale el Vial of Water.
Vuelve a buscar a Bob y te contará unas historias.
Vuelve con Unferth para terminar la quest.