Lugar de comienzo:
Ali Morrisane en Al-Kharid

Recompensa:
1 Quest Points
15000 Thieving Exp

500 monedas de oro

Oak blackjack

Desert disguise

Adamant Scimitar

Requerimientos:
Nivel 30 de Thieving

Poder matar a dos bandidos 75 -72

Objetos Necesarios:
Por lo menos 1000 GP

Desert robes y desert boots

Shantay Pass (lo puedes comprar en Al-Kharid)

Waterskins

Bucket

Gloves (leather o pintados)
1.- Habla con Ali Morrisane en Kharid, al lado de la tienda de joyas. Pregúntale porque sigue vendiendo cosas tan buenas en un lugar como ese o algo así. El te preguntara si lo puedes ayudar entonces te pedirá que encuentres a su sobrino llamado "Ali", que vive en "Pollnivneach". Entonces, compra un headpiece y una barba falsa de su tienda. Necesitaras estas cosas después.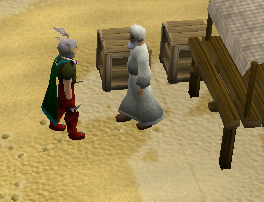 2.- Ve a Shantay pass. Compra un Shantay pass y pasa por la reja. Asegúrate de tener un desert robe, desert boots y algunos waterskins.
3.- Ve al sur de Shantay pass a Pollnivneach. Puedes usar la alfombra por 200GP si es que quieres.
4.- Ve en el sureste del pueblo hasta el bar y habla con Ali the Barman y cómprale 3 cervezas.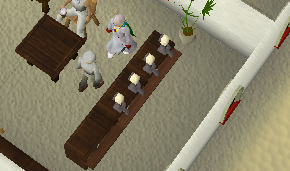 5.- Habla con Drunken Ali, el te cambiara cerveza por información, el pide 3 cervezas pero una a la vez. El le dirá que el sobrino de Ali Morrisane que talvez tiene que ver con las bandas (gangs).
6.- Ve hacia el oeste del bar a una tienda de púrpura y amarillo y verás a Ali Operator. Habla con el y te dirá que todo comenzó con una pelea de camellos robados.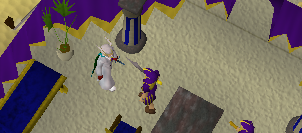 7.- Ve al norte del pueblo y habla con cualquier bandido. El te dirá más sobre los camellos.

8.- Habla con el Camel Discounter, que se encuentra al oeste del pueblo. Pídele comprar un camello a 500GP.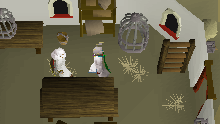 9.- Dale un recibo de la venta a un bandido y después a un menaphite thug.
10.- Ve a hablar con Ali Operator que te invitara a unirte a su banda si le robas a 3 aldeanos para ver si eres de confianza.
1 aldeano – róbale normalmente.
2 aldeano – vuelve con Ali Operator y pídele un consejo. El le dirá que debes tratar de encontrar una distracción. Así que ve al centro del pueblo y habla con un Street urchin que distraerá a un aldeano por 10gp. Habrá un aldeano con una flecha que parpadea encima de la cabeza, en ese momento le robas.
3 aldeano – Vuelve con Ali Operator y pídele otro consejo. El le dará un oak-blackjack. Dale lure a un aldeano (la nueva opción que aparece cuando tienes el blackjack), llévalo a una tienda y dale Knock-Out. Cuando este inconsciente le robas. (Debes tener el Blackjack equipado)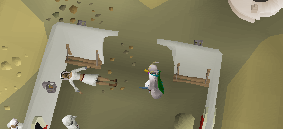 12.- Ali Operator quiere robar la joyería de la esposa del alcalde que esta en su casa. El te dará una clave para la puerta frontal. Ahora, utiliza la barba falsa con el headpiece que has comprado al comienzo de la quest para hacer un hacer un disfraz. Usa los guantes, la desert robe, desert boots y el disfraz que acaba de hacer, y escóndete detrás de un cactus que esta afuera de la casa del alcalde. Cuando aparezca que no hay nadie ve y entra a la casa.
13.- Ve arriba y busca un cuadro junto a la cama. Ese cuadro es una caja fuerte. La clave de esa caja fuerte es: 1-1-2-3-5-8. Una vez que hayas puesto el código, se abrirá la caja fuerte y podrás tomar las joyas.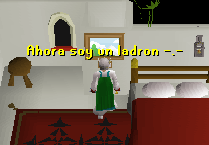 14.-Ve donde Ali Operator y dale las joyas. La última tarea es encontrar un Menaphite Traidor. Habla con un Menaphite Thug, y dirá que el es un traicionero. Dile a Ali Operator y te dirá que mates a ese tipo.
15.- Ve con Ali Kebabseller y preguntarle si te vende una botella de la salsa especial kebab. Ve a la tienda de camellos y usa la salsa especial en la comida de los camellos.A un camello le dolerá el estomago y aparecerá un poco de "desechos". Usa el balde en los "desechos".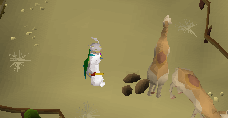 16.- Ahora, ve detrás del bar donde esta un tipo con una serpiente. Usa una moneda en la olla que esta al lado del tipo. El te dará una cesta y una flauta. Ve afuera de la tienda de Ali Operator y usa la flauta en una serpiente. Si tienes suerte podrás domar a la serpiente si no intenta de nuevo.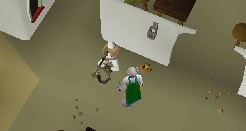 17.- Toma los desechos y la cesta con la serpiente y ve con Ali the Hag que se encuentra en la colina al oeste de la general store. Debes hablar con ella 2 veces. Ella hará una poción con esos ingredientes.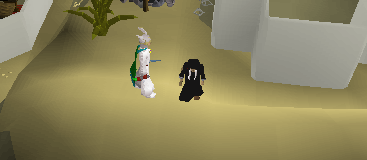 18.- Ve al bar y pregúntale al barman donde esta Traitorous Ali, el barman te dira que esta en el "baño". Es raro porque nunca nadie ha visto un inodoro en Runescape y puede ser que tengamos que esperar mucho tiempo… xD (broma)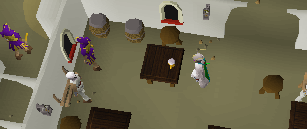 19.- Ahora usa la poción en la taza que esta arriba de la mesa. Esa Cerveza es de Traitorous Ali.
20.- Vuelve donde Ali Operator y el te dirá que hables con el líder Menaphite. (Por alguna razón esta afuera de la tienda) Veras que lo único que quiere es dominar Runescape. Ahora es hora de matarlo, prepárate para la lucha si eres nivel muy bajo y si no tienes un weapon puedes usar la alfombra para ir a Nardar y allí hay un banco. Ahora ve a matar a un tipo llamado " Though Guy" nivel 75. Cuando lo ataques el tipo se escapara tele trasportándose.
21.- Habla con cualquier aldeano y el te dirá que esta enfadado. Ahora tenemos que tratar con el líder Bandit también. Es justo al noroeste de la aldea. Habla con el líder bandido. Un nivel 72 aparecerá y empezará a atacarte. Mátalo. Cuando lo mates dropeara una adamant scimitar recógela si quieres.
22.- Habla con cualquier aldeano. Todavía están fastidiados. Ahora, ve a hablar con Ali Manor. El te agradecerá.
23.-Vuelve con Ali Morrisane y te dará la recompensa.
¡Felicidades Quest Completa!