Lugar de comienzo:
Hablar con Efigie, en la Torre de Vida
Recompensa:
2 Quest Points
1000 Construction Exp
500 Crafting Exp
500 Thieving Exp
Acceso a la Creacion de creaturas en el sotano de la torre
Requerimientos:
Nivel 10 en Construction
Objetos Necesarios:
1

Cerveza


1

Martillo


1

Sierra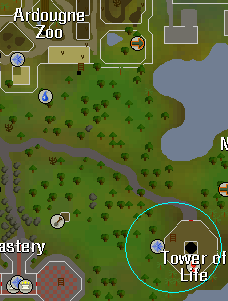 Habla con Efigie quien te dirá que sus trabajadores se niegan a trabajar, el pedirá tu ayuda, y después de insistir un poco tu aceptaras.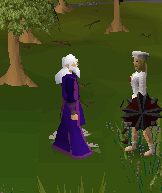 Ahora habla con Bonafido, quien esta acostadote, sobre unos barriles, te dirá que el y sus hombres se niegan a ir allí pero que tal vez tu si puedas ir si te ves como un constructor.
Entonces tú necesitaras la siguiente ropa:


Para conseguirlo deberás hablar con cada uno de los trabajadores.
Habla con Black-eye para conseguir el gorrito de constructor, el te hará varias preguntas, y tendrás que responder de la siguiente manera:
How many nails do you need to make a rocking chair?
Respuesta: 3.
What needs 3 nails, 3 bolts of cloth, 3 planks and keeps the light out?
Respuesta: : torn curtains.
What is needed to construct a place for my fishes in my garden?
Respuesta:: 10 soft clay.
Ahora el te dará el sombrerito de Constructor.
Habla con the guns, y el te pedirá una cerveza para hablar con el, si la tienes vuelve a hablar con el y te dará su camisa.
Habla con Gummy, para pedirle los pantalones, pero el te dirá que los perdió en una tormenta entonces, ve a las afueras de la torre y busca en los arbustos.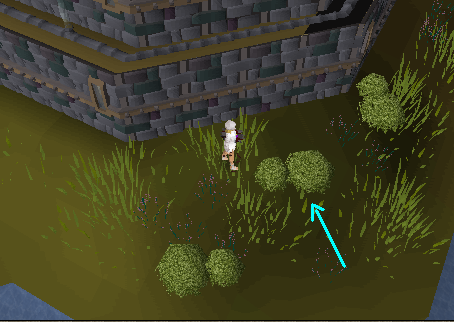 Habla con No-Fingers, pero el no te dará las botas asi que róbalo >=D, hazle pickpocket hasta que te de las botas.
Ve a hablar con Bonafido de nuevo con tu trajecito de constructor, y ahora te hará unas cuantas preguntas:
You've plenty of work to do, but you need a drink fast, what do you go for?
Respuesta: té
Now, let's hear your whistle.
Respuesta: whistle for attention
What's a good sign that you need to replace your trousers?
Respuesta: Your legs are getting a bit cold.
What do you do if you hurt your finger?
Respuesta: Carry on, it'll fix itself
Después de haber respondido todas las preguntas puedes entrar en la torre, en el primer piso encontraras todas las herramientas que necesitaras dentro de las cajas.
Sube al primer piso e intenta arreglar la maquina te pedirá las siguientes herramientas:

Ve la planta baja y busca estas herramientas en las cajas.
Para arreglar la primera maquina debes descongestionar el flujo de agua, impulsando las bolitas de colores para que queden en los agujeros. Para que se muevan las bolitas de colores tienes que impulsarlas con la presión del agua, para ello tendrás que mover las llaves.
1era llave: Izquierda hacia abajo esta bloqueada entonces sube la palanca para girarla.
2da llave: Izquierda arriba estará bloqueada entonces baja la palanca para girarla.
3era llave: Derecha abajo estará bloqueada entonces sube la palanca.
4ta llave: No podrás girarla a la derecha.
Si giras la llave a la derecha te darás cuenta que el agua aumentara y si giras a la izquierda el flujo del agua disminuirá.
Cuando hallas puesto en operación esta maquina, sube al segundo piso y para arreglar la maquina te pedirá los siguiente:

Ya sabes que las herramientas están en las cajas en la planta baja.
Esta maquina es mas sencilla de arreglar solo tendrás que colocar las piezas en este orden.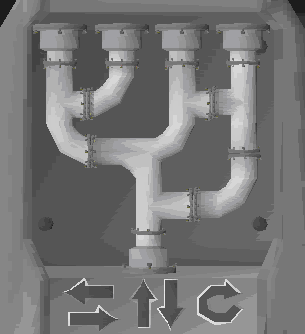 Señalando las piezas y usando las flechas de dirección para moverlas o rotarlas.
Una vez que ya este reparada sube al último piso para reparar la última maquina y te pedirá lo siguiente:


Ya sabes donde encontrar las herramientas.
Para poner en funcionamiento esta maquina tienes que recordar una regla de oro:
La duración de las piezas debe ser de: 2
Pero si tiene una conexión que le atraviesa debe ser mayor: puede ser 3 o 4.
3 cuando esta un tubo, una conexión y medio tubo.
4 cuando esta un tubo, una conexión y un tubo.
Para seleccionar los tubos gira la maquina con las flechas de dirección y luego escoge vertical y horizontal según sea el caso.
Ahora baja habla con elfigie y sus alquimistas subirán al último piso, resulta que han creado a una criatura, pero empiezan a molestar a la criatura y deberán salir de la habitación.
Habla con elfigie de nuevo y el te pedirá que hables con la criatura, habla con ella y tendrás que realizar un mini juego entre la lógica y la magia. Tienes que responder inclinándote por una de la dos ramas (la lógica o la magia), para que la flecha llegue a uno de los dos extremos. Cuando finalices la criatura te pedirá que la liberes y deberás bajar con elfigie para que la criatura les de una lección.
Una vez que hayas visto la mini escena, ve a la planta baja de la torre y baja al sótano. Habla con la criatura y quest. Terminada.