Guia escrita por: Paulilita (lilica C)
FAIRY TALE II: Cure a Queen
Lugar de comienzo:
Hablando con Martin the Master Gardener en Draynor Village.
Requisitos:
–       Quest Fairytale I: Growing Pains
–        Poder derrotar un enemigo nivel 145.
–        Nivel 57 Herblore
–        Nivel 49 Farming
–        Nivel 40 Thieving
Objetos necesarios:
–       Dramen staff o Lunar staff
–       Vial of water
–       Pestle and mortar
Recompenza:
–       Lámpara de 2,500 exp para cualquier skill sobre 30.
–       Habilidad para usar Fairy Rings.
–       3,500 Herblore y 2,500 Thieving exp.
–       2 Quest Point.
Para comenzar debes ir con Martin y preguntarle por sus cosechas, y él te dirá que no ha tenido tiempo para ir a cosechar (Ahí termina su platica). Espera 5 minutos (No se te ocurra robarle -.-) y vuélvele a hablar, esta vez él te dirá que su cosecha ¡Ha empeorado! Y te echará la culpa.

Ahora debes tomar tu Dramen staff o Lunar staff e ir a Zanaris para investigar lo que está pasando. Al llegar, tienes que ir con Fairy Nuff (Que está al norte del banco de Zanaris) ahí veras una escena de la sala y verás que todas las pociones están tiradas en el suelo y la reina y la enfermera no están. Ahora busca en una de las pociones tiradas para encontrar Nuff's Certificate (Nunca tires el Nuff's Certificate hasta que termines la Quest).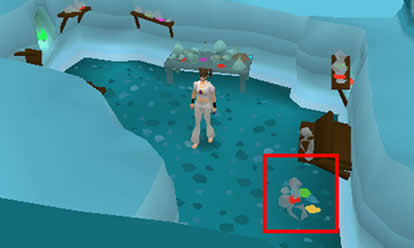 Si lo lees veras un Certificado normal pero si le das "Study" verás unos símbolos raros.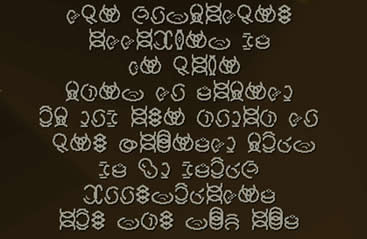 Ahora ve con el Fairy Godfather y pidele que te deje usar las Fairy Rings. Ahora que te dejo usarlas, habla con Co-ordinator (Ella se encuentra fuera de la sala donde está el Fairy Godfather) para que te explique como usarlas. También puedes preguntarle sobre la Nuff's Certificate pero ella no te sabe nada.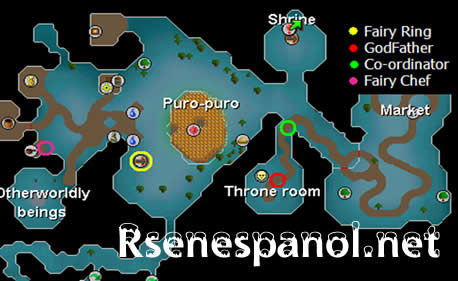 Una vez que sepas como usarlas, ve con la Fairy Chef y habla con ella, ella te dira que recuerda haber visto esos símbolos en el Cosmic Altar. Cuando termines de ver esos símbolos te darás cuenta de que en el Certificate dice: The Godfather attacked us. We have fled to safety. If you are loyal to Her Majesty, find us by using coordinates AIR, DLR, DJQ, AJS. (El Hada Padrino nos atacó. Estamos a salvo. Si eres leal a la reina, búscanos usando las coordinadas AIR, DLR, DJQ, AJS.)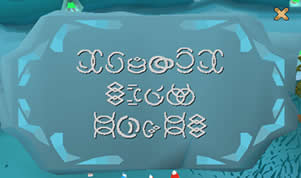 Entonces usa esas coordinadas en el fairy ring, usando ese orden, primero usa AIR y te llevara a una isla sin nada y regresa por el fairy ring. Luego DLR, también es una isla solitaria y regresa, ahora DJQ, ésta nomás te mueve de sitio, vuelve al ring y prueba AJS. Ahora estás en una parte de Zanaris que solo puedes llegar con esa coordenada.
Una vez ahí, busca a la Fairy Nuff, que está al Noreste de donde apareces. Habla con ella y luego la Fairy Very Wise entra en su conversación.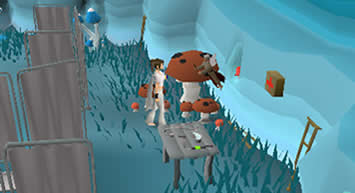 Terminando la plática tienes que regresar a Zanaris e ir con el Godfather y darle Pick-Pocket. (Si fallas te saca de Zanaris, así que debes volver y seguirle dando Pick-Pocket hasta que tomes las Queen's secateurs).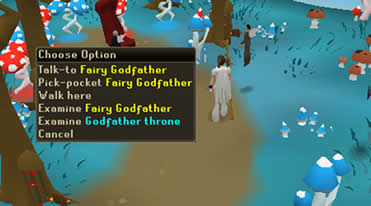 Ya que las tengas vuelve con Fairy Nuff usando la coordenada AJS (Ya no tienes que usar las otras tres anteriores), habla con ella y le darás las secateurs. Ella intentará salvar a la reina usándolas pero no funcionará y te pedirá que vayas por las Star Flower y una Gorak Claw.

Regresa a la Fairy Ring y usa CKP, aparecerás en un lugar extraño lleno de burbujas, ahí empieza a buscar las Star Flower, estas flores crecen y mueren en diferentes lugares (Quédate en un lugar esperando a que crezcan y luego tómalas).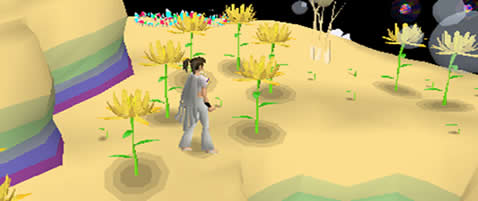 Una vez que las obtengas, sal de ese lugar usando el Fairy Ring y ahora ve por tu armadura y comida porque iremos a matar al monstro nivel 145 (No surge efecto el Prayer). Cuando estés listo ve al Fairy Ring y usa DIR, en cuanto llegues veras a muchos Dorak, una vez que te muevas de la Ring uno te atacará, mátalo y agarra las Gorak Claw. Ya que las tengas, ponte tu Dramen Staff y sal por la Fairy Ring.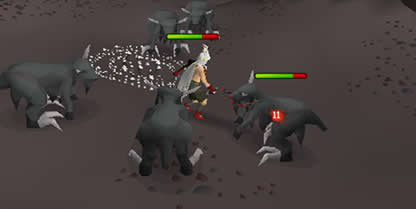 Ahora que ya tienes los ingredientes necesarios, usa la Star Flower en el vial of water y luego el Gorak Claw, así tendrás la Magic Essence (3). Cuando la tengas vuelve con la Fairy Nuff usando el mismo procedimiento (AIR, DLR, DJQ, AJS.)

Habla con la Fairy Nuff y dile que ya tienes la poción, úsala en la Fairy Queen habla con ella y… ¡Felicidades, terminaste la Quest!