Lugar de comienzo:
Hablar con Grish, esta al sur de las Castle Wars

Recompensa:
1 Quest Points
2000 Fletching Exp
2000 Herblore Exp
2000 Ranged Exp
Habilidad para usar composite ogre bows y brutal arrows.
Habilidad para hacer disease-cure potion para curarte de la enfermedad

Requerimientos:
Poder matar un Ogro nivel 111.
Haber completado las quest:
Jungle Potion
Big Chompy Bird Hunting

Objetos Necesarios:
Un Ring of dueling
Prayer potion (opcional)
Comida
Buena armadura
43 prayer(recomendado)
1.- Habla con Grish, el esta al sur de las Castle Wars y al oeste de Gu'tanoth, la ciudad de los ogros.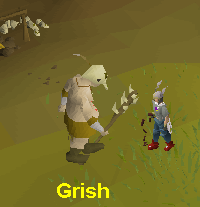 2.- Grish te pedira que investigues por que los Zogres han aparecido, te dara tres Chompy birds y dos super restore potions.
3.- Ve un poco al este y habla con el guerdia ogro para te deje pasar por la barricada, solo menciona a Grish y te dejara pasar.
4.- Camina y baja paor las escaleras al final para bajar a una cueva, camina al noroeste de la cueva, al entrar a una camara, veras una escena en la qu se ve un esqueleto en el suelo y el piso como si hubiera explodado algo.
5.- Busca en el atril roto y encontraras unas paginas, ahora busca el esqueleto que esta tirado y aparecera un zombie nivel 39 y te atacara, matalo y soltara una mochila, levantala y busca en ella para encontrar algunas cosas, necesitas 3 espacios en tu inventario para poder abrirla.
6.- Busca en la tumba que esta justo al oeste del esqueleto tirado, al tratarla de abrir no podras ahora usa el knife que sacaste de la mochila en la tumba y se abrira, busca adentro de la tumba y encontraras un Black prism.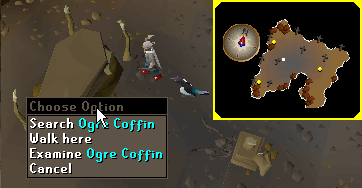 7.- Ve al bar de Yanille y muestrale el tankard que sacaste de la mochila al dueño del bar, el Bartender te dira que el tarro pertenece a Brentle Vahn, quien es un cliente frecuente del bar pero que hace tiempo que no lo ve y que la ultima ves que lo vio, estaba hablando con un Wizard.
8.- Ahora ve al Magic guild y toca la campana, un Wizard aparecera habla con el acerca de los zogres. te dira que vayas a hablar con Sithik.
9.- Camina a la casa que esta al norte del Magic Guild y sube las escaleras, habla con el hombre que esta acostado en la cama, te dejara revisar su cuarto, encontraras tres libros, charcoal y un papyrus, utiliza el papyrus en Sithik para hacer un retrato, antes de irte dale examinar al retrato y debe decir lo siguiente 'A classic realistic charcoal portrait of Sithik', si no dice eso vuelve a hacer otro retrato, ahora lleva el retrato al dueño del bar quien lo identificara como el wizard que dijo que vio hablando con Brentle Vahn, te firmara el retrato.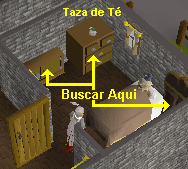 10.- Lleva el retrato firmado y el resto de la evidencia al wizard, te dara una pocion para que la uses en Sithik, cuando se la trates de dar no quedra tomarla, entoces usala en la taza de te que esta en el mueble enseguida de la cama.
11.- Vuelve y habla con el wizard, regrasa a hablar con Sithik quien ahora esta transformado en un ogro, ahora si podras obtener algunas respuestas, te dira que tienes que hacer unas flechas nuevas y necesitas encontrar dos herbs, que pueden encontrarse en karamja. Una es Snake weed y la otra es Rogues purse. Esta pocion es usada para curar el efecto disease. cuando tengas la pocion puedes darsela a Uglag Nar quien te dara 650gps por ella y ademas ahora podras hacer trade con Uglag donde podras omprar algunas cosas.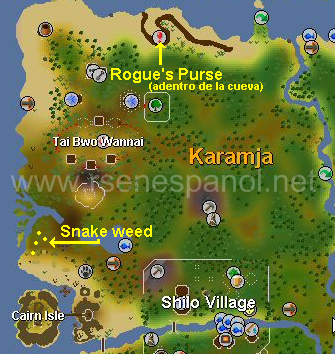 Rogue's purse: tienes que buscar en las paredes de la cueva.
Snake Weed: tienes que buscar en unas plantas en el suelo.
12.- Vuelve con Grish y te dara una llave para las puertas que estan cerradan en la cueva que entraste al principio de la quest, el quiere que vallas a buscar un artefacto por el.
13.- Baja a la cueva, camina al oeste y abre la puerta con la llave que te dio Grish, baja las
escaleras y busca en el atril (stand), te atacara un Ogro nivel 111 llamado Slash Bash, matalo para obtener el artefacto, Slash bash tiene dos ataques, uno de ranged y uno de melee, utiliza prayer contra melee ya que es el ataque mas fuerte.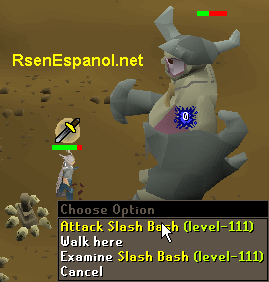 14.- Cuando lo mates, toma el artefacto y llevalo con Grish.
Felicidades Quest Completa!