Lugar de comienzo:
Hablar con el Observatory Profesor.

Recompensa:

2 Quest Points
2250 Crafting Exp.

Uncut sapphire.

Al azar: 875 Attack Exp, Defence Exp, Hitpoints Exp o Strength Exp.

Al azar: Maple longbow, Weapon poison, 3 Law runes, Amulet of protection, Black 2 handed sword, Super strength potion, 25 Water runes o 3 Cooked tunas.

Puedes pedir unholy moulds y bendecir los simbolos que lleves.

Actualizacion en las exposiciones del museo de Varrock – habla con Historian Minas

Requerimientos:

Nivel 10 de Crafting

Objetos Necesarios:
1 Barra de bronce

3 Tablas

1 Vidrio Fundido

Anillo de Duelo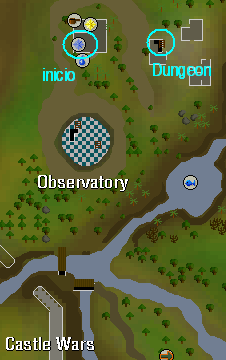 Para iniciar la búsqueda hable con el Observatory profesor que se encuentra en una casita detrás del Observatory, la manera mas rápida de llegar es haciendo rub a su ring of dueling y teleport hacia el castle war, una vez allí camina hacia el observatory tal y como se ve reflejado en el mapa.
Ahora que estas allí y has hablado con el profesor, dile que te gustaría echar un vistazo por el telescopio, pero este, esta desafortunadamente dañado, sigue hablando con el y te pedirá de unos materiales para repararlo. Una vez terminada la conversación, habla con el de nuevo y dale la bronze bar, luego habla con el de nuevo y ahora dale los planks y habla con el por ultima vez y dale el molten glass.
Ahora el profesor intentara repáralo pero para eso necesitara que le consigas un lens mould.
El lens mould lo conseguirás en un dungeon que esta cerca de la casa del profesor. (ver en el mapa).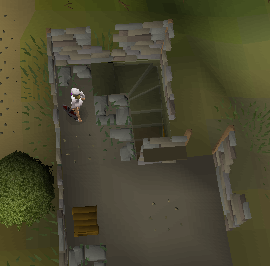 Baja las escaleras y ahora descubrirás que para obtener el lens mould tendrás que pasar por una puerta que esta en la cocina del dungeon. La llave y la localización del mould se encuentra aquí: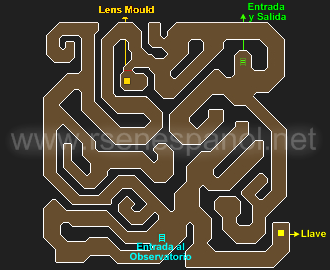 Cuando tengas la lleva úsala en la puerta de la cocina, pero para ello tendrás que darle click al guardia que esta durmiendo, este se despertara y podrás matarlo. Una vez que lo hallas matado, toma el mould que los goblins están usando para cocinar en el. Entonces tómalo y vuelve con el profesor.
Ahora el profesor te dice que no tiene suficiente habilidad para hacer una lente, y te dará el molten glass para que tú la hagas. Usa el molten glass con el mould y te aparecerá una lente. Habla con el profesor de nuevo para darle la lente.
Ahora ve al dungeon de nuevo, y entra al observatorio. El te dirá que observes las constelaciones en la pared, para que lo ayudes a compara las que se ven por el telescopio, Entonces dale clic a la pared con las estrellitas y te aparecerá algo como esto: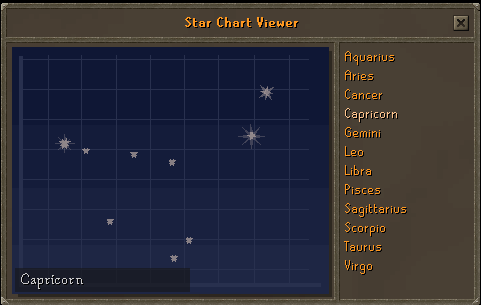 Si no te aparece esto selecciona capricornio y lo veras, Ahora sube las escaleras y ve por el telescopio, y veras estrellas como la constelación que vistes antes.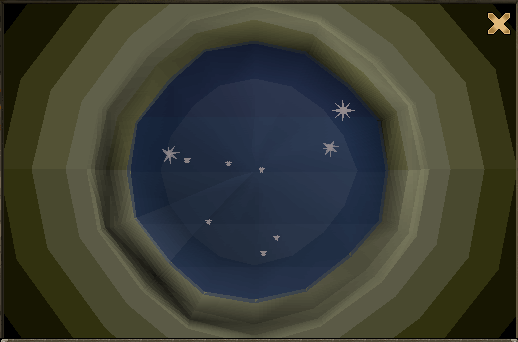 Habla con el y dile que viste la constelación de capricornio y listo Quest. Terminada =D