Escrita por: Just Arkantos
Imagenes por: Andresito62
Inicio: Habla con Lazim Que esta al sur del Campo de Bandidos del desierto.
Recompensas:
Akthanakos' Camulet: Permite hablar con los camellos y dromedarios, cuando le dan en la opción rub, te lleva al templo de Enakhra(solo 4 teleports) se recarga con Camel Dung on y si lo pierdes Lazim te da otro.
7,000 Crafting, Magic, Mining y Firemaking xp
Habilidad para hacer Mascaras de camello poniendo clay en el molde del templo.
2 Quest points.
Niveles necesarios:
50 Crafting
45 Firemaking
43 Prayer
39 Magic
45 Mining (Recomendado)
Quests: Ninguna.
Objetos Necesarios:
mapple log
Willow log
Oak log
Log normal
caddle
tinderbox
Clay
Bucket con agua
Crumble undead spell
Fire spell cast
Air spell cast
Un chisel
Una picota
Objetos Recomendados:
Ropas para el desierto (las blancas) o las de la misión spirit of Elid
Varias waterskins(4)[de 2 a 4]
Coins[1000gps]
Algunos Shantay pass
Granite ore (5kg)
Objetos Opcionales:
Un Familiar con capacidad de Cargar (si tienes summon alto)
Ring of Charos[a](para reducir el costo del viaje en Alfombra)
Donde Iniciar la misión: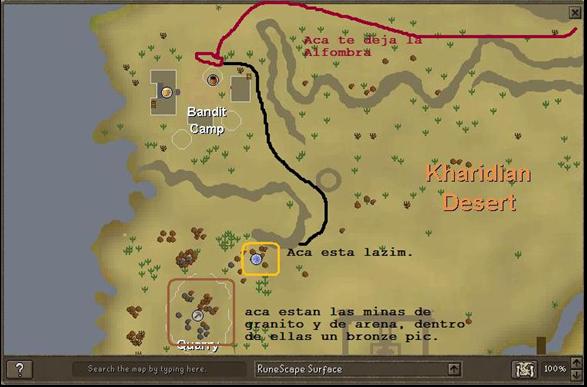 Llega al Shantay Pass y toma una alfombra voladora; pidele al tipo que te lleve al bandit Camp, te cobrara 200 gps después de llegar al campamento corre hacia el sur para encontrante con Lazim.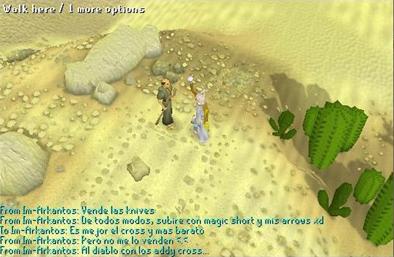 Una vez que hayas encontrado a Lazim háblale para iniciar la Misión; una vez que le hayas hablado te dira que necesitas minar 32kg de sandstone, así que dirígete a la mina y pica las rocas suficientes para completar los 32kg; puede variar el tamaño de la roca y su peso.
Ya después de que le hayas dado los 32kg de sandstone encantara los kg y te los dara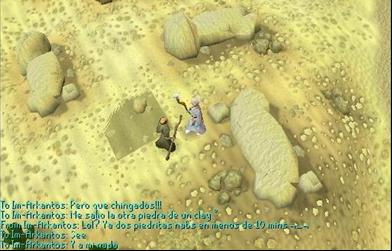 Ahora el el Boulder usa tu chisel para hacer la base de una estatua.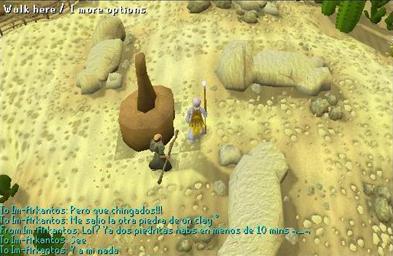 Ahora vuelve a hablar con Lazim, te pedirá que mines mas sandstone de nuevo pero esta vez es menos, son 20kg.
Una vez que le hayas dado los 20kg de arena usa tu chisel en ella: harás un sandstone body, úsalo en la base y después usa tu chisel en la estatua.
Ahora que tienes el cuerpo lazim te preguntara que cabeza ponerle, dile que a esa estatua se le veria bien una cabeza de camello; el aceptara y te dira que mines una piedra de granito de tamaño mediano (5 Kg)
Después de haberle puesto la cabeza a la estatua esta por el peso provocara un hoyo en la tierra donde caerás junto con lazim.
Después de haber caído habla con lazim quien te contara su plan original(encontrar un tesoro) tendras que usar tu chisel para quitar partes de la estatua que usaras como llave para  abrir algunas puertas.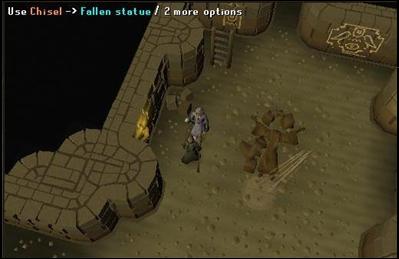 Bien Ahora que tienes las 4 piezas dirígete hacia el norte y desbloquea la primera puerta, te marearas y te saldrá el primer video.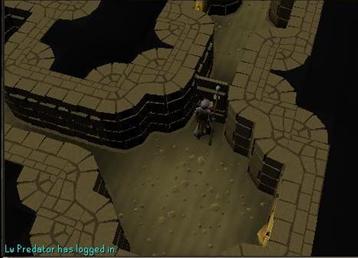 Después de ver el corto llega hasta la otra puerta, encontraras un símbolo "Z", tómalo y abre la puerta.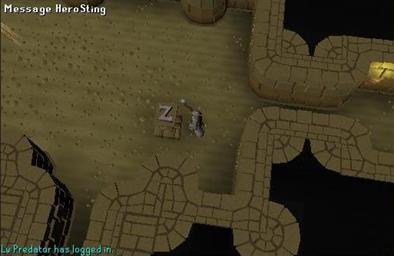 Repite el mismo procedimiento hasta tener todos los símbolos.
Ahora que tienes todos los símbolos entra al centro del templo y abre las puertas con los símbolos de las letras.
Una vez en el centro del templo sube las escaleras y completa los siguientes pasos:
-Descongelar la Fuente de agua: Aca tienes que usar la magia de fuego (fire bolt, fire strike,etc) para descongelarla.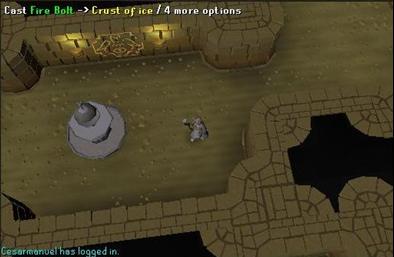 -Hablar con Pentyn: el es un Tipo que fue torturado y piensa que lo torturaras de nuevo, para ganarte su confianza ofrécele un pastel, después de comerlo te dará algunos tips para limpiar el horno y encender los Braziers.

-Los Braziers: el ultimo cuarto donde hay 6 Braziers, dale investigate a cada uno y después pon el objeto necesario en cada 1(maple log, cadle, coal,oak log, normal log y willow log).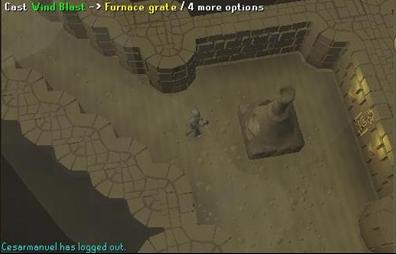 Ya que hayas terminado  con las 4 tareas ve al  centro, usa tu bucket en el clay para hacer soft, luego usa ese soft en el símbolo para hacer un molde, usa tu chisel para hacer una cabeza de camello que pondrás en el agujero, una vez que lo hayas echo te saldrá otro video y Lazim aparecerá junto a ti.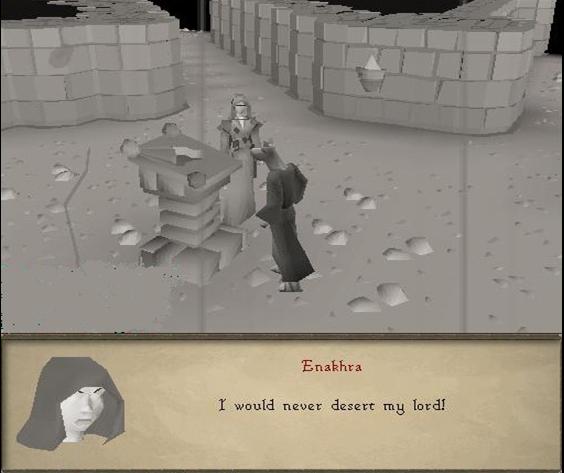 Una  vez terminado el corto cruza la barrera mágica y sube las escaleras, veras que un "boneGuard" te impide el paso, lanzale un Crumble undead para derrotarlo, te dejara 5 big bones.
Ahora baja las escaleras y veras a otro "BoneGuard", Activa tu Protect From Melee y habla con el Guard, después de sus intentos de derrotarte se rendirá y te dira que si mejor lo ayudaass a terminar su Tarea.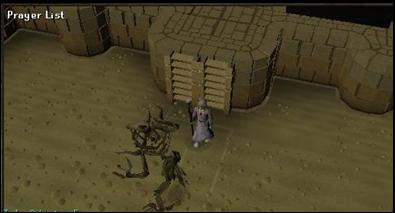 Por Lógica aceptaras a terminar su tarea así que toma algunos bloques de la pila de piedras que está cerca del Guardia; Primero pon los bloques en la pared, después usa tu chisel para darle forma a la pares, repite los pasos hasta terminar de armar la pared.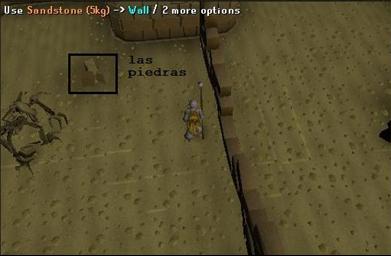 Una vez terminada la pared saldrá un corto donde Enakhra  Akthanakos piden la ayuda de su respectivo dios (Zaros y Zamorak) donde Enakhra Escapa.
Y Listo después de ver esa escena, misión Terminada.